The news spread quickly among British food lovers late last year: A newly opened sushi bar in London with nine seats had obtained the dubious honor of becoming the most expensive restaurant in Britain. The cost of dinner for one at the Araki, which is named for owner-chef Mitsuhiro Araki, is about $450 per person. And that's without sake or service. All nine seats at the Araki are booked for weeks in advance. Araki has acknowledged that his restaurant is pricey, but he justifies this by explaining that he sources the finest produce he can find—squid from South Africa, bluefin tuna from Ireland and Portugal, Alba truffles from Italy. And to be fair to him, he does produce the best sushi and seafood in London, and he regularly rejects up to 60 percent of what appears to be perfect raw tuna to serve only the finest portions.
Wonderful meal or not, $450 per person is pretty steep, and even the megarich like to know that they're getting value for their money. Can diners be sure that the food is worth the stunningly hefty bill? That may be an unanswerable question—high-end food has become a luxury that may be artificially inflated because of its scarcity and the growing number of wealthy and adventurous eaters—but here's an attempt to measure what you can get for your money at some of the world's most expensive restaurants.
If the Araki sounds like a private club for some of the moneyed international classes who call London home, it's a good deal compared with the most expensive restaurant on the planet. That would be Sublimotion in Ibiza. I hope you're sitting down, because to sit down at Sublimotion costs about $1,600 per person for a set meal of 20 courses. The restaurant's chef and proprietor, Pablo Roncero, is a modernist chef in the same tradition as Ferran Adri à , whose El Bulli was considered the best in the world until he closed it in 2011.
At Sublimotion, the entire performance is surrealistic. The dining room features a single white table and 12 white chairs. Nearly 30 people behind the scenes use this setting to project different sounds and dramatic images—from the grounds of Versailles to icebergs in the Arctic—while waitresses dressed like air hostesses serve those 20 courses. The cuisine is unashamedly modernist and features nitrogen-frozen spherical olives suspended on a laundry line complete with clothespins, a foie gras doughnut that enters the room attached to a balloon and a clam dish that seems to be submerged in the ocean while projected images of jellyfish float around the diners.
Although Roncero boasts that this is "the first gastronomic show in the world," others have pointed out that it owes a conceptual debt to Ultraviolet in Shanghai, the brainchild of French chef Paul Pairet, who charges a more modest sum, about $600 per person.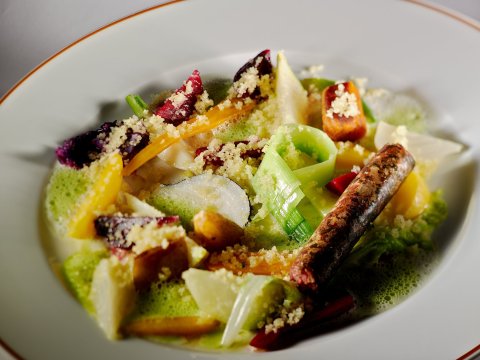 And what of France, the traditional home of the world's finest cuisine? At first glance, L'Arpège in Paris doesn't sound like a good deal. Where, you might be tempted to ask, is the beef? The nightly set dinner is dominated by vegetable dishes, so you might expect to be excused from paying prices usually generated by expensive cuts of meat. But no—at about $425 per person, L'Arpège might be the most expensive restaurant in France. I first dined there nearly 25 years ago, when Alain Passard was a promising young chef—although his food then was cuisine grand-mère, or dishes reminiscent of what one's grandparents would have served. At the turn of the century, after the outbreak of mad cow disease in Britain, Passard decided to stop serving red meat. He focused instead on superlative vegetables. He grows them at his three gardens in northern France and dispatches them to Paris daily on the high-speed TGV train network.
His signature dish of tomato soup with a dollop of mustard ice cream has to rank as one of the most intensely flavored experiences you could ever have. Passard regularly serves seafood and occasionally game, but his reverence for the very best vegetables and his ability to transform the experience of eating them has had a huge influence on haute cuisine around the world. Alain Ducasse, arguably the most influential haute cuisine chef in the world, recently took a leaf out of Passard's book and eliminated meat from his flagship restaurant, Le Plaza-Ath é n é e, in Paris. If any meal can be called life-changing, it's dinner at L'Arp è ge. So perhaps the price tag is not really that outrageous.
But a restaurant does not have to be innovative to be stratospherically expensive—Le Louis Quinze in Monaco, the first of Ducasse's stable to win three Michelin stars, serves classic French food despite its recent redesign. There is now a movable serving structure in the center of the baroque dining hall that looks like a giant grill crossed with organ pipes. This also doubles as a place where the chefs can add finishing touches to the dishes in full view of diners. The dishes are simple, delicious — and pricey. Try the raw San Remo prawns on a rockfish jelly with a hefty dollop of the finest Schrencki caviar from China for about $170, or the sea bass with fennel and citrus for about $121.
Another restaurant that adheres to tradition—and is the most expensive in Italy—is Enoteca Pinchiorri, located in a Renaissance palace in Florence. Although chef Annie Féolde gained three Michelin stars in 1993, her French-inspired cuisine is not the only attraction for wealthy diners. Her husband, Giorgio Pinchiorri, has long been obsessed with fine wine, so much so that he possesses upward of 130,000 bottles of the 20th century's greatest vintages. Giorgio might playfully offer an Italy vs. France taste test—serving a Sassicaia 1985 alongside, say, a Mouton Rothschild 1982—so the diner can compare. Those are expensive games but hard to forget.
Now that the high-end culinary world is dominated by the Nordic countries, it is inevitable that their very best establishments are pricey. Ren é Redzepi, the genius chef at Noma in Copenhagen, occasionally shocks people by serving live shrimps on a bed of ice or ants for consumption. He too searches for perfect ingredients, whether they are sea urchins from the Arctic Circle or fat langoustines from the chilly waters off Trondheim in Norway. You come away from the 20-course dinner, priced at about $250 a head, with the sense that you have encountered entirely new flavors. Noma is about to move to Sydney for several months, where the cost per person will be eye-watering: about $360 per head, which will make it Australia's priciest dining experience. The Australians seem not to be put off. When bookings opened for the 5,600 seats of the 10-week season, the restaurant sold out within 90 seconds.
The most expensive restaurant in Sweden—another Nordic country experiencing a food revolution—is Björn Frantzén's eponymous, two-Michelin-starred establishment in Stockholm. The cost: about $260 per person. Although Frantzén is passionate about his produce he does not insist that it should come from the Nordic region if other parts of the world offer superior quality. He has only 23 covers and is inspired by Japanese cuisine. One dish labeled "sashimi" on the menu is decidedly Scandinavian—raw Swedish lobster with lemon and algae emulsion, as well as radishes and grated horseradish.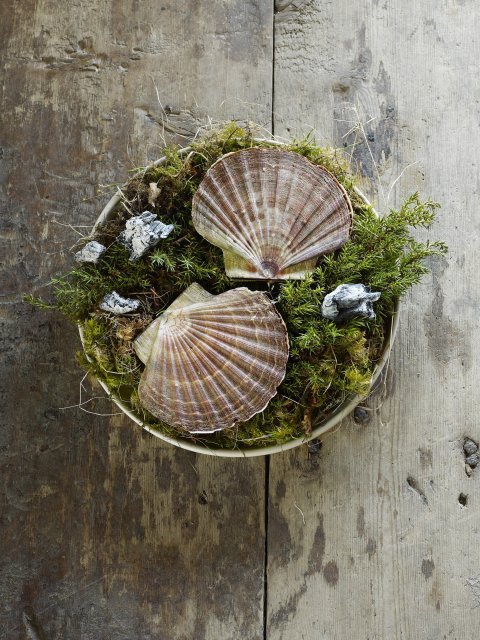 For those who want to stick to the Nordic table, the alternative is Magnus Nilsson's Fäviken, which is several hundred miles north of Stockholm, in the middle of a 22,000-acre estate. Only fractionally cheaper than Frantz é n, Fäviken has incomparable produce and challenging dishes such as lightly salted wild trout roe served in a warm crust of dried pig's blood, and bone marrow extracted from baseball-bat-sized bones hacked open on the table.
In all of these restaurants, you are purchasing not just sustenance on a plate but an experience that should transform the way you think about food. The cost is challengingly high, but perhaps only three or four times more than an ordinary and unmemorable meal at a fashionable restaurant in any major city. And if, for that, you have an experience that lingers in the memory for years and challenges or changes the way you eat, perhaps you have spent wisely.