'Are You Kidding Me?' LeBron Loses It as Browns Fall Short yet Again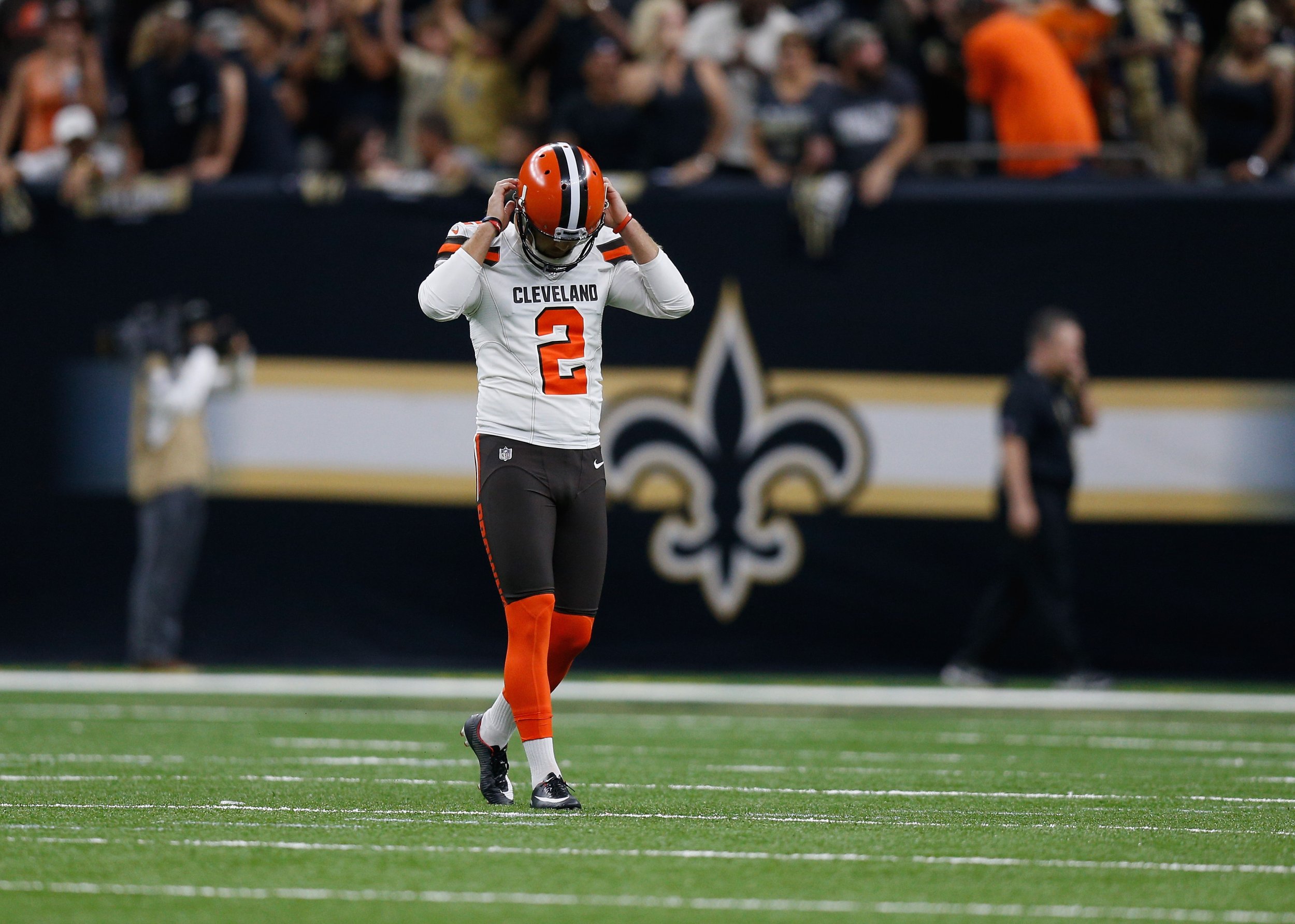 The Cleveland Browns have seemingly mastered the art of finding new ways to crush their fans' souls and Sunday's loss in New Orleans was another chapter in a dismal book.
The Browns scored a miracle 47-yard touchdown to tie the game at 18-18 with 1:16 left in the fourth quarter, only for Zane Gonzalez to miss the PAT attempt that would have won the Browns the game. To make matters even worse, the Saints took a 21-18 lead in overtime and Gonzalez missed a 52-yard field goal condemning Cleveland to their first defeat of the season.
"It snowballed," Gonzalez said of his final kick. "I was overcompensating. I get paid to make those kicks and I have to make them."
Disappointment and dejection are well-known feeling to Browns fans, but LeBron James seemed to have had enough of their penchant for shooting themselves in the foot at every opportunity.
"Are you kidding me?" was the three-time NBA champion's exasperated reaction which he posted to his Instagram story. Speaking of Gonzalez, LeBron then added: "He better not say my bad. No, he better not—he might get his ass whooped."
LeBron wasn't the only NBA star to be crestfallen by the Browns' inability to get over the line. Portland Trail Blazers point guard and Ohio native C.J. McCollum took to Twitter to share his incredulity at Gonzalez's missed PAT, prompting Lakers forward Kyle Kuzma to quip disappointment could become a regular occurrence for McCollum on Sunday.
LeBron and Kuzma will share the locker room in Los Angeles this season but the former wasn't in the mood for jokes and swiftly told his new teammate to keep his football-related opinion to himself.
The Browns' defeat on Sunday was made even harder to take by the fact they led 12-3 into the fourth quarter and had kept the Saints scoreless in the second and third period. Even worse, as far as their fans are concerned, the Browns looked on the verge of pulling off an incredible win when Tyrod Taylor launched a 47-yard prayer on fourth down that landed safely in Antonio Callaway's hands for a touchdown that levelled the score.
Yet the Browns, as they always seem to do, managed to find a way to lose and extended their winless streak to 19 games. In Week 1, Cleveland look poised to begin the season on the front foot but Gonzalez saw his overtime field goal blocked.
Disappointing as it was, the tie in the opening weekend ensured the Browns will not go 0-16 again this season but they could still make unwanted history in terms of a winless streak.
The Browns last won a game on December 24, 2016, beating the San Diego Chargers 20-17 and have currently tied the Detroit Lions for the second-longest winless streak in NFL history.
The Lions went 0-19 between December 30, 2007 and September 20, 2009. The record is still held by the Tampa Bay Buccaneers, who managed to lose 26 consecutive games between September 1976 and December of the following year.