'Are You Serious?': Server's Hilarious Viral Rant About Bad Tipper Viewed Over 30M Times
A server took to TikTok and shared that after presenting a $600 bill to a couple on their first date, she received a $20 tip—which is worth just a little more than three percent of the bill.
"Broke ppl should never laugh," the caption on the video read, which can be viewed here.
TikTok user @emelywithane_ explained in her video, which amassed more than 30 million views and nearly 7 million likes, that she served a couple who appeared to be on their first date. She said the man assured his date she could order anything she wanted and he would pay for it. They ordered numerous items off of the menu and the value of the meal began adding up.
"The bill was crazy high," she said. "I was like 'OK, let's get that tip money.'"
U.S. News & World Report reported that, according to the Emily Post Institute, it is customary to tip 15 percent to 20 percent, pre-tax.
The expected tip has evolved and grown over the years. Brian Warrener, an associate professor at Johnson & Wales University's College of Hospitality Management, said a 20 percent tip is typically standard. However, he told U.S. News & World Report that the standard tip was once 10 percent as early as the 1920s.
While the man's date commented on how expensive the meal was going to be, @emelywithane_ said he continued to reassure her that he had no problem "taking care of her."
"And every time I passed the table he deada** would be talking about how much money he makes, how he can afford anything he wants, how this is easy for him," the TikToker said. "He's obviously trying to impress this girl."
When it was time for her to collect the $600 check, she discovered he left a $20 tip.
"I was like, 'Are you serious? Are you deada**?'" @emelywithane_ said.
Though she didn't say anything directly to the couple, she said her disappointment may have shown, and the man's date asked him if that was the tip he was going to leave.
As @emelywithane_ walked away, she said the man told his date that he must have done the math incorrectly and was "embarrassed." However, when his date urged him to remedy the situation, he made an excuse and said the TikToker looked "busy."
His date took matters into her own hands. She told him she was leaving, and on her way out, she gave @emelywithane_ an additional $50.
"She's like 'Here you go, baby. Thank you so much, I'm so sorry. I didn't know he was going to do that,'" the woman told the TikToker before thanking her for her service.
Some comments were divided.
"Tipping is such a ridiculous custom," TikTok user Chefshad Rashad wrote. "The owner gets to pay you less than minimum wage and instead of being mad at him, you get mad at the patron. Wild."
Another wrote that it was not the customer's "job" to leave a tip.
"I don't care how much the bill was if the bill was paid should be grateful you got anything," TikTok viewer JustOneJJ wrote.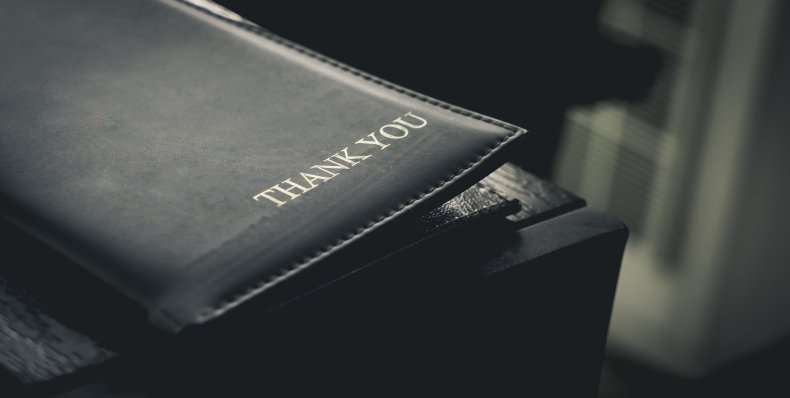 In a follow-up video, @emelywithane_ said she works hard for her money and believes she should be paid for what she deserves.
She noted that the man was talking about how much money he had, yet left a small tip.
Despite some pushback, many shared their shock over the tip, as well as the man's behavior at the restaurant.
"He who brags, usually actually has nothing to brag about...," one commenter wrote.
"Good on her!" crispytravels commented. "If you can't tip right, don't go out. Red flag."
"It wasn't about him 'being broke' it was him being disrespectful by cheapin out on the staff," MoonMoonMoon wrote.
TikToker @emelywithane_ told Newsweek she made the video as a way to share part of her day with her followers.
"The entire experience felt like it happened so quickly, I barely had time to process it until I clocked out for the day, which is when I made the video," she explained.
When she learned that her video started gaining more views, she was "shocked" but was excited. TikToker @emelywithane_ told Newsweek that she was not surprised that the comments were divided. She said people get a small snippet of what happened and did not take the comments personally.
"I enjoy how the video opens up a conversation about an industry that sometimes gets overlooked," @emelywithane_ said. "Majority of people go out to eat, but we never talk about taking care of the people who took care of you."
As she looks back on the situation, @emelywithane_ said not only was it a funny video that can be shared, but it's something viewers may think about the next time they dine out.
Another server took to TikTok and said one of the patrons at the table left his phone number but did not leave a tip.
Newsweek reported that the server texted him and encouraged him to leave a tip the next time he left his phone number. It appeared to be a misunderstanding and the customer apologized and ensured she received her tip.
Updated 01/27/2022, 5:34 p.m. ET: This story has been updated with comments from TikToker @emelywithane_.