A woman was shocked by a text message she says arrived after she applied to a new job.
In a video posted to TikTok on Friday, user @madumjas shared a screenshot of the text, appearing to be from the unnamed company's human resources department.
"Hey Jasmine, I'm just follow up on our paperwork appointment from Monday, are you still interested in the position you piece of crap," the text read.
On-screen, Jasmine wrote "i applied for a job and this is how they respond back" with a video of her blinking repeatedly as a sped-up song plays in the background.
Along with the video, Jasmine added "they rlly had the nerve to say it was a 'misspelled word' [linemouth emoji]."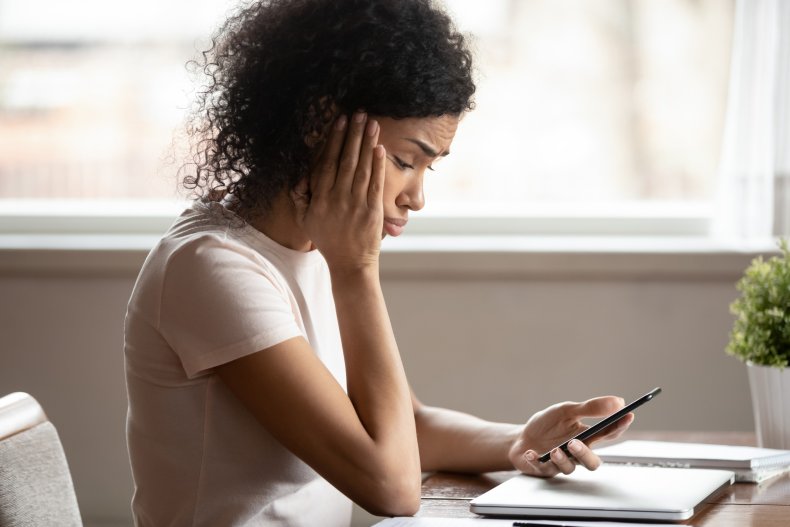 First impressions are always important—and being called a "piece of crap," accidentally or not, before the paperwork is even signed is not the best way to get off on the right foot by any means. Often, when applying to a new job, vibe can be as important as other information like how much the job pays and what, if any, benefits are included.
While being insulted outright is rare, there are other red flags that could cause someone not to take a job, according to Inc. magazine. One of the biggest issues is if what the interviewer says doesn't actually match the official offer. This could be the result of poor communication, Inc. says, or even an outright attempt to deceive, and neither is a great answer.
It's also important to look into reviews of the company, Inc. says, on sites like Glassdoor which allow employees to share their experiences working at different companies. It's unlikely that every review will reflect a perfect, glowing experience; after all, not everyone's a match for every position. But if a majority of reviews of a company are poor—or even just enough bad reviews to give one pause—it may not be the right place.
The comments of Jasmine's TikTok were similarly taken aback at the text message. Many people placed the blame at the feet of voice-to-text, suggesting that the HR manager was dictating the text message and didn't proofread before sending.
User @kaylalynnkiwi suggested the intended phrase may have been "position you applied for."
"easy mistake and I've done it before," she added.
User @minimightdoryia agreed, writing "i think it's meant to say the position you applied for, i tried mumbling it in the micro and it autos to what they said" with two crying emoji.
Another asked, though, if it was a voice-to-text error, why the sender didn't simply explain the situation.
"if that were the case why would she lie and say it was a typo instead of telling the understandable truth," @antichthoniae wrote.
But some of the best responses were jokes cracked at the sender's expense.
"that's just their signature !" @flamingtamales wrote.
"I would have responded with 'wow thanks for reminding me,'" @farah_4490 said.
"ask them if a hiring management position just opened up," @jenniuinely wrote.