Area 51 Raid Memes Storm the Internet as Alien Enthusiasts Descend On Rural Nevada
The Area 51 raid kicked off early Thursday morning to the surprise of many who have watched plans for the event jokingly unfold on social media, but who didn't think it would actually happen. A Facebook event that joked about "storming" the classified military base inspired some extraterrestrial enthusiasts to visit the gates of the conspiracy-fueled site.
A handful of other events, designed with safety in mind, competed to divert attention away from the Area 51 gates. An educational event called Area 51 Basecamp set up outside of Rachel, Nevada, while the Facebook group creator Matty Roberts moved his scheduled event to downtown Las Vegas. Still, some hopefuls arrived at Area 51 with no apparent plan. Twitter users responded with memes.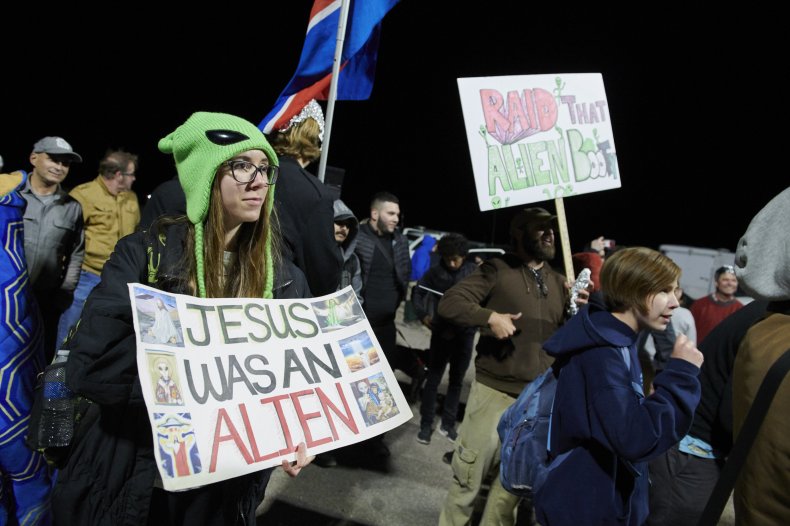 Most of the internet jokes seemed to hold a genuine concern for the safety of visitors and of Area 51 security. Many comments surfaced with disbelief that there were really people who wanted to storm the base.
Others poked fun at the concept altogether. From alien findings to being bored at the seemingly unorganized event, Twitter users joked about what was really happening on site.
Those who planned on participating in the raid have received multiple warnings about potential consequences from both the American government and the town of Rachel, where the base is located. U.S. Air Force spokesperson Lauren McAndrews issued a comment on the raid idea when it first surfaced online in July. "[Area 51] is an open training range for the U.S. Air Force, and we would discourage anyone from trying to come into the area where we train American armed forces," McAndrews told The Washington Post. "The U.S. Air Force always stands ready to protect America and its assets."
Even the Rachel, Nevada website told visitors to be cautious and noted residents were prepared to protect their property at all costs. The town updated an earlier statement Friday to detail real-time events. "So far we see a couple of hundred people in Rachel for the botched Alienstock event. Law enforcement clearly outnumbers visitors," the town wrote. "There are no vendors and not much of an infrastructure. A makeshift stage was set up on a dusty dirt lot and a few campers are parked around the area."
They even called the event a Fyre Fest repeat, referring to the calamitous musical festival that was advertised by Ja Rule and con artist Billy McFarland: "This has very clearly become Fyre Fest 2.0 after the creator of the Storm Area 51 movement pulled out and the organizers started suing each other. We understand that the Area 51 Basecamp event in Hiko on the other hand is quite successful and people are having a great time."