What Was Aretha Franklin's Cause of Death? Legendary Singer Dies at 76
Legendary soul singer Aretha Franklin died Thursday following reports that she was "gravely ill." The 18-time Grammy winner was 76.
Franklin's cause of death waspancreatic cancer, her representative Gwendolyn Quinn confirmed to the Associated Press. On Monday, a previous report from Evrod Cassimy, an anchor at NBC affiliate WDIV-TV, stated via Twitter: "I am so saddened to report that the Queen of Soul and my good friend Aretha Franklin is gravely ill. I spoke with her family members this morning. She is asking for your prayers at this time. I'll have more details as I'm allowed to release."
Before this report, Roger Friedman's Showbiz 411 said Monday that Franklin was surrounded by "family and people close to her" in Detroit.
The soulful singer suffered from health problems throughout her career. She struggled with weight problems, alcoholism and chain-smoking. In December 2010, Franklin underwent a "highly successful" surgery for an undisclosed complication. She was rumored to have pancreatic cancer, but she denied the reports.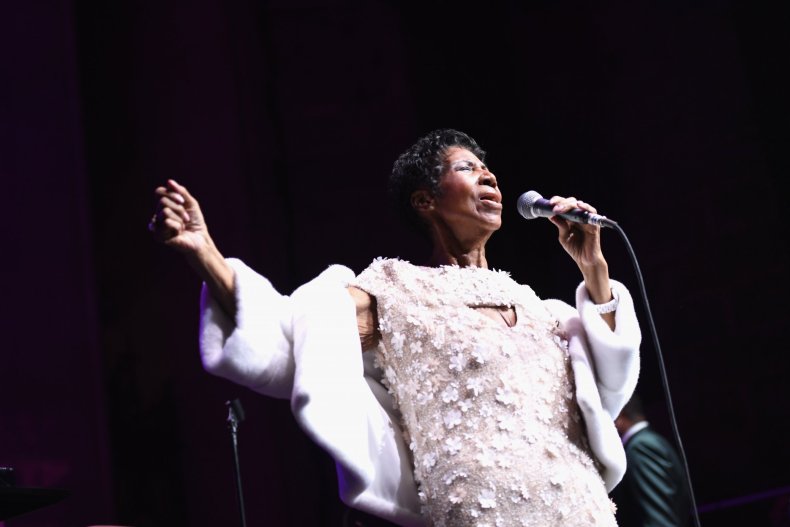 Franklin canceled multiple performances due to her health. In March, she had to cancel a headlining appearance at the New Orleans Jazz & Heritage Festival. "Aretha Franklin has been ordered by her doctor to stay off the road and rest completely for at least the next two months," Franklin's management said in a statement to Rolling Stone. "She is extremely disappointed she cannot perform at this year's New Orleans Jazz & Heritage Festival as she had expected and hoped to."
In February 2017, Franklin announced her plans to retire from performing. The news came before the November release of her 42nd studio album, A Brand New Me. "I must tell you, I am retiring this year. This will be my last year," she said to WDIV. "I will be recording, but this will be my last year in concert. This is it."
After concluding her last Detroit performance in June 2017, she said, "Please keep me in your prayers." Her last public performance was at Philadelphia's Mann Center in August 2017. Her final singing appearance, however, was at the Elton John AIDS Foundation in New York in November 2017.
The acclaimed singer, a Detroit native, is known for iconic classics like "Respect" and "(You Make Me Feel Like) a Natural Woman." She selected Academy Award-winning singer-actress Jennifer Hudson to portray her in an upcoming biopic, Queen of Soul, next year. At the time, Hudson took to Instagram following the news to share "how humbled" she was about receiving the part.
Franklin is survived by her four children and two sisters.