Aretha Franklin Tribute by Madonna at 2018 MTV VMAs Sparked Outraged on Twitter
It's not uncommon to see celebrities at award shows giving tributes to other icons that have recently passed away. These special moments are designed to pay homage to the deceased and speakers usually deliver riveting addresses filled with kind words in celebration of the late star's accomplishments.
Such was not the case during Madonna's tribute to the late Queen of Soul, Aretha Franklin, at the 2018 MTV Video Music Awards on Monday.
MTV paid their respects to Franklin, who died from pancreatic cancer on Thursday, by airing her 1970 performance of Dionne Warwick's, "I Say a Little Prayer," which appeared on Franklin's 15th studio album Aretha Now. The network also played her chart-topping hit, "Respect," during the closing credits of the show.
Madonna, who appeared onstage to present singer Camila Cabello with the Video of the Year award, unexpectedly delivered a lengthy speech intended to honor Franklin's legacy, but she missed the mark by spending most of her 10-minute tribute talking about her own musical achievements.
"Aretha Louise Franklin changed the course of my life. I left Detroit when I was 18. Thirty-five dollars in my pocket. My dream was to make it as a professional dancer. After years of struggling and being broke, I decided to go to auditions for musical theater," Madonna said. "I had no training or dreams of ever becoming a singer but I went for it. I got cut and rejected from every audition—not tall enough, not blend-in enough, not 12-octave range enough, not pretty enough. Not enough."
The 60-year-old singer went on to tell the story of her journey to fame, which apparently started with her auditioning for a backup dancer role for a French disco singer's world tour. She aced the dance portion of the audition, but the "Material Girl" singer failed to bring sheet music and a song to perform. "I had overlooked this important part of the audition process," she said. "I had to think fast, my next meal was on the line."
Madonna finally made the first reference to Franklin, explaining that she gave an impromptu performance of Franklin's "(You Make Me Feel Like) A Natural Woman" from the Detroit singer's 1968 album Lady Soul. Then she continued to talk about herself. "I could see that they did not take me seriously—and why should they? Some skinny ass white girl is going to come up here and belt out a song by one of the greatest soul singers that ever lived? And a cappella," she said.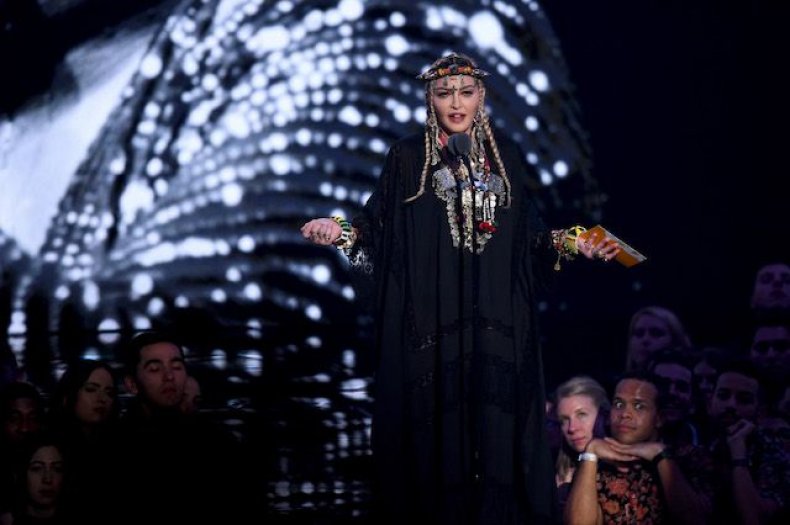 It wasn't until the bitter end of the speech when Madonna finally offered an actual tribute to Franklin.
"So you're probably all wondering why I'm telling you this story. There's a connection because none of this would've happened—could've happened—without our lady of soul. She led me to where I am today and I know she influenced so many people in this house tonight, in this room tonight, and I want to thank you, Aretha, for empowering all of us. R-E-S-P-E-C-T. Long live the queen," she said.
Fans on Twitter weren't the least bit impressed with Madonna's effort to eulogize Franklin and they didn't hold back with their comments on her self-serving tribute. Others seemed to be baffled that Madonna somehow always ended up giving the tribute to deceased black celebrities.
Take a look at some of the reactions to Madonna's speech below.