Argentina Cancels Soccer Match With Israel in Jerusalem After Pressure from Palestinian Protesters
In an apparent nod to Palestinian protesters, Argentina's National Football team has suspended a planned soccer match with Israel, according to Israeli and Argentinian media reports published Tuesday.
The match was set to take place on Saturday in Jerusalem. Palestinian fans and leaders of the Palestinian Football Association called on Argentina to cancel the match, arguing that Israeli leaders had transformed the match into a "political tool" while also cracking down on Palestinian protesters along the Gaza border.
"The Israeli government has turned a regular sports match into a political tool. As was widely covered in Argentinian media, the match now is being played in order to celebrate the '70th anniversary of the State of Israel'," Palestine soccer chief Jibril Rajoub wrote to Claudio Tapia, the head of the Argentinian Soccer Association, according to Reuters.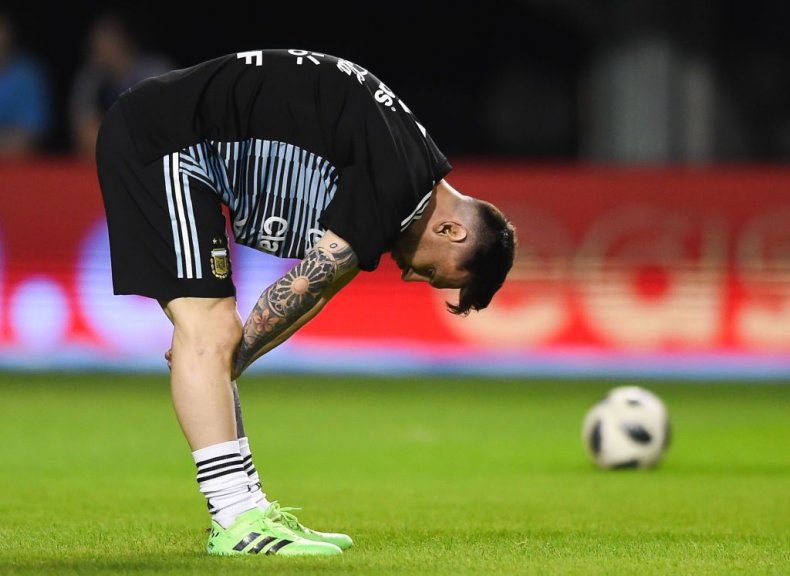 However, Rajoub took it a step further, calling for a campaign against the Argentinian team and its star player, Lionel Messi.
"He's a big symbol so we are going to target him personally and we call on all to burn his picture and his shirt and to abandon him. We still hope that Messi will not come," Rajoub said.
Even Palestinian Ambassador to Argentina, Husni Abdel Wahed, pressured the team to boycott the match. Wahed compared Israeli celebrating its 70th anniversary to people celebrating the British Falkland Islands (or the Islas Malvinas) off Argentina's coast. The South American country still lays claim to the islands after a failed war with Britain in an attempt to get them back in 1982.
"This game is like us celebrating the anniversary of the occupation of the Malvinas, this will be an error, an act of disrespect and an attack on the feelings of Argentinians," Wahed said, according to AS TV.
Responding to the news, the Palestinian Campaign for the Academic and Cultural Boycott of Israel said it welcomed Argentina's decision to cancel.
"The team responded to creative campaigning from fans around the world denouncing Israel's sports-washing of its crimes against Palestinians," the organization said on Twitter.
Since March 30, more than 120 Palestinians have been killed by the Israeli military as they have continued to demonstrate along the Gaza border. On Friday, 21-year-old Palestinian medical volunteer Razan Ashraf al-Najjar was killed as she tried to attend to the wounded, drawing international attention to the situation.