Argentina Aims Machine Gun and Cannon Fire at 'Illegal' Chinese Fishing Boat in Eight-Hour Chase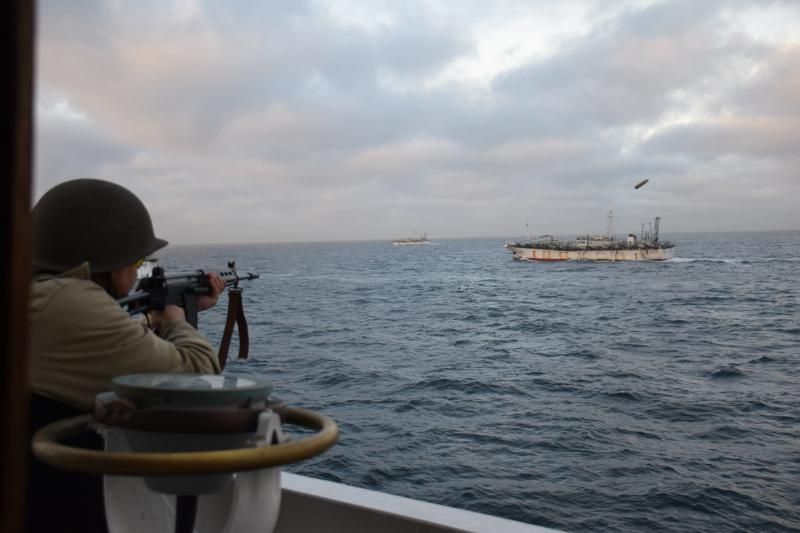 The Argentine coast guard repeatedly opened fire against a Chinese boat caught illegally fishing within Argentina's exclusive economic zone last week.
The coast guard said the boat Jing Yuan 626 was caught sailing within Argentina's exclusive economic zone along with four other vessels, all bearing Chinese flags, according to a statement published Friday. The authorities said the four vessels attempted to ram into the coast guard's boat and carried out maneuvers, putting the Argentine crew at risk.
The coast guard nonetheless persisted in their attempt to capture the fishing vessel. Authorities say they fired intimidatory shots but, as the Chinese boat refused to take heed of the warnings, they then resorted to "[carrying] out machine-gun and cannon fire" aimed at disrupting the vessel's navigability without posing a threat to its crew's lives.
Footage of the incident that occurred Thursday was shared by the Argentine authorities to the public on Friday. "You are responsible for the safety of your crew and your ship. You are about to receive direct fire," coast guard captain Eduardo Scarzello can be heard informing the fishing vessel via radio.
"Bow, command bridge. Are we ready? Okay, free fire one shot to the boat's bow over waterline," he then ordered his crew.
The fishing vessel's pursuit lasted almost eight hours in adverse weather conditions before Argentina's ministry of foreign affairs and worship ordered the coast guard to end the chase. In 2016, a similar discovery of a Chinese boat illegally fishing in Argentine's exclusive economic zone ended with the sinking of the Chinese trawler Lu Yan Yuan Yu 010, forcing the crew to abandon ship.
At the time, the Chinese government lodged a protest with the Argentinian side, Reuters reported. According to ABC News, the Chinese Embassy in Argentina had yet to comment on Thursday's incident.
Argentina's coast guard noted in its statement that Chinese vessels are not the only ones violating the confines of the country's exclusive economic zone, which stretches 200 nautical miles from a country's coast as prescribed by the United Nations Convention on the Law of the Sea. Earlier this month, Argentina's authorities caught a Spanish flag-bearing vessel within its waters carrying more than 320 tons of processed fish on board.