Argentina's Susana Trimarco: One Mother's Fight Against Human Trafficking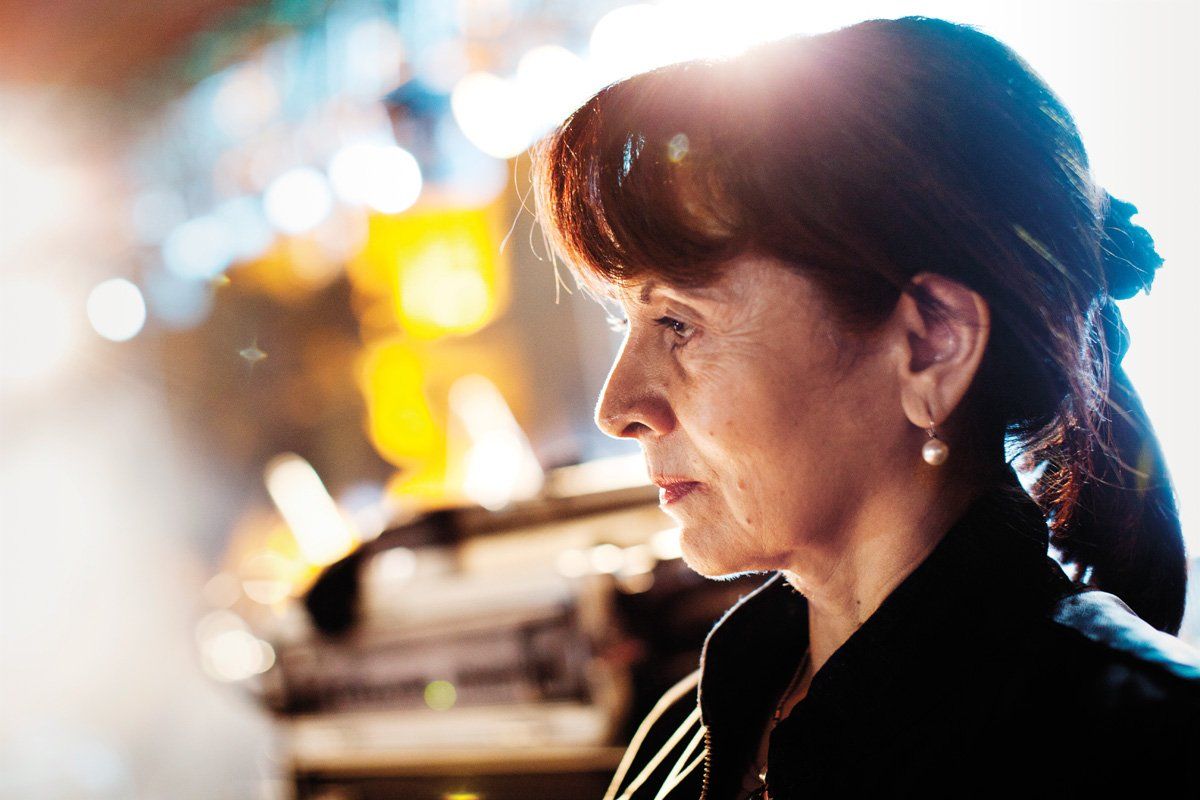 Susana Trimarco has so many questions, but they all return her to the same sorrowful place: what became of her only daughter, María de los Ángeles Veron—known in Argentina as Marita—who disappeared a decade ago and is still missing? She folds and unfolds a piece of gold-leafed paper, blinks, and frowns. At 58, Trimarco has straight dark hair and bright, alert eyes. She speaks quickly and passionately. Her intolerance for bureaucracy is soaked in personal tragedy.
She wonders, for instance, why some neighbors who may have witnessed Marita's kidnapping a decade ago have consistently refused to speak to investigators. Or what about the bicycle-riding carpenter who told Trimarco he saw two men shove Marita into a red car with tinted windows that day and who later vanished—"as if the earth just swallowed him whole," she says—and was never heard from again. Trimarco ponders these questions, imagines her daughter's fate. She dreams about Marita constantly. She looks into the eyes of her 13-year old granddaughter, Sol Micaela, and sees the physical resemblance—the dark hair, the sloping, heavy-lidded eyes, the adolescent cheeks flushed with pink. To herself and anyone who will listen, she asks, where are you, mi hija, mi vida—my daughter, my life. Where are you and will I ever see you again?
For a long time, many in Argentina took the view that Marita's vanishing was, in some fatalistic way, her own doing. In those early days the press, if it paid attention at all, was often unsympathetic. And so, overwhelmingly, was officialdom. Human trafficking was not yet a crime in Argentina in April of 2002, when 23-year-old Marita disappeared half a block from Trimarco's house. And since prostitution was then, and still is now, legal in Argentina, the widely accepted implication was that anyone involved in the business of sex was there by choice.
Over the years, however, as Trimarco has bullied and pushed and shoved and pursued, never giving an inch, this perception has begun to change. "When it comes to human trafficking in Argentina and across Latin America, there is a before and an after, and it is divided by the Trimarco case," says Marcelo Colombo, a federal prosecutor and director of Argentina's anti-trafficking unit. "Susana's struggle and achievement in this area is incalculable." Trimarco's efforts have led to many accolades at home and abroad. In 2007, at a Washington, D.C. ceremony, former secretary of state Condoleezza Rice presented Trimarco with the Women of Courage award for her efforts to combat human trafficking. Last week Argentinian President Cristina Fernández de Kirchner received Trimarco and Micaela in her residence. And last April, a lawyers' association nominated Trimarco for the Nobel Peace Prize.
Most important for Trimarco, seven men and six women now stand accused of crimes relating to Marita's disappearance—their trial began last February and is likely to conclude in early November. The defense strategy has relied largely on an unverified smear campaign alleging that Trimarco herself was a prostitute who sold her own daughter into sexual servitude with the connivance of Marita's husband, David Catalan. (Trimarco and Catalan have categorically refuted such allegations.) But over time, the local press coverage of Trimarco has veered from vaguely skeptical to mostly favorable, and in the process Argentina, too, has begun to change. "Everything, absolutely everything that has happened in Argentina around the issue of human trafficking is because of Susana," says Carlos Garmendia, Trimarco's sprightly, blue-eyed attorney. "No one can overestimate her role in changing the way we think about human trafficking here."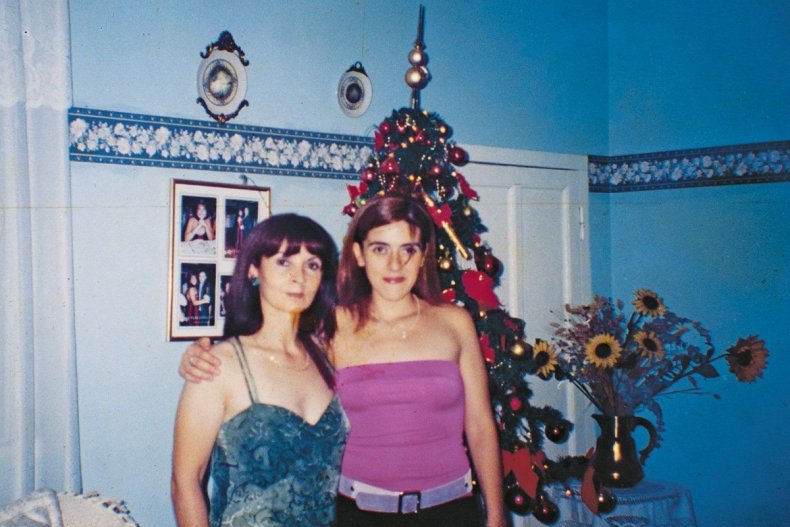 Or, for that matter, across much of the rest of the world. The United Nations estimates that human trafficking generates more than $31.6 billion each year, the second-most lucrative illicit market in the global economy after the drug trade. Some 2.5 million people are trafficked each year, 1.2 million of them children. In the United States, the FBI, the Department of Homeland Security, and Immigration Control and Enforcement have all recently established programs dedicated especially to human trafficking. "Nations must speak with one voice—that our people and our children are not for sale," President Barack Obama said during a speech in September at the Clinton Global Initiative. And yet ultimately, international treaties can do only so much when in individual countries, like Argentina, the issue has only recently been recognized as a problem deserving of attention.
Trimarco has helped change that. In 2008, largely because of her lobbying efforts, Argentina made human trafficking a federal crime. And since then more than 3,000 people have been rescued in thousands of police raids. Trimarco has personally rescued more than 150 girls, some as young as 12, often at considerable personal risk. "I don't care if they kill me," she says. "My immense love for Marita is bigger, stronger, and more powerful than anything these people can do to me." Former U.S. ambassador Earl Anthony Wayne wept openly when he bid farewell to Trimarco during a reception at his residence, according to her attorney Garmendia, who watched the exchange. As a sign of his admiration for her, Wayne gave Trimarco the American flag that had graced the embassy during his tenure, and today it hangs in a folded triangle in the front hall of the María de los Ángeles Foundation that Trimarco created to help find people who have been trafficked.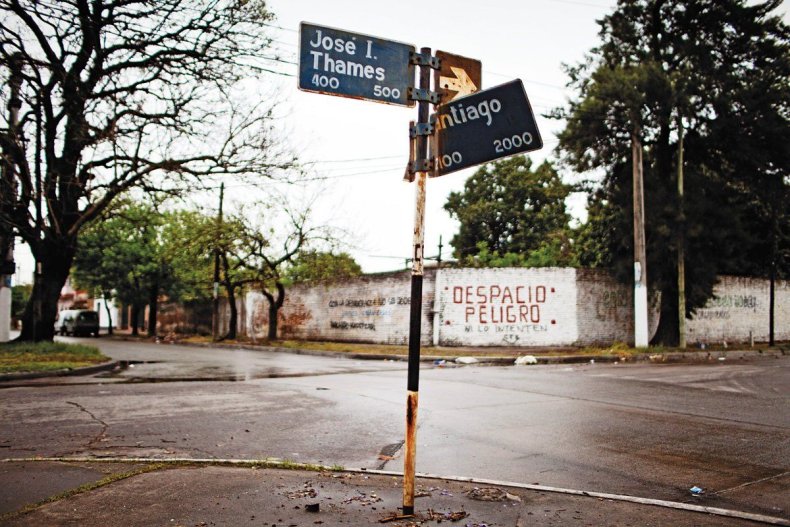 But Marita is still missing. And Trimarco's questions remain. After more than a decade of relentless searching, Trimarco and her team of five lawyers have reconstructed what they believe happened to Marita the day she disappeared and in the weeks and months that followed. The full details of the scenario are impossibly byzantine, and the official documentation for the case fills up more than 60 professionally bound folders called cuerpos, each of which is 200 pages long—in all, more than 12,000 pages detailing the sordid twists and turns of Marita's story. "It's a barbarity of information," says Garmendia.
Trimarco believes it all began with an unfriendly neighbor of Marita's, a nurse who Trimarco says was working with a network of human traffickers operating in Trimarco's hometown, San Miguel de Tucumán, and a frontier town called La Rioja, 230 miles to the southwest on the border with Chile. (The nurse has said she didn't have anything to do with Marita's disappearance.) In 2002, Marita had one toddler already and wanted to keep it that way, at least for a while. So she decided to get an IUD, a popular birth-control device in Argentina. According to Trimarco, the nurse had told Marita that her boyfriend was the chief of personnel at a local maternity hospital. She could introduce the two, she allegedly told Marita, thereby saving her the cost of a private facility. Trimarco says she warned Marita to stay away from the nurse. "I had a bad feeling about her from the beginning," she says.
Sure enough, when Marita next saw her mother, she told her a terrifying story. Marita had gone to the hospital, but once there she had discovered that the man she had been introduced to wasn't the chief of personnel at all. He was a janitor. At the hospital, she said she had seen a police alert with a picture of the nurse alleging that the woman was a suspect in a case of infant theft. "Don't worry," Marita told her mother, "I won't have anything to do with [the nurse] anymore." Still, she decided to get the IUD at the maternity ward. She had an appointment scheduled for 9:30 the following morning.
On April 3, mother and daughter shared a light breakfast at the kitchen table, maté—a bitter Argentinian brew—and some biscuits. Trimarco loaned her a T-shirt to wear. A little after 9 a.m., Marita left the house. "Don't worry," she told her mother, "I'll be back within the hour." According to two witnesses—neither of whom are testifying at the trial—Marita was a block away from her house, at the intersection of Thames and Santiago, when a red car with tinted windows pulled up next to her. If anyone knows exactly what happened next, they aren't saying. Maybe the men hustled her into the car, maybe they beat her or threatened her with a gun. What is certain is that Marita never made it to the hospital. One neighbor said she saw two men hustle the girl into a car and speed off, but she has always refused to talk to police. The elderly carpenter rode by and saw the same thing. But then he disappeared. Trimarco believes Marita's kidnappers found the carpenter and killed him. And just like that, María de los Ángeles Veron—Marita, who loved her parents and her child, who wanted to be an artist and a poet, who loved the sun and named her child after it, who never missed an opportunity to cook for her mother—was gone. Vanished. Una desaparecida. One of the disappeared.
The first hours were the worst. A pit of despair began to grow in Trimarco's stomach. As she began frantically searching for her daughter, reports of sightings filtered in here and there. A street prostitute said she had heard about the kidnapping. In May, just four weeks after Marita disappeared, the residents of a small town called Adelantos, adjacent to the northwest city of Tucumán, called local police and said a disheveled woman who looked to be drunk or high on drugs, or lost, was wandering along Route 304, headed north. About a dozen people called in, all with the same story, and each caller described a woman who could have been Marita. The police who picked the woman up later told investigators that she had said her name was Mirta Bron, a common enough name in Argentina. They said they put her on a bus heading south, paid her fare, and left. Garmendia points out that if Marita was drugged, or drunk, her name, Marita Veron, could easily have been misheard if it had been slurred or mumbled. "Mirta Bron," he says, pinching a mosquito and dropping it on the floor, "Marita Veron ... it could have been her, it could have been ..."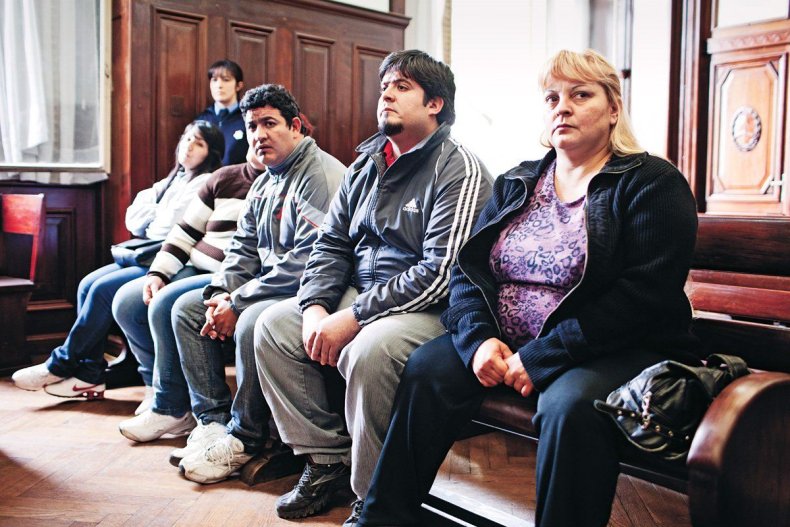 Soon after, another lead opened up the possibility that traffickers had routed Marita to a disco whose owners, police investigators say, have had ties to organized crime. The reports kept coming. But whenever Trimarco asked for police help, it seemed to her they put more obstacles in her way. "Whatever way I told the police to look, they would look the opposite way," she said. It took the police days to follow up on leads, if they followed them at all.
Trimarco felt ragged with fear and rage. The police had started investigating Marita's husband as a suspect (nothing ever came of their inquiry). The rumor mill was already churning. With her daughter missing, and her family falling apart, Trimarco had come to believe that the authorities weren't just incompetent, but also somehow complicit in her daughter's disappearance. "I cried, I cried, and I screamed," Trimarco remembered, shaking her head, "I screamed until I couldn't scream anymore. And then I realized that I had to be strong. I had to think with my head and not just my heart. These people were powerful, and I was a nobody, and I had no money, no power, no resources. I had to be smarter than them if I wanted to get my daughter back."
So she took action. Trimarco decided to go after her daughter on her own. She began dressing up as a prostitute and visiting bars in La Rioja that doubled as brothels. She got the phone numbers of people she suspected of being involved in trafficking and called them saying she wanted to buy girls. In June 2002, she set up a meeting with a female trafficker and gained access to a safe house where 12 girls were being held hostage. "Minors or adults?" the woman asked her. When Trimarco said minors, the woman told her each girl would cost her 3,500 pesos—roughly $900—and up. Promising to return with the funds, Trimarco left, informed the police, and the first girls were saved. But not Marita.
With the help of a police investigator named Jorge Tobar, Trimarco began tracking and documenting in extraordinary detail what is now widely acknowledged as a vast human-trafficking network with ties to the police, the legal system, and government officials. In October 2002, when Trimarco and three Chilean journalists went undercover in La Rioja, men with ties to the brothels pursued and shot at them. In operations like these, Trimarco continued to find and rescue trafficked girls.
In more than a decade of work, she has returned hundreds of girls to their families. But the more she and Tobar searched and the harder they pushed, the more they came to understand who their powerful enemies were. If Tobar went on a raid, he would later discover that his targets had been warned. Judges and government officials told him to back down, warning him that his activities would land him in trouble. One day a secret raid Tobar had planned was suddenly announced on the radio. He began receiving death threats. "I realized I was walking a very thin line between the government and the mafia," Tobar said recently at a bar in Tucumán. "It became difficult to discern where one ended and the other began. It got to the point where I couldn't talk to anyone. I couldn't tell if someone was a friend or an enemy. How are you supposed to fight that?"
By May 2003 the clues about Marita's whereabouts had almost dried up. That year, Tobar got a solid tip that Marita had been sent to Spain. One of the suspects from the gang of alleged traffickers based in La Rioja had apparently been sending girls to Spain for years. So Tobar and Trimarco traveled there to investigate. The trip resulted in the rescue of 25 girls from Burgos and other Spanish cities, 19 of whom were from Argentina and Central America. But still no sign of Marita. Dejected, Tobar and Trimarco returned to Argentina. It was the last solid lead Trimarco ever got about her daughter's whereabouts.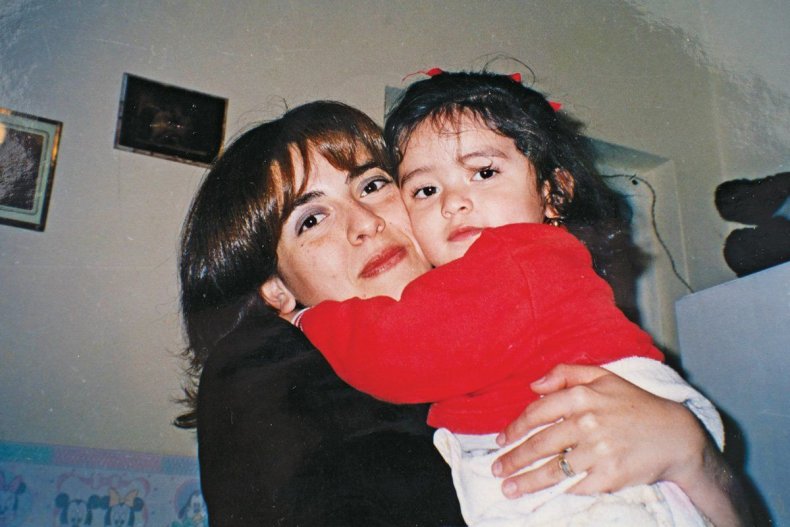 In the meantime, threats against Trimarco began to pile up. Men called and told her they planned to cut her head off and throw it in the river. Several times drivers attempted to run her over. Someone set her house on fire and burned half her roof. Her husband, Daniel, who had fought so hard to find Marita, succumbed to depression and, eventually, to death. "I don't want to live anymore," he told Trimarco toward the end of his life. "I don't want to live without Marita." Now Trimarco lives with a constant security escort. Police accompany her granddaughter, Micaela, to school every day. Garmendia, who once worked at the Argentinian Human Rights Commission and loathes the idea of violence, recently bought a 9mm pistol and carries it with him everywhere he goes. Marita's case has made him a harder man, too. In 2010, after eight years of searching, Tobar quit the police. His doctor told him if he continued, he would die. Tobar believes Marita is alive somewhere, though he has no evidence to back it up. He thinks Trimarco's efforts have made Marita "too valuable" to kill, that if her body were ever discovered, too many people would be implicated. A few years ago he heard a tip that Marita might have been taken to Mexico, perhaps en route to the U.S. If she is anywhere, Tobar says, it's probably somewhere south of the Texas border.
One day last week, a small crowd gathered at the Palacio de Justicia in San Miguel de Tucumán as the 13 accused were led into a courtroom. In a back room sat a woman dressed in brown pants and a leather jacket, her hair and face covered with a black scarf. Her name was Lorena, and in June 2002 Tobar rescued her from a brothel in La Rioja, where she had been held captive for a year and a half. On the day she was freed, Lorena identified Marita from a picture and then by name. And she provided key details about Marita's life that confirmed her story. Earlier this month, Lorena testified that she saw Marita in the brothel and that Marita told her about her 3-year-old daughter and how much she missed her. "She said she couldn't go on with her life, couldn't see her daughter," Lorena said during an emotional court session.
Most observers expect the trial to result in at least some prison sentences for several men and women for kidnapping and assorted other crimes related to Marita's disappearance. Others may be charged in future investigations. Still others will likely go free. There is no physical evidence of any kind, after all. And witnesses from both sides have changed their stories multiple times, confusing things further. "At the end of the day, it's going to come down to who the judges believe," says Garmendia.
Seen from another angle, however, Trimarco has already won. "Before this case, the Argentinian government didn't see trafficking as a problem," Garmendia adds. "Now it does, and that's because of Susana." Trimarco is proud of the fact that the tragedy of Marita's disappearance was also the beginning of a process of reckoning in Argentina, an acknowledgment that thousands of people, most of them young girls, are kidnapped each year and sold into sexual bondage. And for Trimarco, the trial is a catharsis and vengeance and a kind of progress. "I knew I had to keep looking for my daughter. She was counting on me, and I had to help her," she says, shaking her head. "I will never give up. I will never shut up, never, never."
Argentina is a country that understands loss. Great, heaving, cataclysmic loss. Even as Marita's trial heads toward its conclusion, the government is pursuing numerous other trials against thousands of people who, in one way or another, participated in the deaths and disappearances of some 14,000 people during the worst years of the dictatorship, from 1975 to 1980. "This idea of a woman searching for her lost daughter, this is something that Argentinians understand," says Garmendia, "because this is who Marita is. She is a disappeared person, like all the others. And Susana is a mother searching for her daughter."
It is a search that Trimarco feels with every ounce of her being. She has a recurring dream about Marita. In it she finds herself walking through a vast forest of enormous trees, the kind you find in Europe, she says. At one end of this forest is a palatial house and through one window of the house Trimarco spots Marita. She stops short. Marita is sitting comfortably on a couch watching a flickering television set. The scene is peaceful and calm. And Trimarco has found her daughter. "Every time I hear a report that Marita has been seen somewhere I want to grow wings and fly there right away, just leave everything and fly to her. I will never stop looking for her. I know she's alive. I can feel her."