Argentine Sports Channel Makes Fun of Russia's 'Gay Propaganda' Ban Ahead of World Cup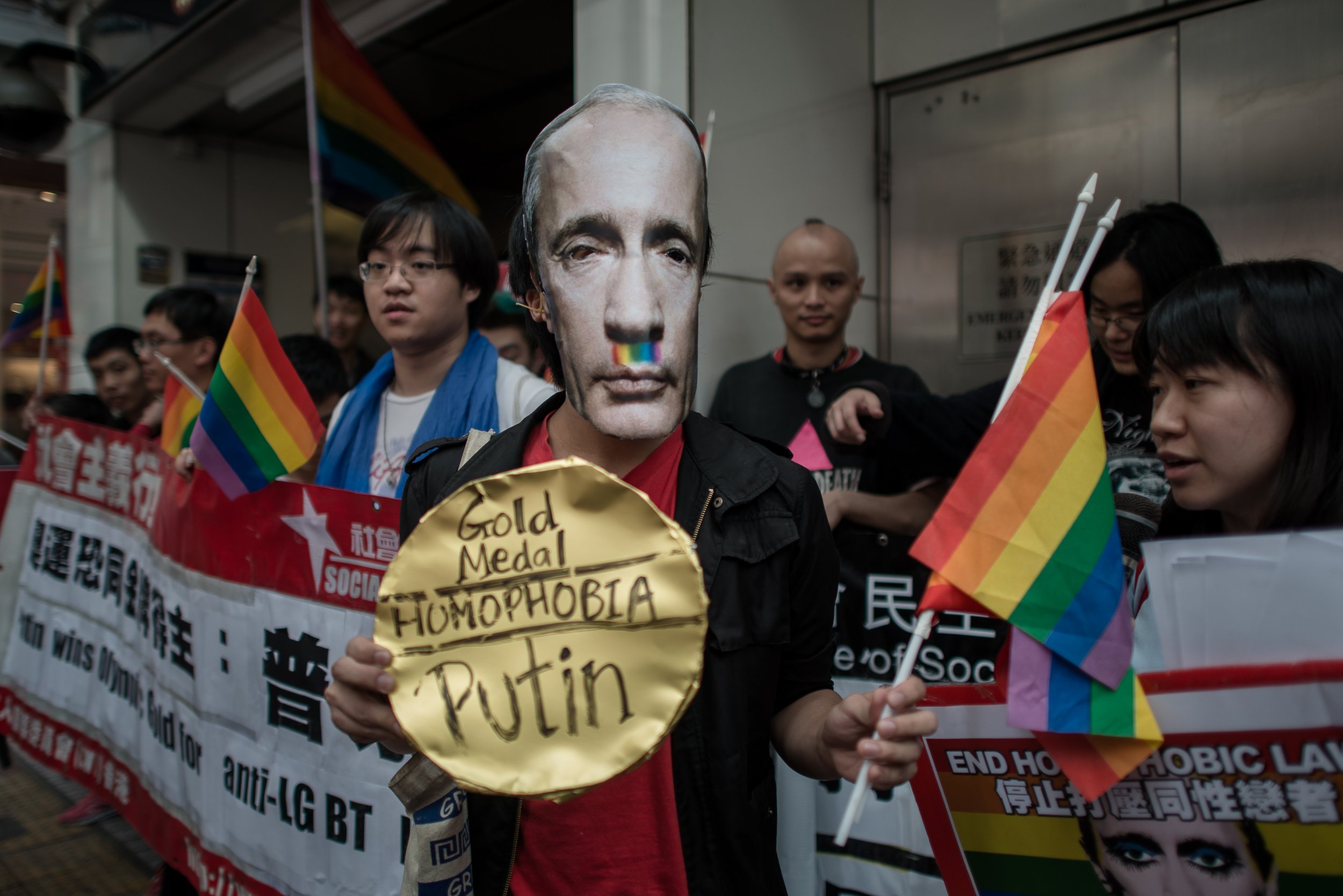 As Russia gears up to host the World Cup this summer, an Argentine sports channel aired a TV commercial mocking President Vladimir Putin's "gay propaganda" ban.
The ad TyC Sports launched Thursday addresses Putin's draconian crackdown on gay "propaganda" with humor using double entendres, as the commercial shows soccer fans' reactions over typical situations such as celebrating a goal or protesting a referee's decision. "Mr. Putin, we found out that your country does not admit displays of love among men. So we are in trouble!"
The commercial shows a man weeping over the farewell of a soccer player on TV, saying, "We come from a country where it's normal to see a man cry over another man."
The commercial adds that it's normal to get the face of a soccer star like Diego Armando Maradona or Lionel Messi tattooed on a man's chest. Referencing Putin again, the commercial underscores that, "Perhaps for tough men like you, it is hard to understand some love gestures … there's nothing more exciting than to see a bunch of men jumping naked in the locker room," as images simultaneously show a soccer team thunderously celebrating a match's victory.
"Mr. Putin, if love among men is a disease for you, then we are very sick. And you know what? It's contagious." The commercial concludes by showing Messi scoring a goal during the 2014 World Cup.
But hours after the release, controversy ensued. Several Argentines and pro-LGBT advocates have expressed their disgust on social media, calling the ad homophobic and insensitive. The TV commercial was taken down from the channel's Twitter and YouTube accounts.
"This is horrible and humilliating, and it's making fun of the persecution gays suffer in Russia. What's next, TyC Sports?," a Twitter user said.
"Can you imagine the number of gay children and adolescents who are still in the closet and who will see how their family will laugh with the TyC Sports spot [which is] full of homophobic jokes? They don't have an idea how harmful these messages are on media, morons," another user wrote.
TyC Sports is known for ads that contain political banter. As the channel announced the coverage of the continental soccer tournament Copa America Centenario in 2016—hosted by the United States at the time—the commercial showed tidbits of then-Republican candidate Donald Trump's anti-immigrant comments during one of the GOP debates. In the ad, Trump was seen saying that the U.S. "is in serious trouble" because "we have people coming in through the border that are not people that we want [sic]," as footage of Argentine players descending from the plane appeared, in an apparent reference that the South American nation had a powerful team that could clinch the trophy.
As Trump said "these are total killers" and that are not the "sweet little people you think," the commercial showed Argentine players scoring spectacular goals. In fact, Argentina defeated the U.S. in the tournament's semifinals.
​
When Brazil hosted the World Cup in 2014, the channel released another TV ad using footage of Pope Francis, of Argentine origin himself, during his 2013 visit to Rio de Janeiro—where he was received euphorically. In the commercial, he could be seen saying, "Be the ones who lead! Go forward! Kick forward! The Pope is with you" as images of the Argentina national football team and overexcited fans emerged. The ad concluded, "If one Argentinean [in reference to Pope Francis] did this in Brazil, imagine 23 [in reference to the players]."
Moscow has faced protests over its anti-gay legislation, in the wake of popular sports events for which the country has served as hosts. During the 2014 Winter Olympics in Sochi, Russia passed legislation that prohibited gay pride parades or any demonstration of LGBT awareness, which prompted protests in the country and abroad.
The country's anti-LGBT climate have prevented soccer fans from visiting the country this summer, according to SB Nation. Russian authorities are allowing people to bring rainbow flags during the tournament, adding that LGBT people won't be targeted. However, advocacy groups are warning LGBT soccer fans about displaying love gestures such as holding hands, the website added.