Ariana Grande Versus Borat: Their Twitter 'Feud' Began When He Accused Her of Theft
What began as a friendly night at the movies erupted into a full-blown feud between Ariana Grande and Kazakhstani journalist Borat Sagdiyev, but don't worry: It's only about a real as anything else in Borat's world.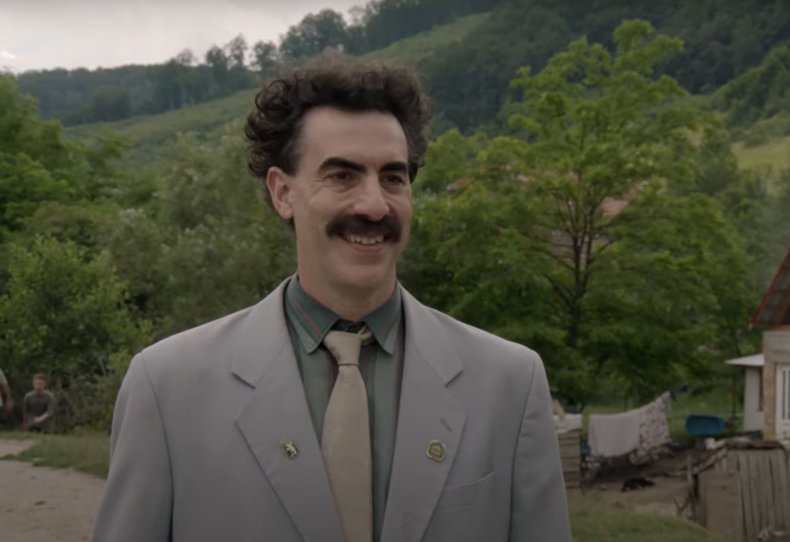 The situation quickly escalated after pop star Grande attended a drive-in screening of Borat 2 (or, officially, Borat Subsequent Moviefilm: Delivery Of Prodigious Bribe To American Regime For Make Benefit Once Glorious Nation Of Kazakhstan). Along with fellow A-listers Katy Perry, Orlando Bloom, and Josh Gad, Grande posed with a photo of a cardboard cutout of Borat. The picture of Borat on the cutout was practically naked, save for a modified medical mask covering his most privatest of areas in a callback to the fluorescent swimsuit he sported in the original Borat movie.
The photo of the cutout flanked by the celebrities was shared by both Baron Cohen and his creation, Borat:
Ariana appeared quite close to the cutout in the pic, crouched down in front, near Borat's strategically placed mask. She apparently became so attached to the prop that she decided to steal it. What plays out next was shared on her official Instagram account to her 204 million followers. In an Instagram Story, she is seen returning to the cutout alone, picking it up, and then sneaking away with it. The next scene cuts to the inside her home, where the Borat cutout sits atop a stairway and her dog, a bloodhound named Lafayette, howls and barks at it. She can be overheard speaking to her pooch with a Borat accent.
Capital FM, a UK radio station, pieced together the Instagram footage in this helpful montage:
Borat Sagdiyev did not find the matter funny. (Although, Sasha Baron Cohen likely did.) He took to this Twitter account again to voice his displeasure, where he posted a video under the caption: "Little Woman's! You steal my cutout. Give it back to Kazakhstan, we only have two left."
In the video, Borat goes on: "Areola Grande: In order to secure the release of my cutout, which you stole, I am prepared to dance to your song, 'Positions.'" He then dances to the single, released on October 23, from the album of the same name that's scheduled to drop this Friday. After several seconds of awkward dancing in a badly-lit room, the video suddenly cuts to Borat still dancing, but wearing only the modified mask outfit he wore for the cutout.
Check out Borat's dance video below:
Ariana wasn't the only celebrity from the screening who received a bizarre video. Orlando Bloom surprised his wife Katy Perry with a special message from Borat shared on her Instagram.
Grande has yet to respond to Borat's threatening tweets.