Ariana Grande Drops All the Hints for Her New Single 'Boyfriend'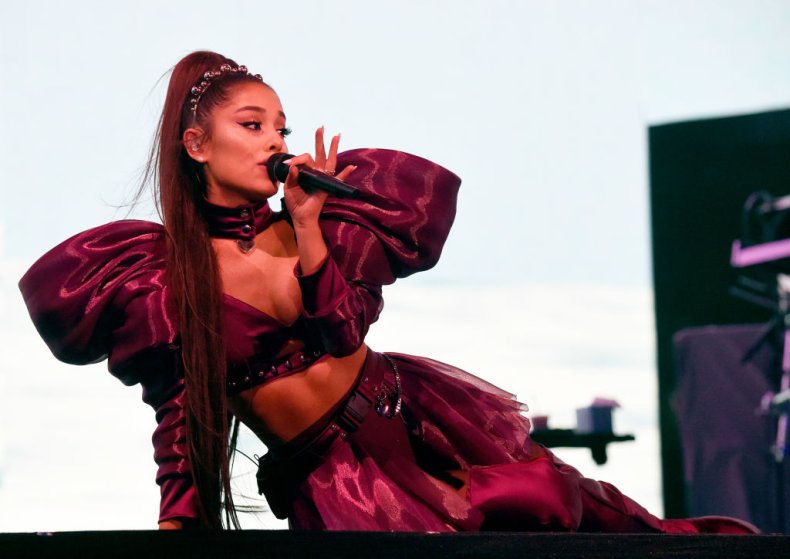 A hint is usually subtle. Something that shyly suggests something else. Ariana Grande clearly doesn't understand how to hint, because she's giving it all away in her recent social media posts about her upcoming single "Boyfriend."
On Monday she posted an 11-second clip of what is likely to be the music video for "Boyfriend." It shows Grande in what appears to be a confrontation with a man, presumedly her "boyfriend" in the video. Then it cuts to the title of the song and its release date, August 2.
The single and video feature the pop duo Social House, helmed by Michael "Mike" Foster and Charles "Scootie" Anderson, who also produced "Thank U, Next" and "7 Rings." The video is directed by Alfredo Flores and Hannah Davis, who have worked with Grande in the past.
She first teased the video in a tweet from July 24. It read, "I even wear @givenchy in my videos :)." Grande is the face of Givenchy's new campaign.
Then, on July 28, she tweeted a photo of herself lounging on stairs. It read, "u ain't my boyfriend."
Then today, on Instagram, she posted a photo of herself with the caption, "but u don't want me to see nobody else ... n i don't want u to see nobody."
Could these be lyrics from the single? We'll likely have to wait until August 2 to find out.
Grande recently got into some hot water over a comment she made on a friends Instagram post. Doug Middlebrook posted a newspaper cover image of JonBenet Ramsey, a 6-year-old who was found dead in her Colorado home in 1996. The image (now deleted) was captioned, "No one has done more covers."
"I cant WAIT for this to be your halloween look," Grande replied on the post. The social media backlash was immediate.
"I love Ariana but that comment about Jon Benet was very tasteless. Ugh....."
"I need people to stop with this strange, very unnerving JonBenet Ramsey obsession. Jeffree Star has her tattooed on him. Ariana Grande is endorsing her as a Halloween costume. She is not a character or celebrity. She is a little girl who was murdered. It's cruel and gross."
"Ariana Grande & her friend doug make a joke about the tragic death of a child that was abused, tortured and murdered was so Immature and cruel. Joking about a JonBenét Ramsey Halloween costume is distasteful and disgusting."
Grande responded to the backlash, replying to a fan on Twitter, "I deleted it very quickly and understand that it's not at all funny. this was out of pocket and i sincerely apologize."
Ariana Grande's single "Boyfriend" will be released August 2. It can be pre-saved on Spotify and Apple Music.