Ariana Grande Releases Surprise Single Referencing Pete Davidson, Davidson Responds on SNL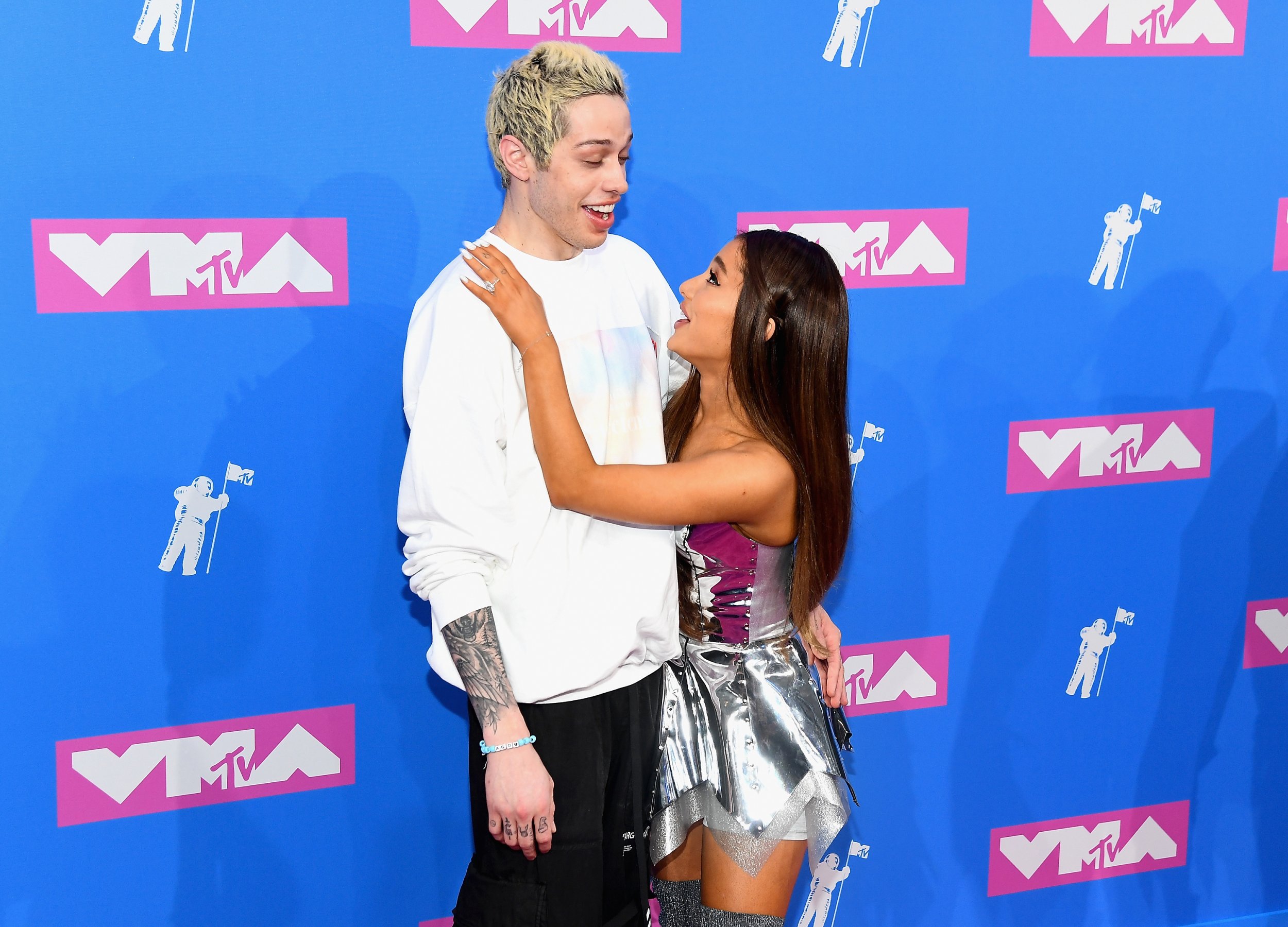 Ariana Grande released a surprise ode to her exes on Saturday night around the time Pete Davidson appeared on Saturday Night Live (SNL). Davidson responded by mentioning the breakup during the Weekend Update on the show.
The song, titled "thank u, next" dropped on streaming platforms about an hour before the live comedy show, according to Vanity Fair. It references a handful of Ariana Grande's ex-boyfriends, including Big Sean and Ricky Alvarez, and even noted the pop singer wishes she could thank the now-deceased Mac Miller, whom she dated from 2016 to early 2018. Miller died of an apparent overdose in September.
But the references to Davidson and the pair's once-pending wedding are thick in the song. Grande does reference Davidson directly and, as with the other exes in the song, thanks him for teaching her lessons about love. The song notes Grande only wants to walk down the aisle once in the track with a catchy chorus singing, "thank you, next" to her exes.
Davidson has been quiet on the breakup, despite a few jokes about covering tattoos, but seriously addressed the topic on the comedy show. "You're probably wondering about the breakup but the truth is that it's nobody's business," Davidson told viewers during an appearance as himself on the Weekend Update. "She's a wonderful, strong person and I genuinely wish her all the happiness in the world. Now please go vote on Tuesday."
A joke about Davidson's hectic life was also featured at the start of the show when members of the five-time hosting club appeared. Candice Bergen requested "another Pete Davidson" drink. The drink is described: "All I know is it's got a lot going on, but it still gets the job done."
SNL also addressed Alec Baldwin's Friday arrest. Baldwin, who usually appears on the show for a cold open as President Donald Trump, did not appear after he was arrested for assault and harassment. New York Police told CNN Baldwin punched a man in a dispute over a parking spot, though Baldwin responded on Twitter that the reports were inaccurate, without specifying the circumstances.
His absence was acknowledged in the replacement cold open of the show where cast member Kate McKinnon played Fox News host Laura Ingraham. "Ingraham" said there would be an "update on disgraced actor Alec Baldwin, seen here molesting a young boy scout," as a photo of Baldwin and comedian Adam Sandler appeared. The still was from a 1994 sketch titled "Canteen Boy."