All the Clues Ariana Grande Is Launching A New Makeup Brand Called 'R.E.M Beauty'
It appears Ariana Grande might be the latest celebrity set to launch a beauty brand.
A trademark application for R.E.M. Beauty was filed by the 28-year-old's company Thunder Road Inc in February.
Earlier this month, fans also spotted a billboard teasing the company's launch in New York's Times Square, including just the name of the range and the words "coming soon."
Seemingly confirming the news, the songwriter's best friend Doug Middlebrook shared a photo to his Instagram Story of him posing next to the billboard, tagging Grande.
As fans will know, the acronym stands for "rapid eye movement" and is a reference to Grande's song of the same name, which appears on her 2018 album Sweetener and talks about being in a dream-like state.
The singer also has a fragrance called R.E.M., as well as other scents named after her hits including "Thank U Next", "God Is A Woman" and "Moonlight".
Grande has yet to confirm her involvement or post about the brand on her social media accounts, but an Instagram account has sprung up.
As of August 25, @r.e.m.beauty has over 87,000 followers on Instagram, including Grande's mother Joan and makeup artist Ash K Holm, who regularly works with the singer.
A website for the brand is also now online but currently only allows users to sign up for email updates.
Newsweek has contacted representatives of Grande for comment.
What Products Will Be Available?
According to the trademark application, the brand is hoping to create concealers, lash serums, eyeshadows, lip oils, lip tints, cheek tints, face mists, lipstick, lip gloss, highlighters, eye liner, brow pencils, brow gels and facial blotting papers.
It seems it will also be creating makeup tools like sponges and applicators.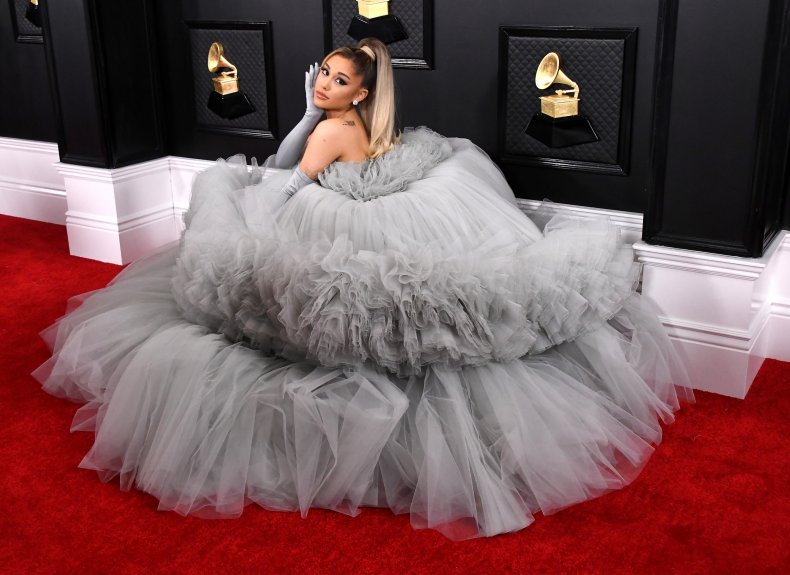 The trademark application also listed hair extensions, so fans may even be able to recreate Grande's famous ponytail for themselves.
Thunder Road Inc has also filed trademark applications for specific product names giving beauty buffs a clearer idea of what to expect.
These include Interstellar Highlighter Topper, Essential Drip Oil, At The Border Line Kohl Eyeliner Pencil and Marker, Flourishing Lengthening Mascara and Flourishing Volumizing Mascara.
Grande is the latest in a long line of celebrities looking for success in the beauty industry.
Kylie Jenner and Rihanna have both been made billionaires off the back of the success of their respective makeup brands, Kylie Cosmetics and Fenty Beauty.
Jenner's older sister Kim Kardashian also has her own cosmetics line, KKW Beauty. Selena Gomez launched Rare Beauty in 2020, while Lady Gaga's Haus Laboratories was made available to the public in the previous year.