Ariana Grande Is Reportedly Suing Forever 21 for $10 Million For Using Lookalike In Fashion Campaign
Ariana Grande has filed a lawsuit on Monday against Forever 21, and claims at least $10 million in damages after the fashion retailer allegedly hired a lookalike model for a social media campaign.
According to Reuters on Tuesday, Ariana Grande is suing the retailer for using her name, likeness, and lyrics from "7 Rings" to promote merchandise.
Per paperwork filed in Los Angeles federal court, the Thank U, Next singer is seeking $10 million for the alleged misappropriation by Forever 21 and Riley Rose cosmetics company — a brand was started by the daughters of Forever 21's founders.
Some users on Twitter on Tuesday quickly noticed that the model in Forever 21's ads was a black woman, and they criticized Grande since the complaint said, "the resemblance is uncanny." (Grande has, in the past, received criticism surrounding cultural appropriation).
One user said on Tuesday, "Black women should sue Arianna for attempting to steal their image." Another tweeted, "'She says the brand used a model who looks just like her' .... there's a whole other issue brewing here. if u know, u know."
The suit comes after Grande said she and Forever 21 were unable to agree on the terms of a marketing campaign. Documents state that the company would not pay enough for "a celebrity of Ms. Grande's stature."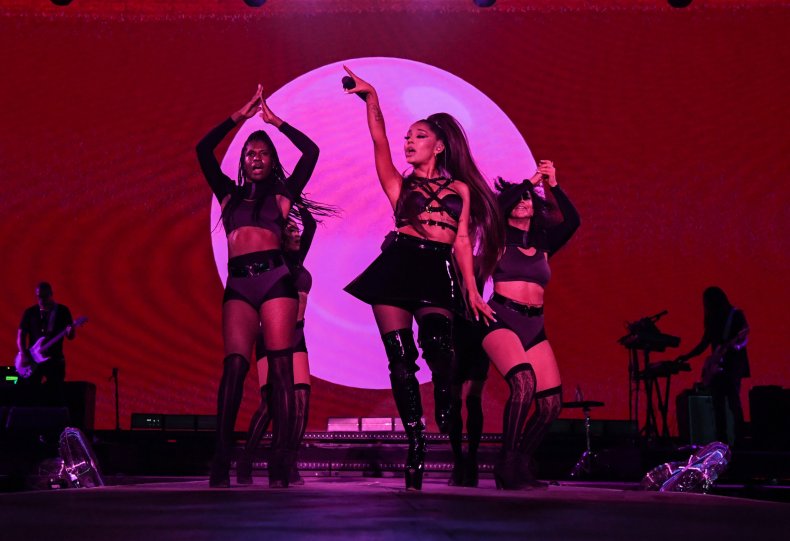 Forever 21's place in the retail world feels precarious, as this comes just days after it was reported that the company was filing for bankruptcy. Last week, sources told Bloomberg that the brand had been contemplating a debtor-in-possession loan, which forces the company to file for Chapter 11 bankruptcy. The move would allow Forever 21's doors to remain open while they strategize financially.
"Notably, the endorsement deal Forever 21 sought with Ms. Grande centered around social media marketing, including, but not limited to, Twitter posts, Instagram posts, and Instagram stories," states the complaint. The retailer used Grande's famous line "Gee thanks, just bought it!" for marketing purposes:
"Rather than pay for that right as the law requires, Defendants simply stole it by launching a misleading campaign across its website and social media platforms primarily in January and February 2019," the complaint continued.
Grande is one of a long line of celebrities to sue over trademarks.
In July, Kim Kardashian-West won $2.7 million in damages after accusing fashion brand Missguided USA of ripping off her outfits and using her name to sell clothes.
John Coldham, a partner at law firm Gowling WLG, said the Ariana Grande case "should act as a stark warning to brand owners to be very careful about using celebrity images and ensuring they are not implying an endorsement," according to the BBC.
Billboard named Grande "Woman of the Year" in 2018 after she raised $29 million for victims of the Manchester suicide bombing attack, the lawsuit said. Grande has more than 65 million Twitter followers and 163 million Instagram followers. A core part of the 26 year old's fanbase overlaps Forever 21's and Riley Rose's target markets.