Why Ariana Grande is Missing From the 2022 Grammy Awards
The prospect of winning three Grammy Awards wasn't enough to entice Ariana Grande into attending this year's ceremony.
The two-time winner revealed on her Instagram, just hours before the main event, that she's decided to skip the 64th Annual Grammy Awards. After Grande announced her absence, she became a trending topic as thousands of heartbroken fans shared their disappointment online.
Grande is nominated for her song and album, both titled Positions, and for featuring on Doja Cat's album Planet Her. Addressing the nominations for her own work, Grande wrote on Instagram that she and all of the other "brilliant musicians and human beings" she nominated alongside have "already won."
Alongside the announcement, confirming that she wont be attending, she shared 10 short videos which are from the production of the Positions album. The videos showed clips of Grande in the studio, live musicians recording the songs, and behind the scenes shots of Grande shooting music videos.
She told her fellow nominees to "have a beautiful time, I am celebrating all of you there today!" True to her word, Grande was following the latest from the Grammy Awards despite not attending.
Although Grande couldn't attend, someone notably recreated one of Grande's most iconic Grammy Awards looks. Drag queen Trinity K. Bonet, who was walking the red carpet at the ceremony in Las Vegas, wore a dress "inspired by" Grande from 2020. Grande instantly approved of the look and shared an image of Bonet on her own Instagram stories, writing "omg omg omg."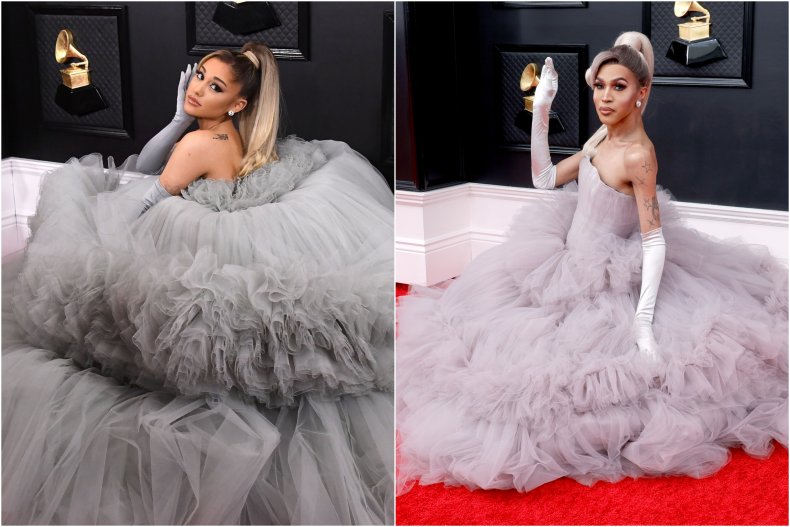 Grande's fans were disappointed to find out she wouldn't be walking the red carpet at the 64th Annual Grammy Awards in the MGM Grand Garden Arena, Las Vegas, Nevada. Grande stan and fan accounts got thousands of likes, comments and retweets when discussing the news which helped her become a worldwide trending topic.
Grande is up against the likes of Justin Bieber, Brandi Carlile, Billie Eilish, Doja Cat, and Olivia Rodrigo in the Best Pop Solo Performance and Best Pop Vocal Album. Alongside Doja Cat, she's up against Tony Bennett and Lady Gaga, Jon Batiste, Bieber, Eilish, H.E.R., Lil Nas X, Ridrigo, Taylor Swift, and Kanye West for Album of the Year.
The full statement she posted to her Instagram account reads: "some positions memories to celebrate grammy day :) reflecting on an incredible process with so many creatives that i love and respect so deeply. i love this album so. it's an honor to be recognized today alongside so many brilliant musicians and human beings that i love. to have each other, to have the gifts that we have, to share and feel heard.. is not something to take for granted, we've already won. :) have a beautiful time, i am celebrating all of you there today!"