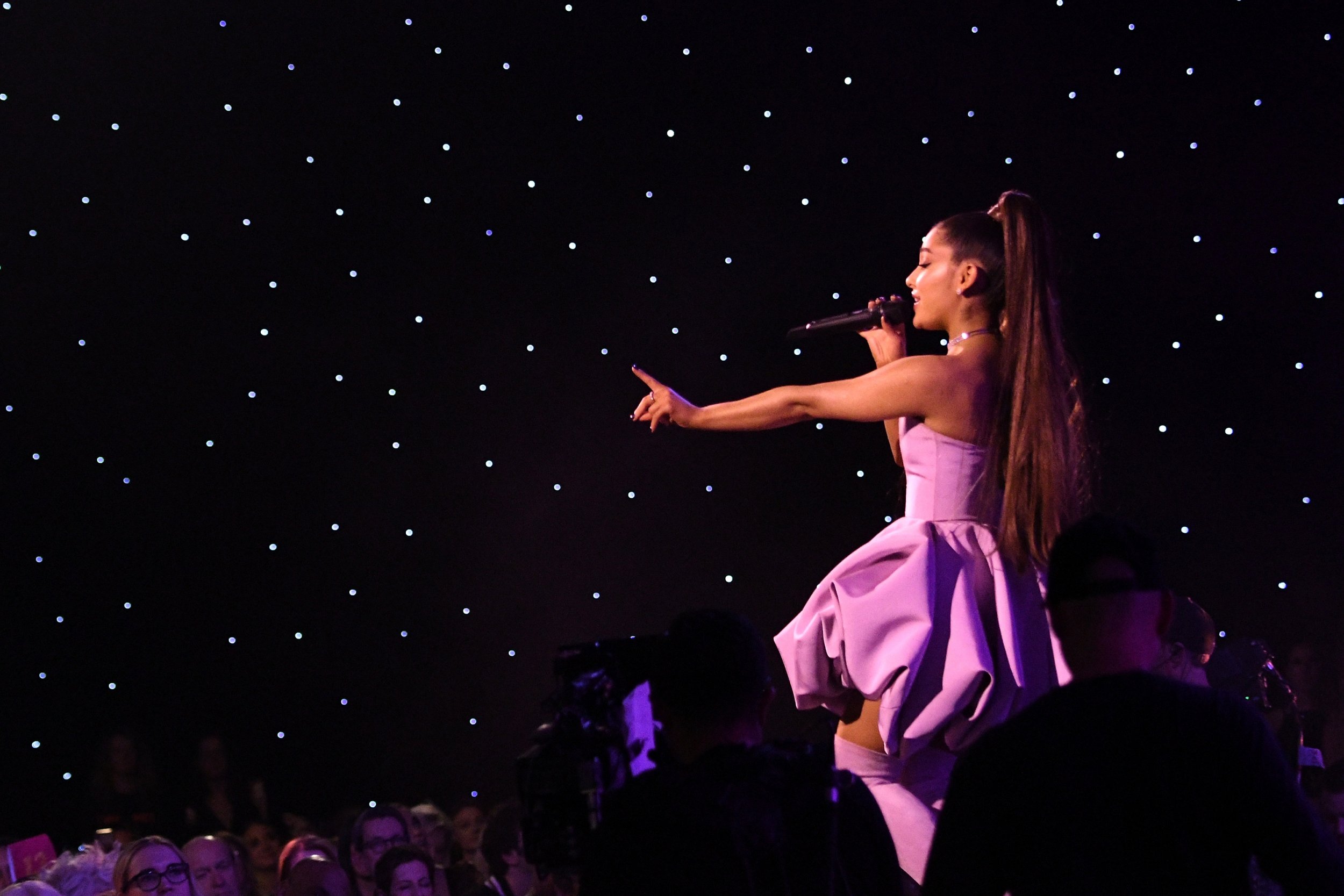 Enter an upcoming Ariana Grande concert and, yes, you'll likely see a swarm of excited fans. You'll feel the electric pulse of anticipation and spot speakers ready to blast. Oh, and you'll also see volunteers carrying clipboards, shepherding people toward voter registration booths.
This all made a bit of noise earlier in the week when fans saw Grande pushing concertgoers to register to vote on her Sweetener tour, as part of a campaign called #ThankUNextGen.
Grande, who has churned out No. 1 hit after No. 1 hit, launched the initiative with the nonprofit HeadCount, which, among other things, works with artists to help set up voter registration efforts at concerts.
"Ariana has been very, very involved with this from day one," HeadCount Director of Communications Aaron Ghitelman told Newsweek.
But this includes more than just getting names on sheets. The idea is to keep in touch with people—who are often young—and keep them engaged, reminding them to vote and seeking to keep them involved in issues that matter to them.
"It's this hybrid field and digital thing where it's not just what we capture live at the concert," Ghitelman said. "It creates this open highway of sorts of communications and actions taken beyond the concert when the fan goes home."
For instance, when fans text "ARIANA" to a certain phone number, they'll get reminders to register, to vote, to register when they turn 18 if they're underage or to contact legislators. Grande, who has more Instagram followers than any woman on Earth, has promoted the initiative on her social channels. And footage of her concert showed a video of her promoting #ThankUNextGen and urging concertgoers to vote.
Attempts by Newsweek to reach Grande's representatives were not immediately successful.
But Grande is far from the only artist HeadCount has worked with. It was launched 15 years ago by co-founders Andy Bernstein and Marc Brownstein, who played with the band the Disco Biscuits.
"It kind of started rolling, where they had this idea: We're already going to all these concerts…we have a network of people who go to these concerts. If all we did was register people to vote at these shows, we would be able to make an impact," Ghitelman said. "Essentially, with the idea that on any given night, at any given Disco Biscuits show, there are more people in the crowd than the difference between Al Gore and George W. Bush in the state of Florida in 2000."
Since then, HeadCount says, it has registered more than 580,000 people to vote.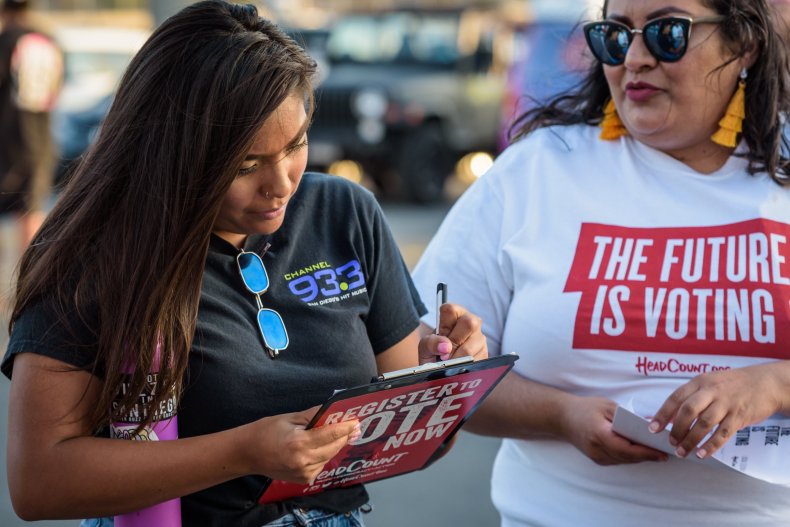 Michael McDonald, a political science professor at the University of Florida who studies elections and voting, said youth turnout is especially tricky. He noted that approaching people at music events might be a way to reach those who aren't on college campuses, where voter registration drives are relatively common.
"The really tough nut to crack are the people who aren't going to school, who are working jobs," he said. "You have to find alternative ways to reach those people. A concert…some of those people aren't going to be in college."
McDonald added that nonprofit Rock the Vote learned in the '90s that registering young people at an event isn't enough—you've got to follow up.
Ghitelman said HeadCount tries to engage voters, young voters especially, in a way that isn't preachy. "We don't push any ideology outside the ideology that participation is good."
Ghitelman, who noted that he's worked at more than 200 events over the past four years, said later that he likes to focus on the barriers, both logistical and emotional, that keep people from voting.
"I think that when you engage with somebody on the level, when you respect their opinions, when you listen to them and hear what matters, it really changes their experience," he said. "Instead of hearing, usually, an old person on TV lecturing them about voting or running a slick paid ad, this is a real human who is at a show. And you have something in common because you both like music."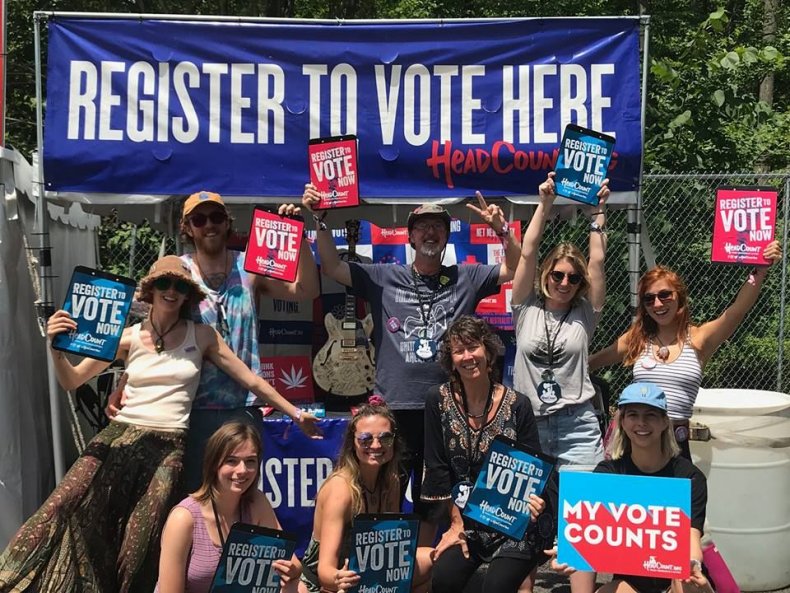 Zack Feinberg, a guitarist for New Orleans rock band the Revivalists, said his group works with HeadCount because it's an important, inoffensive thing: get people to participate in democracy.
"It just seems like a no-brainer," he said. "Like, Why not, why wouldn't we? There's no good reason not to."
HeadCount will have a presence at the Revivalists' upcoming shows in Missouri, Illinois, Texas and elsewhere. In the past, artists like Dave Matthews Band, Jay-Z and Beyoncé have worked with the nonprofit, and HeadCount's site lists Earl Sweatshirt, Lucy Dacus and Bob Weir in its upcoming events.
And these sorts of artists can hold sway. Fans of Grande or Taylor Swift have been known to crash registration sites when they are urged to visit them. Feinberg said die-hard fans of his band, dubbed RevHeads, go out of their way to support them. That influence can matter.
Last election, youth turnout was up, as was turnout overall. The Center for Information and Research on Civic Learning and Engagement estimated that 31 percent of people aged 18 to 29 voted in 2018, up 10 percentage points from the 2014 midterms.
These results, along with efforts by Grande and other artists, make Ghitelman hopeful about the next election.
"That would be beautiful to see us build on that," he said. "I think HeadCount had a nice part in helping that happen. A lot of other people did too."
But nothing is a cure-all, especially when it comes to young voters.
McDonald said that celebrity influence can't be entirely dismissed and that any effort to get people, young people in particular, to vote is worthwhile. But it's tough, especially for young potential voters—as many fans of Grande likely are—because they're often moving around a lot and usually don't have deep roots in their community, which often inspires people to participate.
McDonald said there hasn't been a long-lasting change in youth turnout in some time. But, he added, it matters that efforts are being made by artists like Grande or groups like HeadCount.
"I wish them all the best, I really do," he said. "It would fundamentally change our politics if young people showed up and voted at the same rate as older people."