Arizona, Adding as Many New Daily Coronavirus Cases as EU, Reports ICUs Are 89% Full
Almost 90 percent of intensive care unit (ICU) beds at hospitals across Arizona are occupied, according to public health officials.
The latest figure was reported as the state saw its highest daily increase in new virus cases, with 4,878 reported on Wednesday, July 1. At the time, Arizona's overall test-positivity rate had risen to 12.4 percent.
As the state continues to report a sharp uptick in virus infections, its latest seven-day rolling case average is comparable to the most recent average reported by the European Union. The EU consists of 27 member countries, with a collective population more than 60 times greater than Arizona's.
The Arizona Department of Health Services (DHS) said the state's ICU capacity reached 89 percent on Tuesday, June 30, when 1,495 of roughly 1,679 beds were filled. The department's data also confirmed that patients admitted to statewide hospitals for health complications related to the virus accounted for about 40 percent of ICU admissions. About 85 percent of Arizona's general hospital beds were full as of Tuesday. Patients hospitalized for COVID-19 occupied about 44 percent of them.
Arizona's ICUs have neared maximum capacity for several weeks, as hospitals began to admit virus patients in increasing numbers. The DHS has confirmed record incidences of virus-related hospitalizations on several days since the beginning of June, when the state's outbreak curve began to trend upward. In response, the health department activated an emergency health care plan on Wednesday, which provided hospitals with guidance on ways to prioritize resources.
The Arizona DHS describes its Crisis Standard of Care (CSC) plan as a means to "provide a response and recovery framework for catastrophic disasters, enabling optimal community resilience across the statewide healthcare system." It details recommendations and procedures that prepare hospitals for a continued influx of patients.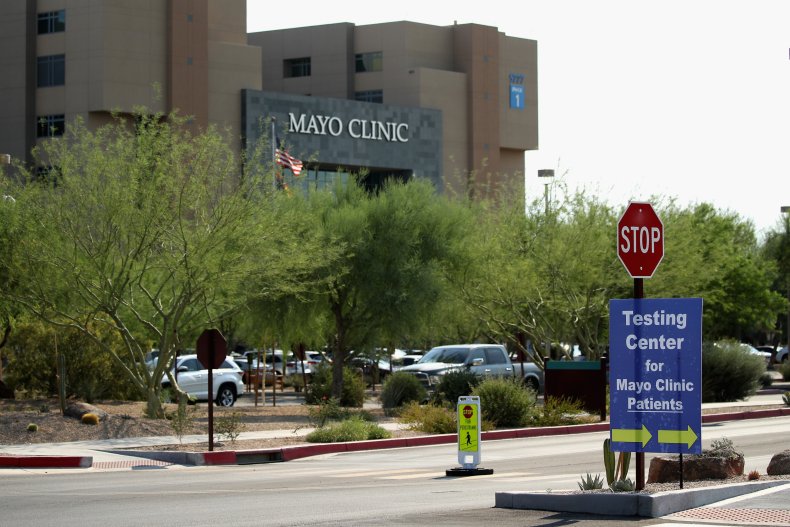 "This plan contains procedures to guide activating, operating, and demobilizing the [State Disaster Medical Advisory Committee] for the State of Arizona; triage guidelines and considerations for healthcare facilities; and strategies and tactics for using and allocating scarce healthcare resources," the CSC's guidelines state. "Consistent with the Incident Command System, the scope of SDMAC activities will be determined by the nature, severity, and scale of the disaster."
As of Wednesday, the DHS had confirmed 84,092 statewide virus infections and 1,720 subsequent deaths since the pandemic began in March. More than 65 percent of those cases were diagnosed after June 9, when roughly 28,000 overall positive tests were reported.
Newsweek reached out to the DHS for comment but did not hear back before publication.