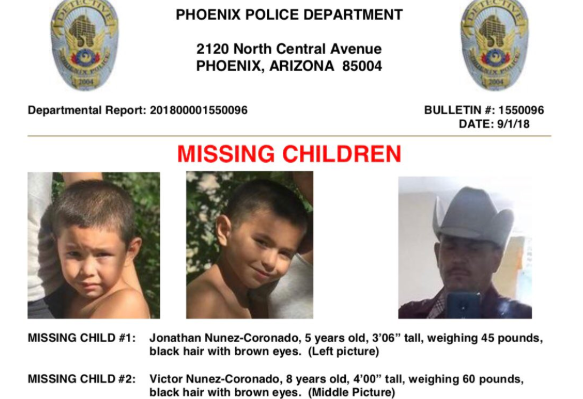 Two young boys from Phoenix, Arizona, remained missing on Tuesday after their mother was shot and killed over the weekend. An Amber Alert was issued on Saturday for Jonathan Nunez-Coronado, 5, and Victor Nunez-Coronado, 8.
The boys were last seen in the area of 3200 West Van Buren Street in Phoenix, according to the National Center for Missing and Exploited Children. Authorities believed both children were with their biological father, Dimas Coronado, 47, who may have fled to Mexico.
The Amber Alert was extended to Mexico on Monday.
The boys' mother, Oralia Nunez, was killed in a double shooting on Saturday morning, AZCentral reported. Nunez, 24, was eight months pregnant at the time of her death, according to AZFamily. Another man was also found dead inside the home.
Phoenix Police Sergeant Armando Carbajal said authorities had probable cause to arrest Dimas Coronado in relation to three counts of homicide, which included the unborn child, according to AZFamily.com.
After issuing an Amber Alert on Saturday, police said they had found the vehicle they were initially searching for, but the suspect and children were not inside or nearby. Police now believe the suspect may be using a light green Ford pickup truck with a white camper shell with Mexico license plates reading ZUD-71-64.
Jonathan Nunez-Coronado was described as 3'6" and 45 pounds, with black hair and brown eyes. Victor Nunez-Coronado was described as 4'0" and 60 pounds, with black hair and brown eyes. Dimas Coronado was described as 5'4" and 180 pounds, with brown hair, brown eyes and a mustache. He was considered armed and dangerous.
Anyone with information was asked to call 911, the Phoenix Police Department at 602-262-6151, or Silent Witness at 480-948-6377.