More than a dozen undelivered mail-in ballots were found hidden in a field in Glendale, Arizona, and returned to authorities just a few days before voters went to the polls on Election Day.
On Saturday, the Glendale Police Department returned the ballots to the residents who were expecting to receive them, according to Arizona Attorney General Mark Brnovich.
In a news release issued on Tuesday, Brnovich's office said the envelopes containing the ballots were still sealed at the time that an individual discovered them the afternoon of October 30. Eighteen mail-in ballots in total were found beneath rocks and concrete in a field at Rovey Farms near 99th Avenue and Glendale Avenue and were believed to have been stolen directly from mailboxes in a neighborhood nearby, according to Brnovich's office and Glendale police.
Tiffany Ngalula, the public information officer with the Glendale Police Department, told Newsweek that the ballots were sun-faded at the time Brayan Ruiz, an employee at Rovey Farms, found them. It was not known how long the ballots were left in the field before Ruiz came across them, Ngalula said.
Officers and agents with Brnovich's office returned the ballots to their intended recipients by hand just three days before Election Day. Brnovich's office said it was unclear what the motive was behind the stolen ballots.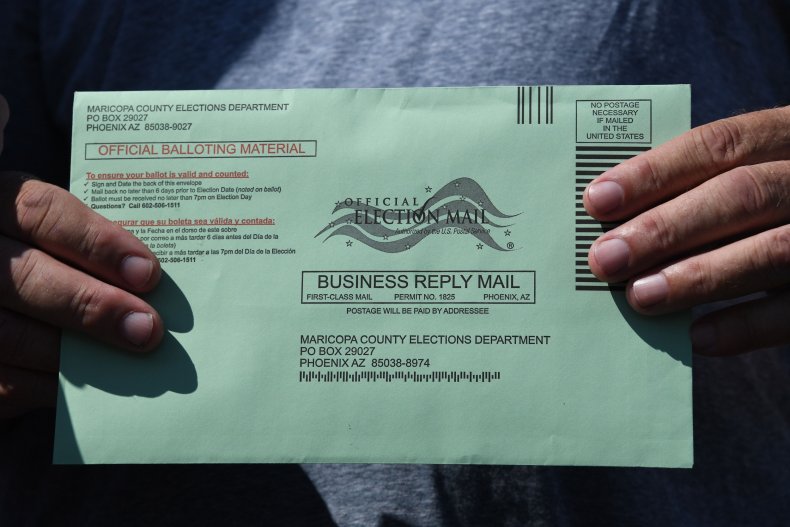 "We thank Brayan Ruiz for doing the right thing in ensuring that we were able to deliver those ballots personally," Ngalula told Newsweek. Ngalula described the incident as a "positive story" in which officers were "able to do our part" to ensure that the residents who were missing their mail-in ballots received them.
In a video posted on the Glendale Police Department's Facebook page, Ruiz explained how he came across the hidden ballots, and the officers who helped deliver them to their intended recipients shared body-cam footage showing their interactions with the mail-in voters.
"I was wondering where my ballot was. I never got it," one voter told the officers. Another voter shared that this year marked the first time she had registered to vote in an election. Yet another resident said she'd had no trouble receiving other items in the mail but had noticed her ballot never arrived.
"I have gotten everything else I needed, but I did not get my ballot," the voter said.
All mail-in voters in Arizona are required to return their ballots by 7 p.m. local time on Election Day. According to the U.S. Elections Project, more than 2.4 million voters returned their mail-in ballots by Monday, about 72 percent of the total mail-in ballots requested in the state for the 2020 election. Mail-in voters who are curious about their ballot's location can track its progress by visiting Arizona Secretary of State Katie Hobbs' website.
This story has been updated with additional information, background and comments from Glendale Police Department Public Information Officer Tiffany Ngalula.