Arizona's Hair and Nail Salon Workers Call on Governor to Take Them Off List of Essential Services: 'Absolutely Ridiculous'
Arizona's hair and nail salon workers are calling on Governor Doug Ducey to take them off the list of businesses deemed essential amid the coronavirus pandemic.
On Monday, the Republican governor issued a stay-at-home order until April 30 to slow the spread of the virus. A week earlier, he had issued an executive order that laid out the businesses that were considered essential, which included golf courses, pawnshops and "personal hygiene" services, which includes barber shops and salons.
The designation has prompted criticism from officials and many working in the beauty industry, who say it is impossible for them to practise social distancing while remaining open for business.
Since then, more than 7,000 people have signed a petition urging Ducey to take hair salons and other beauty businesses off the list.
Rebecca Sanchez, who started the petition, wrote: "No matter how hard we work at maintaining the highest Sanitation procedures and follow guidelines of 10 or less gathering recommendations, we cannot maintain the 6 ft distance rule!
"At many times during any service we are 12 inches away from our clients, multiple times a day. No one knows for sure if someone has to be exhibiting symptoms to be contagious, we could unconsciously be spreading the virus and putting our community at large at greater risk."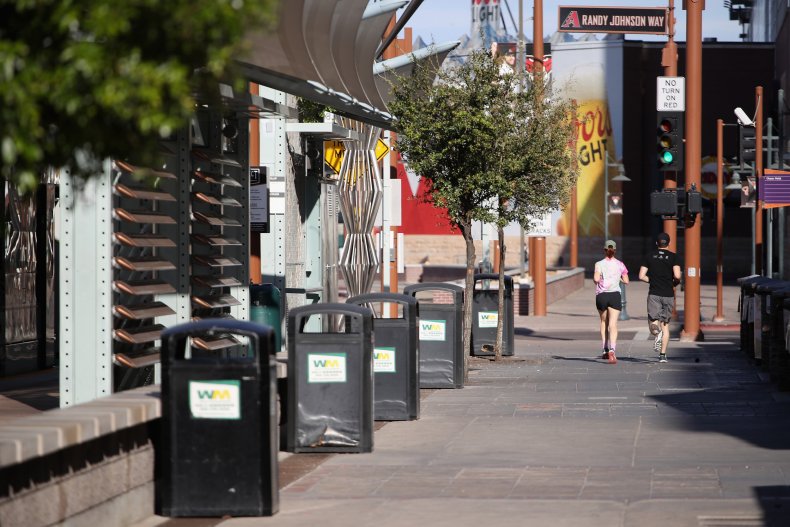 Sanchez wrote that although some cosmetologists have decided to close of their own accord, Ducey needs to shut down such businesses so employees can be eligible for unemployment and government assistance.
Brittany Temple, a nail technician from Gilbert, told Newsweek it was "absolutely ridiculous" to class beauty businesses as essential alongside grocery stores, banks and transport services.
"Hair and nails at a time like this should be the last thing on everyone's mind. It can wait. You're not going to die if you don't get your hair and nails done," she said.
Temple added that people were continuing to make appointments despite the spread of the virus and it is impossible to practise social distancing in her line of work.
"We can not be 6 feet away from our clients. You can be the cleanest salon in the world. Wipe down and clean all you want. One cough, one sneeze, people accidentally spit when they talk… and that's all it'll take.
"People aren't taking it seriously, which is why we rely on the governor to make important decisions. And he has failed us."
Temple, who rents a suite, said she decided to stop working because her 71-year-old mother, who has diabetes, lives with her. "I would not be able to live with myself if I brought something home to her. I wasn't willing to put her life on the line to do manis and pedis," she said.
She added that many in the beauty industry will suffer if hair and nail salons remain on the essential businesses list, regardless of whether or not they decide to close of their own accord.
Those that do stay open are seeing fewer clients as some "are making the right decision by canceling their appointments simply because it's not worth the risk," therefore bringing in less revenue, Temple said.
But those that have decided to shut down for the safety of their families are still forced to pay rent since the closure wasn't mandatory. "For those that own a small business or rent a suite, all the blood sweat and tears we have put in to keep our businesses will all be for nothing if we remain on the essential list," she said.
Christina Shaffer, who owns a hair salon in Tucson, echoed Temple's sentiments. Having hair salons listed as an essential business "doesn't make sense," she told Newsweek.
Schaffer said she decided to close her salon on Friday because although her two small children and husband are healthy, her in-laws are diabetic and babysit while she is at work.
"I have doctors, nurses and urgent care providers come in," she said, adding that she can't do her job and stay 6 feet from her clients.
Leyna Negron said having salons listed as essential services was "incredibly dangerous."
"This feels like a ploy to keep us off of financial assistance, but perhaps no one wants to work more than those of us shutting down," she told Newsweek. "The sooner we lockdown the sooner we can flatten the curve."
She also said it was "impossible" to do her job while adhering to the social distancing guidelines outlined by the U.S. Centers for Disease Control and Prevention (CDC), so she voluntarily closed her salon in Apache Junction after 14 years in business.
"When I'm doing nails, I'm in close proximity to my clients. We are sharing breathing space," she said. "Some of my clients are elderly, which means they're at higher risk."
Some Arizona mayors have also questioned why businesses like beauty salons are on Ducey's list of essential services.
"Does this cover nail salons? Hair salons? Massage and spa services? Barber shops?" Tucson Mayor Regina Romero said to Arizona Capitol Times. "That's concerning because that has people less than one foot away from each other."
Meanwhile, Flagstaff Mayor Coral Evans defied Ducey's order and ordered the closure of beauty salons in her city on Friday, the Phoenix New Times reported. Ducey's office has been contacted for comment.
Arizona had 1,413 confirmed cases of COVID-19, the disease caused by the coronavirus, and 29 deaths as of Wednesday, according to the Arizona Department of Health Services.
This article has been updated to include comments from Leyna Negron.
World Health Organization advice for avoiding spread of coronavirus disease (COVID-19)
Hygiene advice
Clean hands frequently with soap and water, or alcohol-based hand rub.
Wash hands after coughing or sneezing; when caring for the sick; before, during and after food preparation; before eating; after using the toilet; when hands are visibly dirty; and after handling animals or waste.
Maintain at least 1 meter (3 feet) distance from anyone who is coughing or sneezing.
Avoid touching your hands, nose and mouth. Do not spit in public.
Cover your mouth and nose with a tissue or bent elbow when coughing or sneezing. Discard the tissue immediately and clean your hands.
Medical advice
Avoid close contact with others if you have any symptoms.
Stay at home if you feel unwell, even with mild symptoms such as headache and runny nose, to avoid potential spread of the disease to medical facilities and other people.
If you develop serious symptoms (fever, cough, difficulty breathing) seek medical care early and contact local health authorities in advance.
Note any recent contact with others and travel details to provide to authorities who can trace and prevent spread of the disease.
Stay up to date on COVID-19 developments issued by health authorities and follow their guidance.
Mask and glove usage
Healthy individuals only need to wear a mask if taking care of a sick person.
Wear a mask if you are coughing or sneezing.
Masks are effective when used in combination with frequent hand cleaning.
Do not touch the mask while wearing it. Clean hands if you touch the mask.
Learn how to properly put on, remove and dispose of masks. Clean hands after disposing of the mask.
Do not reuse single-use masks.
Regularly washing bare hands is more effective against catching COVID-19 than wearing rubber gloves.
The COVID-19 virus can still be picked up on rubber gloves and transmitted by touching your face.