Arizona Becomes 4th State to Reverse Reopening As Coronavirus Cases Spike
Arizona Governor Doug Ducey paused his state's reopening strategy on Monday, calling for the closure of bars, nightclubs and water parks for 30 days after an increase in positive cases of the coronavirus. Ducey's announcement makes Arizona the fourth state in the U.S. to reverse their reopening plans, temporarily closing businesses that had previously been opened.
Bars and restaurants in Arizona reopened in May, but some establishments had not been enforcing social distancing protocols. Arizona began experiencing more positive cases of the virus after the state's stay-at-home orders expired in May. With Monday's executive order, Arizona joins Florida, California and Texas in taking a step back and closing some businesses.
"We can't be under any illusion that this virus is going to go away on its own," Ducey said during a Monday press conference. "Our expectation is that next week our numbers will be worse. It will take several weeks for the mitigations that we have put in place and are putting in place to take effect."
On Sunday, Arizona reported 3,858 new cases of the virus. While cases were lower on Monday, with only 625 new cases reported by the Arizona Department of Health Services, officials said a delay in reporting from a testing laboratory rendered that data incomplete.
In a statement sent to Newsweek, the Arizona Department of Health Services said it would be releasing new guidance in connection with Ducey's executive order within "the next few days."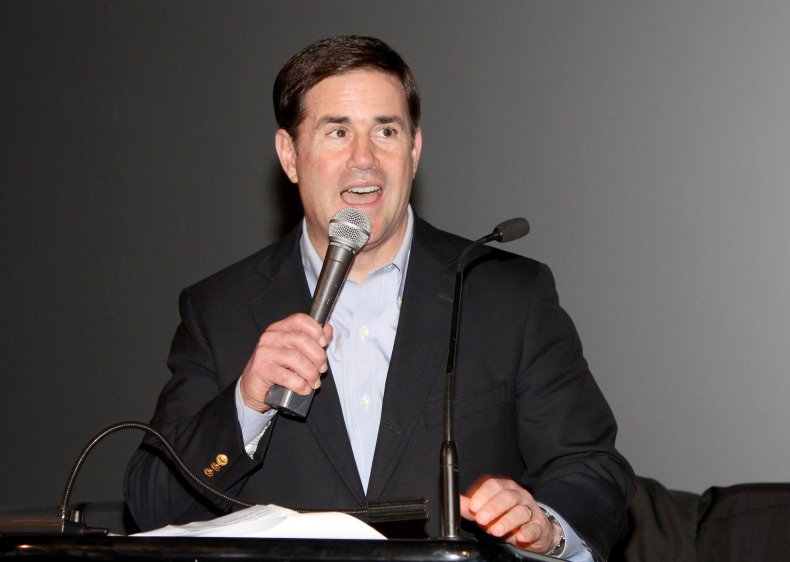 Texas announced 6,584 new positive cases of coronavirus last Wednesday, a record high for the state. Governor Greg Abbott announced on Friday that he would close bars in his state and reduce restaurant capacity to 50 percent. In a news release, Abbott said the rise in positive coronavirus cases was "largely driven by certain types of activities, including Texans congregating in bars."
Florida closed all of its bars on Friday after 8,942 positive cases of the virus were reported. At a Friday news conference, Governor Ron DeSantis said people were not following the social distancing protocols enacted by the states.
"There was widespread noncompliance," DeSantis said during a press conference, "and that has led to issues. If folks just follow the guidelines, we're going to be in good shape. When you depart from that, then it becomes problematic."
Bars in seven California counties were closed by Governor Gavin Newsom on Sunday. Newsom also recommended that bars in eight other counties close.
In a Sunday statement, Governor Newsom said that the virus was "growing stronger" in some areas of the state. "That's why it's critical we take this step to limit the spread of the virus in the counties that are seeing the biggest increases."
The increase in positive cases has caused 12 other states to put their reopening plans on pause, including New Jersey. On Monday, Governor Phil Murphy delayed the start of indoor restaurant dining which was expected to resume on Thursday. Murphy said Monday that crowds at restaurants had caused him to reconsider the date of the reopening.
"Unfortunately, the national situation, compounded by instances of knucklehead behavior here at home, are requiring us to hit pause on the restart of indoor dining for the foreseeable future," Murphy said during a news conference.
Arkansas, Delaware, Idaho, Louisiana, Michigan, Nevada, New Mexico, North Carolina, Oregon and Washington have also paused their reopenings until they can meet the guidelines for moving forward.