An Arizona bill allowing the parents of children conceived because of rape to terminate their rapists' parental rights passed the state legislature on Monday.
The bill, SB1007, which previously passed the state congress, also passed the state senate unanimously on Monday, with four senators abstaining. The bill will now move on to Gov. Doug Ducey's desk to be signed. Democratic State Sen. Victoria Steele, who introduced the bill, celebrated its success in a statement obtained by Newsweek:
"Women shouldn't be forced by law to share parental rights with rapists. Words cannot express how elated and grateful I am to my Republican and Democratic colleagues in the House for passing my bill and finally sending it to the Governor," said Steele. "No one should be tethered to their rapist and abuser for life by being forced to share parental rights."
This is not the first time Steele has attempted to pass a law protecting parents of children conceived by rape from having to co-parent with their rapists. In February 2020, Steele withdrew a similar bill from senate consideration after the committee chairman, Republican Sen. Eddie Farnsworth, demanded she amend the bill by adding an exception that would protect rapists who had sexually assaulted their spouse.
"I was forced to pull my bill because the committee chairman held my bill hostage with the demand that I allow an amendment to exempt married victims who are raped by their spouses," Steele said at the time. "While I am open to reasonable negotiations to get a bill passed, I am not willing to compromise the safety of anyone who has been raped, the safety of their child, and my integrity."
Steele's bill faced no such impediment from lawmakers on Monday, and she took to Twitter to celebrate, thanking legislative colleagues, saying: "OMG it passed unanimously! My bill SB1007 passed!!! Done! Women no longer will be forced to co-parent w/rapists. Thx@sierra4azfor getting SB1007 passed in House; @espinozadiego19, @reginaldbolding & @jenlongdon for the assist. My god...thanks to the staff!! You are amazing."
In her statement obtained by Newsweek, Steele addressed her personal connection to the bill, saying, "As a victim of sexual assault myself, I know firsthand the trauma and pain victims of rape experience. While we cannot change what happened in the past, we can change what happens in the future and lessen the pain by not allowing a rapist parental rights. This was the correct and good thing to do."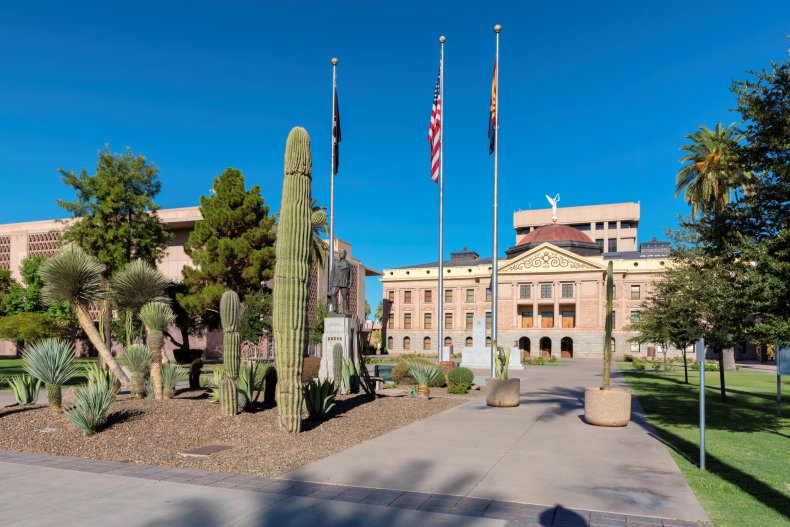 Thirty-two other states in addition to Arizona have legislation allowing the termination of the parental rights of rapists who conceive a child as a result of an assault, according to the National Conference of State Legislatures.