Arizona Coronavirus Cases Nearly Double From Previous Week as State's Largest Health System Reaches Capacity
New cases of the novel coronavirus in Arizona have surged by over 97 percent in the past week, compared with the previous week, according to data compiled by Johns Hopkins University.
The state recorded 7,023 new cases from June 1-7, nearly doubling the 3,559 new infections reported from May 25-31. The state's highest daily case count to date was recorded on Friday, June 5, with 1,600 new infections.
As of Saturday morning, Banner Health, the state's largest health system, reached its capacity for patients requiring ECMO (extracorporeal membrane oxygenation), Banner Health reported to the Arizona Surge Line, a statewide phone line that hospitals contact when they're unable to provide the required care for a COVID-19 patient.
An ECMO is a lung machine providing support to patients suffering severe lung damage who are in need of additional support even while placed on a ventilator.
On Friday, the state saw a record number of hospitalizations among confirmed or suspected novel coronavirus patients, with 1,278 hospitalizations reported on June 5. The latest figure was the highest number of COVID-19-related hospitalizations recorded since the state began reporting virus data on April 9, according to the Arizona Department of Health Services.
On June 4, around 50 percent of the state's COVID-19 patients were reported to be hospitalized at a Banner Health facility. The Banner—University Medical Center Phoenix has seen the highest number of COVID-19 patients within the health system, Banner Health Chief Clinical Officer Dr. Marjorie Bessel confirmed at a media briefing on Friday.
Banner Health hospitalizations were reported to be "rapidly increasing," with ICUs (intensive care units) being especially busy. "We have been load balancing between Banner hospitals. This means that we transfer patients and resources between Banner facilities to meet the needs of the community while not stressing any one hospital," Bessel noted.
"Most concerning is the steep incline of COVID-19 patients on ventilators," she added. Data from the state health department showed a dramatic increase of 241 ventilators in use among COVID-19-related patients on Thursday to 292 on Friday.
On Saturday, 1,203 ICU beds (about 77 percent of total ICU beds) were reported to be in use across the state, of which 392 were being used by confirmed or suspected COVID-19 patients. Around 364 ICU beds (about 23 percent of total ICU beds) remained available for use, according to the latest figures from the Arizona Department of Health Services.
"If these trends continue, Banner will soon need to exercise its surge plan to increase ICU capacity. Capacity is determined by beds, staffing and resources needed to care for critically ill patients," Bessel added.
Within the last week, Arizona reported around five of its highest daily case counts since the outbreak began, with the number of daily new cases ranging from 1,000 to 1,600, according to data compiled by Johns Hopkins University.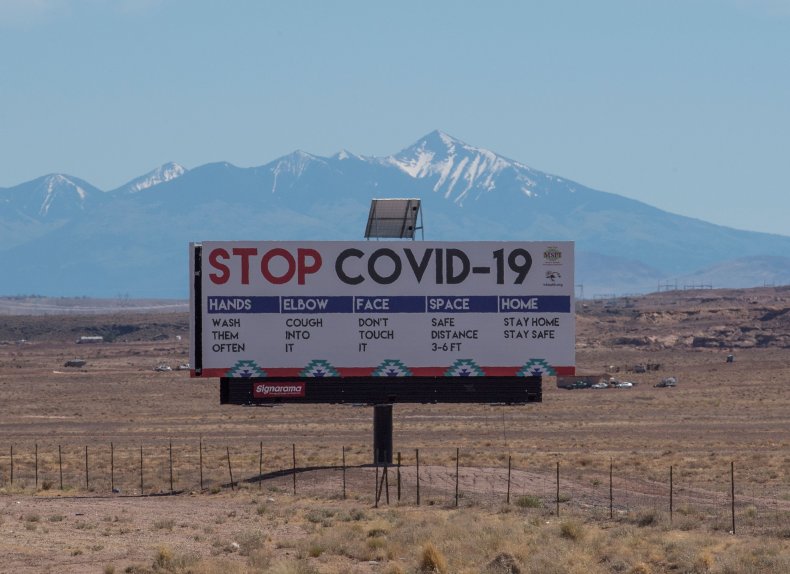 At a press conference on Thursday, Arizona Gov. Doug Ducey acknowledged "We've [Arizona has] seen some growth in cases as of late," which was attributed to increased testing.
"The virus is widespread. It's in every county and every state in our nation. This virus is not going away," he said.
He also noted: "We are not in a crisis situation. If something were to go in a dramatically elevated position, we would be prepared in Arizona."
A spokesperson for Ducey's office told Newsweek: "Throughout this pandemic, Arizona's actions [have] been guided by the recommendations of public health experts and the gating criteria set forth by the CDC [Centers for Disease Control and Prevention], and that will continue to be the case.
"We've known for some time, based on modeling projections provided by FEMA [Federal Emergency Management Agency] and others, that Arizona was expected to see a peak in June. We expected this, and we are prepared for it.
"As Arizona has gradually reopened, we've focused on ensuring our hospitals are well equipped and have capacity to ensure anyone who needs health care has access to it, which is the case. And we've continued to focus on protecting our most vulnerable, including those in nursing homes and long-term care settings," the spokesperson added.
Arizona's stay-at-home order expired on May 15 but some venues were allowed to reopen before this date. Restaurants, gyms, pools, hair and nail salons, and some non-essential retailers resumed operations before May 15 with restrictions in place.
A statewide "Declaration of Emergency" and curfew was issued in Arizona from the evening of May 31 to help manage ongoing protests in the state following the death of George Floyd. The curfew was in place until 5 a.m. on Monday "unless further extended," the governor's office confirmed.
The novel coronavirus, which was first reported in Wuhan, China, has infected more than seven million people across the globe, including over 1.9 million in the U.S. Over 403,200 have died following infection, while more than 3.1 million have reportedly recovered, according to the latest figures from Johns Hopkins University.
This article was updated with comment from Ducey's office.
The graphics below, provided by Statista, illustrate the spread of COVID-19 in the U.S. and the worst-affected countries.