Arizona COVID Funds at Risk Over Programs Limited to Schools Without Mask Mandates
The Biden administration is threatening to take back Arizona COVID relief funds if the state does not make changes to two federally funded school programs in the state with policies that discourage mask wearing.
The state's Education Plus-Up Grant Program provides $163 million to schools; however, districts are ineligible if they require face coverings. The COVID-19 Educational Recovery Benefit Program, totaling $10 million, provides financial aid for parents to help move their children from schools requiring face coverings, CNBC reported.
The White House says the programs discourage families and school districts from wearing face coverings, as per CDC recommendations that universal mask wearing should happen in school settings to prevent the spread of COVID-19, the Associated Press has reported.
In a letter sent in October 2021, the Treasury Department asked Arizona how it would rectify the issues with both programs. According to acting Deputy Chief Compliance Officer Kathleen Victorino of the Treasury Office of Recovery Programs, the state's response detailed its rationale for anti-mask policies but failed to "describe any plans for remediation of the issues identified," according to CNBC.
On Friday, the Treasury Department warned Arizona that the state has 60 days to remove the anti-masking provisions, or the federal government would move to recover the relief money, CNBC added. It would also withhold the next distribution of financial aid, as well.
Governor Doug Ducey took to Twitter upon the release of the Treasury Department's letter, stating, "This letter is the latest example of a president that is completely out of touch with the American people." He went on to say the move was a "failed attempt to mandate vaccines" and that the administration is now "attempting to rewrite rules around public dollars that will result in less funding to schools and kids."
Arizona already received about half of the $4.2 billion that was rewarded to them in 2021 due to the COVID-19 Relief Bill, according to the AP.
Last year, the state Legislature moved to pass provisions banning school mask mandates, but, according to The Washington Post, the state Supreme Court ruled in November that the measures were invalid.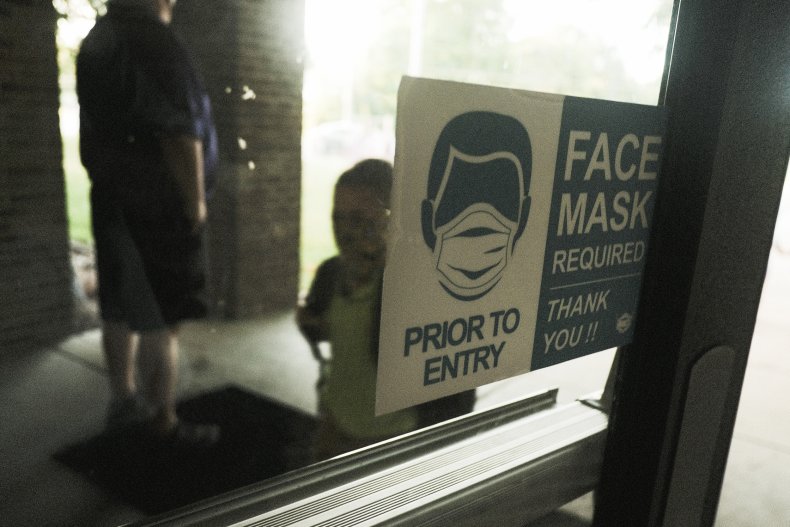 After the letter's release, Ducey also tweeted, "We will respond to this letter, and we will continue to focus on things that matter to Arizonians. President Biden should do the same, and he can start by addressing the crisis at the border."
The governor's language describing a "crisis at the border" is a reference to the ongoing influx of individuals migrating through the country's southern border, a situation that the Biden administration has deliberately avoided calling a "crisis," according to the Center for Disaster Philanthropy and USA Today.