Arizona and Delaware Are the Only States Where COVID is Declining - Soon It Could Be Just One
As coronavirus cases continue to climb across the U.S., two states have started to see a decline in new infections, according to data from the New York Times. In the last two weeks, Arizona and Delaware have shown a downward trajectory in COVID-19 cases, but soon, Arizona might be the sole state on that list.
Delaware has recently seen a slight uptick in coronavirus figures. Despite reporting the lowest number of new positive cases in two weeks on Tuesday, July 21, the trend line shows that the state's 7-day rolling average has been increasing incrementally.
On Tuesday, July 21 the state's Division of Public Health (DPH) reported only 39 new cases, compared to 137 the day before, but the moving average had risen to 92.7 new daily cases. Two weeks ago on July 8, the state's average was at 70 new daily cases.
The single-day drop also comes after three consecutive days of increases, each topping the other.
Current hospitalizations in Delaware are also on the rise. On July 21, the DPH reported 61 hospitalizations statewide, a figure that has gone up for the third day in a row.
Newsweek reached out the the Delaware DPH for comment but did not hear back in time for publication.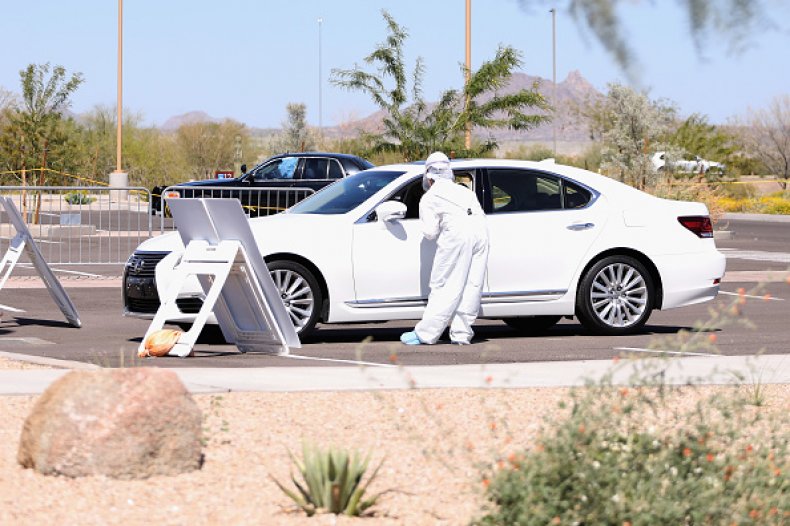 The slight increase in numbers did not stop Delaware Governor John Carney from being "mad as hell" that his state returned to New Jersey's quarantine list.
On Tuesday, New Jersey added 10 states, including Delaware, to their coronavirus quarantine travel advisory after having removed Carney's state the week before.
States on the list are classified as COVID-19 hotspots and New Jersey asks travelers arriving from those places to voluntarily self-quarantine for 14 days in efforts to prevent the virus from spreading. In New York, Governor Andrew Cuomo has threatened a $2,000 fine.
"I'm mad as hell, frankly, and it doesn't make any sense," Carney said at a news conference on Tuesday. "It makes no sense. We're better today than when we were first put on the list two weeks ago. And we're better today than we were last week, when we were taken off the list."
While Delaware's figures have dropped in the last week, the state's future spread is uncertain.
Carney argued the state is being penalized by numbers that don't reflect Delaware's pandemic response. He said the state's small population and extensive testing has resulted in anomalies that don't accurately depict the severity of COVID-19 in Delaware.
Arizona, on the other hand, continues to see numbers fall. The Grand Canyon State emerged as a national hotspot back in June but has since seen a dramatic decrease in new coronavirus cases this month.
After reporting over 5,000 new daily cases back-to-back at the end of June, the Arizona Department of Health Services saw that number drop on Wednesday, July 22, when the state reported 2,335 new cases.
The decline may be a result of Governor Doug Ducey's drastic rollbacks on reopening. Ducey closed bars, gyms, movie theaters and other businesses for 30 days in response to the soaring numbers Arizona saw at the end of June.
Carney also announced a pause on reopening last month. Delaware decided not to move into Phase 3 of their reopening plan. Although the precautionary measure lowered the state's numbers, it seems that cases are rising once again.
As of Wednesday, July 22, Delaware has reported 13,792 confirmed cases and 527 deaths, according to the DPH.