Arizona Democrat Candidate Paul Weich Finds Campaign Signs Shredded
An Arizona congressional hopeful has said he has contacted the police after a number of his campaign signs were vandalized.
Paul Weich, a Democratic running for Arizona's 12th congressional district, described on social media how his signs had been "shredded and scattered" across the constituency he is campaigning in.
Weich, who is up against Patricia Contreras, Sam Huang, Ajlan Kurdoglu and Anastasia Travers in the Democratic primary on August 2, posted images of the latest shredded signs on social media while stating he has handed over evidence to police.
He said this was not the first time that his signs had been targeted. In a previous social media post, Weich said that more than two dozen had been destroyed in areas such as Phoenix, Tempe and Chandler over the past several weeks.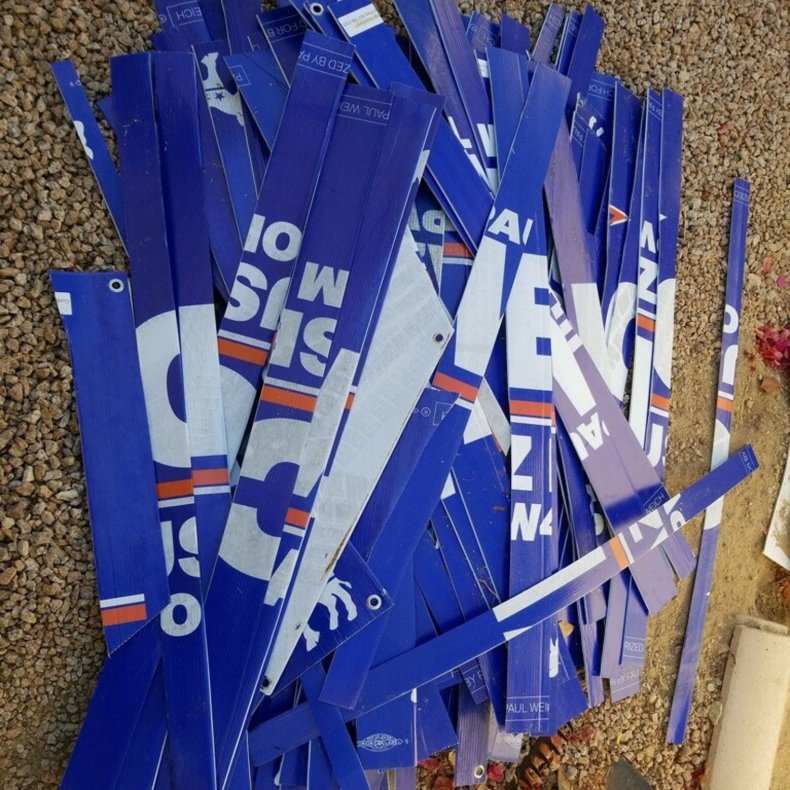 Weich had previously posted a clip that appears to show a man in a baseball cap getting out of a silver vehicle, retrieving a tool from the trunk and slicing and removing a campaign sign.
"Despite being caught on video slashing and stealing my signs, the destructive behavior continues to escalate," Weich wrote on June 18.
"Yesterday, my wife Marion found pieces of my campaign signs shredded and scattered over the entrance to our neighborhood in LD12. She picked up the pieces and brought them home. We have turned all evidence over to police.
"It seems my signs are being targeted. Someone must see me as a very convincing threat, given that I'm committed to moving Arizona forward by protecting democracy and our voting rights, fighting for our reproductive rights and public school funding, advocating for common sense gun control, and enacting policies that protect our water and environment," Weich added.
The Democrat had previously described how the damage to his signs had cost him around $1000. While sharing the clip of the man targeting one of his signs, Weich vowed to "hold these criminals accountable to the fullest extent of the law."
"Not only is it against the law, it's wrong—for the voters in our district, the hard working candidates, and those who donate to fund our outreach," Weich wrote in a June 17 Facebook post.
"Let's send a message that destructive behavior will not be tolerated in our district."
Under Arizona law, moving, altering, defacing or covering up a political sign is a class 2 misdemeanor which can be punished with up to four months in jail and a minimum $750 fine.
Weich and Phoenix Police have been contacted for comment.