Arizona Democratic Sen. Mark Kelly Says Government Doesn't 'Have a Plan' for Border
Arizona Democratic Senator Mark Kelly said on Thursday that the federal government currently doesn't "have a plan" to handle the influx of migrants at the border.
During an interview with KSAZ-TV, Kelly was asked about the recent photos and videos of the different migrant holding facilities across the border, which show crowded conditions and large groups of unaccompanied minors. In response, Kelly pointed to the federal government as the ones responsible for handling the situation.
"This is a tragic situation, it's a challenging one, it's a crisis and it's up to the federal government to provide the resources and the border security that we need and a plan," Kelly said. "And we currently don't have a plan."
He added, "I've spoken to [Homeland Security] Secretary [Alejandro] Mayorkas about this a number of times. I've spoken to the president a couple of times about this already. And I'll continue to press the administration and the Department of Homeland Security to get the resources we need in Arizona to deal with the situation at our southern border. It's unacceptable."
In a recent press release, Kelly underlined his point that the federal government is responsible for taking care of the challenges at the U.S.-Mexico border.
"Today Arizona Senator Mark Kelly continued pressing the administration for a plan and necessary resources to handle the response on the southern border to ensure a secure, orderly and humane process at the border that doesn't fall on local communities," Kelly's office wrote in the release.
Kelly also made similar comments to KNXV-TV in Arizona, saying, "It shouldn't be on our border communities in Arizona to deal with this. It should be on the federal government."
Newsweek was directed to the press release and Kelly's recent interview after reaching out to the senator's office for comment.
Kelly's comments come as the U.S. has seen an increase in migrants arriving at the southern border, as President Joe Biden has overturned a number of immigration policies previously imposed by former President Donald Trump.
In a statement issued last week, Mayorkas announced that the U.S. is on "pace to encounter more individuals on the southwest border than we have in the last 20 years."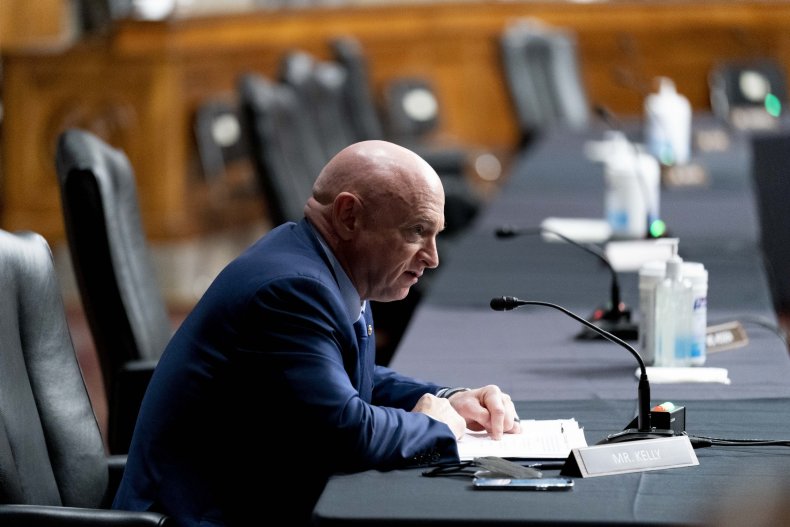 Mayorkas' statement also noted that the government is "expelling most single adults and families," but not "expelling unaccompanied children."
Biden also made similar comments on Thursday, during his first press conference as president. He stated that border patrol officers are "sending back a vast majority of families," adding that they're "not getting across the border."
Despite the comments from Mayorkas and Biden, recent data from Customs and Border Protection (CBP), shows that the Biden administration has expelled 41 percent of family units, which include at least one parent and one child, in February under Title 42, which allows immigration officials to deny entry to migrants for issues related to public health. In comparison, CBP data shows that in January, 62 percent of family units were removed from the U.S., indicating a decrease in the number that has been expelled in the past month.