Arizona Dad Jailed For 3 Years in Mexico After Accidentally Leaving Gun Under Seat
An Arizona man has been jailed for almost three years in a Mexican prison after he allegedly left his gun under a car seat by mistake while he was traveling with his family for a vacation.
Ira Beavers, his wife Francine Nicholson, and their children had been on their way to Rocky Point in Mexico on July 30 when they were stopped at the border in Lukeville, Arizona, according to WTHR.
Border Patrol found Beavers' gun under a seat in the car. He had forgotten to remove the firearm, a 9mm Glock, from the vehicle before the drive to Mexico, Nicholson told the station.
"We were stopped and our car was inspected just like everyone else," Nicholson said. "It absolutely is legal here in Arizona," she added of the firearm.
However, Mexico's stricter gun laws meant officers arrested both Beavers and Nicholson. "We were both handcuffed in front of our children," she said, describing the moment as "absolutely terrifying."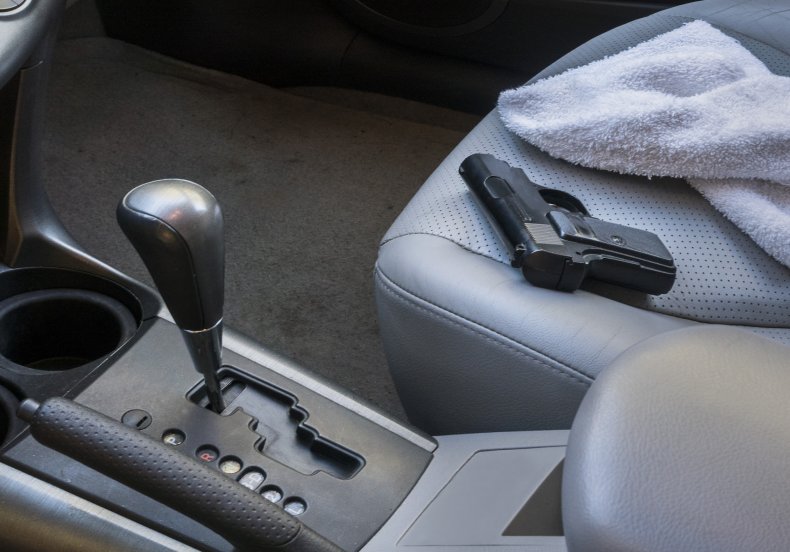 Nicholson said neither she nor her husband had ever been arrested before.
She was released from custody after 48 hours, according to a GoFundMe page set up by her friend Deydra Stevenson. However, Beavers, of Glendale, Arizona, was sentenced to serve almost three years in a federal prison in Mexico on Friday.
Beavers was handed a sentence of two years, nine months and 17 days in prison after the family paid a lawyer $7,500 "only for them to take the money and not do the job that they were hired to do," Stevenson wrote.
The family are now hoping to raise money to pay a new attorney to appeal the sentence and bring Beavers home.
"On July 30th my best friend, her husband Ira Beavers and their three kids were on their way to Rocky Pointe Mexico," Stevenson wrote on the page, which has so far collected more than $9,700 in donations.
"Their car was stopped at the Lukeville Border and searched. Accidentally Ira forgot to remove his firearm and it was found. They were arrested, my friend was released 48 hours later but her husband is still in the prison in Mexico."
The work of the original attorney "caused him to be sentenced to two years nine months and 17 days," Stevenson added. "The court didn't even give Ira an opportunity to bond out."
The family have now hired a new lawyer, who has promised to have Beavers home soon, according to the GoFundMe.
"My friend has found an attorney who will take the case but is charging $15,000," Stevenson wrote.
"We are trying to raise as much money as we can to get him back home to Arizona. He's a good person never has been in trouble or arrested before. The new attorney is guaranteeing us that he can have him home in 30 days every little bit helps let's get Ira home."
The family have been contacted for additional comment.