Arizona GOP Censures Cindy McCain, Jeff Flake Over Biden Support and Gov. Ducey for COVID Restrictions
The Arizona Republican Party on Saturday approved resolutions to censure Cindy McCain, widow of the late Senator John McCain, and former Senator Jeff Flake for endorsing President Joe Biden, and Governor Doug Ducey for enforcing the state's coronavirus restrictions.
McCain and Flake were censured for their criticisms of former President Donald Trump and support of his Democratic opponent Joe Biden in the 2020 election cycle, while Ducey was censured for using emergency orders to restrict business activity amid the pandemic. All three resolutions passed by a considerable margin.
The move merely represents symbolic disapproval of the three notable Republican members in the state, but also highlights the worsening divisions within the party between Trump loyalists and those who have broken from him.
"These resolutions are of no consequence whatsoever, and the people behind them have lost whatever little moral authority they may have once had," Sara Mueller, Ducey's political director, said in a statement, according to the New York Times.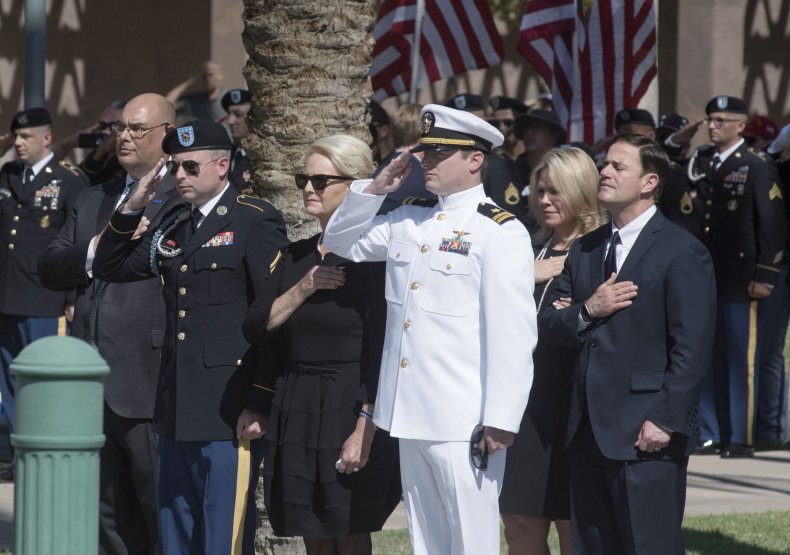 Both McCain and Flake endorsed Biden ahead of the November election.
McCain officially endorsed Biden in September, before she went on to feature in campaign ads for the Democrat. At the time, she said she crossed party lines because she was "deeply concerned" about the current state of affairs under Trump's presidency.
"Joe Biden represents to me the kind of values and integrity and courage that we want in the president, and someone who I think would have my back as a citizen who lives and someone who lives in a neighborhood and has a family and all the other things that people do," she told NBC Today host Savannah Guthrie.
In a recent appearance on ABC's The View, which is co-hosted by her daughter Meghan McCain, she lashed out at the state party chair, Kelli Ward, for championing the censures. "Maybe she should be reminded that my husband never lost an Arizona election since his first win in 1982," McCain said, in reference to Biden becoming the first Democrat to win the state in more than two decades in November.
McCain later expressed pride in being censured by the Arizona GOP. "It is a high honor to be included in a group of Arizonans who have served our state and our nation so well," she tweeted Saturday evening, "and who, like my late husband John, have been censured by the AZGOP. I'll wear this as a badge of honor."
Flake, who endorsed Biden last August, was unfazed by the party's decision to censure. "If condoning the president's behavior is required to stay in the party's good graces, I'm just fine being on the outs," he tweeted.
Newsweek reached out to the Arizona Republican Party for comment.