Arizona State Lawmakers Move to Expel Republican for Attending January 6 Trump Rally
Arizona legislators have tabled a resolution to expel Republican Rep. Mark Finchem from the state House after he attended the January 6 "Stop the Steal" rally in Washington, which preceded the storming of the U.S. Capitol.
A number of other complaints have been filed against Finchem by constituents and fellow lawmakers, according to the Arizona House Ethics Committee.
State Rep. Athena Salman, a Democrat from Tempe, is sponsoring the resolution along with 20 members of her caucus.
It proposes to expel Finchem from office, claiming he violated his oath and undermined democracy by attending the rally and promoting unfounded allegations of election fraud.
For the expulsion to be successful, however, it requires the support of two-thirds of the GOP-controlled house.
Finchem was outspoken in his support of former President Donald Trump's efforts to overturn Democrat President Joe Biden's narrow victory in Arizona.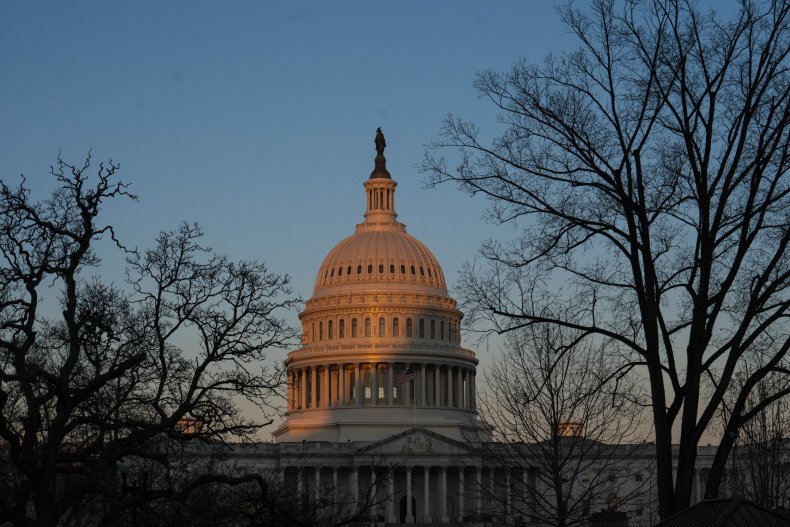 Salman at a news conference said, per AP: "Every day the member remains in office is a threat to the integrity of the Arizona House of Representatives, a threat to national security, and a threat to the very future of our Democracy.
"Mark Finchem is more than just your average bystander, your person on the internet who's just like, 'The election was stolen.' He was part of this organizing. He used the privileges of his office as an elected official to spread lies and conspiracies."
The Tucson Republican has claimed he went to Washington, D.C. on January 6 to show former Vice President Mike Pence alleged evidence of fraud.
That morning, he told ABC 15: "We have substantial evidence that the election was a fraud in at least six states."
In a statement last month, Finchem claimed he remained 500 yards from the Capitol and was unaware it had been breached until 5 p.m., hours after protesters stormed the building. He said he was scheduled to speak at a permitted event.
During the day, Finchem posted a photo on social media of a crowd on the steps of the U.S. Capitol along with the message: "What happens when the People feel they have been ignored, and Congress refuses to acknowledge rampant fraud."
Finchem has defended his presence in Washington to speak at an event as exercising his First Amendment right.
"To connect my presence to speak in the company of other elected officials at a properly permitted public event at the Capitol event with 'leading an insurrection,' or that walking with the crowd to the Capitol can be construed as anything other than an exercise of my First Amendment right to free speech it is utterly absurd," Finchem said.
Newsweek has asked Finchem for comment.