Arizona GOP Rep Tweets Joke About Hunter Biden Drug Addiction; His Siblings Endorse His Democratic Opponent
Arizona GOP Representative Paul Gosar published a tweet on Thursday mocking Hunter Biden's drug addiction, while members of his family have announced their endorsement of his Democratic opponent, Delina DiSanto.
Gosar posted a tweet on October 15 that featured a photo of Joe Biden's son with what appeared to be a "crack pipe" in his mouth.
"Crack pipe: 'Good night Hunter. I love you,'" Gosar wrote. "Hunter: 'I love you too my little friend.'"
Gosar's tweet comes after six of his nine brothers and sisters—Grace, Jennifer, Joan, Gaston, David and Tim Gosar—announced they were endorsing DiSanto.
On October 2, DiSanto's campaign issued a press release announcing the endorsement from Gosar's siblings, which read, "It's time to elect someone who will serve you in a calm, mature, and respectful manner. A person who actually lives in the district and who cares about your healthcare and financial concerns in these very difficult times."
The release continued, "It's time to give someone else a chance. Delina will be a leader you can be proud of; not someone who constantly makes himself the butt of national jokes. Unlike Paul, who for 8 years did absolutely nothing to lower prescription drug costs and improve your healthcare, she'll actually deliver."
The Gosar siblings' endorsement also notes that their brother "serves the very wealthy and powerful—not you, the people—as he clearly proved when he enthusiastically voted for the 2017 tax cuts for the rich and special interests."
"He proved it again this year when he voted for the first coronavirus stimulus package that mostly went to bail them out. Yet, he voted against the Heroes Act (H.R. 6800)—the coronavirus stimulus package for the average person—claiming that it would increase the deficit," the statement said. "While the special interests he serves will rake in huge profits if that happens, you'll be left holding the bag."
In response to the endorsement, DiSanto wrote, "I am honored to receive the endorsement and support from Representative Paul Gosar's family."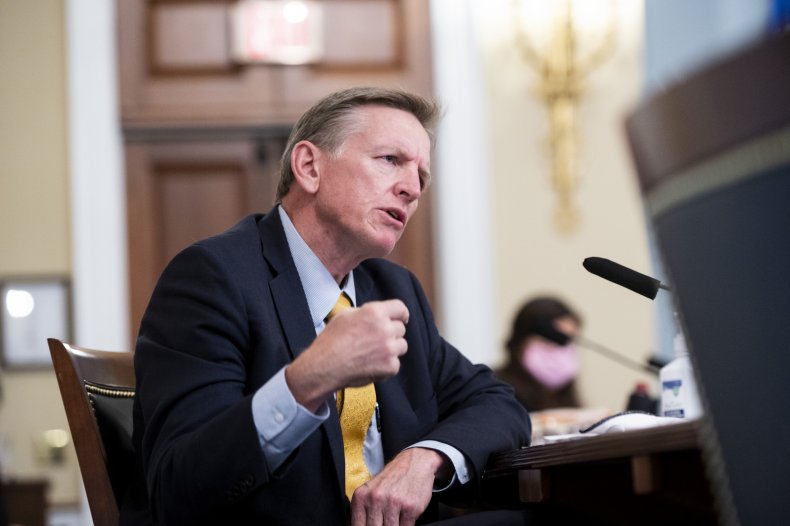 She added, "We have had enough of leaders who put special interests above people. It is time for fresh leadership that is powered by empathy, dignity and strength."
Gosar's tweet takes aim at Biden's son, who has struggled with a drug addiction. In 2014, he was administratively discharged from his position in the U.S. Navy Reserves after testing positive for cocaine.
This is not the first time members of Gosar's family have endorsed his challenger. They did so during the 2018 election, backing his Democratic opponent, David Brill.
"This isn't just about Paul; this is about family," Jennifer Gosar said in a 2018 video. Her brother Tim said, "It's intervention time, and intervention time means that you go vote, and you go to vote Paul out."
In an email to Newsweek, DiSanto wrote, "As a registered nurse, I've seen the physical, emotional, spiritual and financial impacts of drug addiction. Representative Gosar crossed the line when he mocked Hunter Biden."
She continued: "He is insensitive to those who are fighting this chronic illness. A representative of the people should be taking the lead to address our opioid crisis, not stigmatizing those who suffer addiction. Gosar's behavior on social media is unprofessional, and his influence causes division and hatred."
Newsweek reached out to Biden's and Gosar's offices for comment but did not receive responses in time for publication.
This story was updated to include Delina DiSanto's comments to Newsweek.