Arizona GOP Stays Silent After Republican Congressman Celebrates Anti-Muslim Activist at Rally
The Arizona Republican Party has continued to remain silent after Arizona GOP Congressman Paul Gosar gave a speech at a London rally last week in celebration of an anti-Muslim, far-right extremist.
"We know these men come from commonly Pakistani, Bangladeshi, and Muslim backgrounds," Gosar said of the alleged "scourge" of Muslim men who carry out sexual assault in the U.S., according to the Phoenix New Times.
The remarks came at a "Free Tommy Robinson" rally to support the right-wing English activist who was jailed in the U.K. in May for contempt of court after he published information that could affect an ongoing trial. Robinson rose to prominence as a co-founder of the English Defense League, a political activist group that has gained a reputation for anti-Muslim rhetoric.
Ayshia Connors, a spokeswoman for the Arizona GOP did not respond to Newsweek's request for comment on Gosar's rally appearance. She told Phoenix New Times in an email last week, "We aren't commenting on this matter."
Imraan Siddiqi, executive director of The Council on American-Islamic Relations (CAIR), denounced the speech in a statement. "It is inexplicable for a sitting U.S. congressman to speak at, let alone attend, a rally for someone responsible for spreading as much hate and bigotry as Tommy Robinson," he said. "We condemn the congressman's choice to stand with far-right Islamophobic conspiracy theorists, and call on elected officials from both parties to speak out on this matter."
Gosar's speech in London isn't the first time he's drummed up controversy. In October 2017, he promoted an unfounded conspiracy theory to Vice News that the deadly white supremacist rally in Charlottesville, Virginia, was organized by "an Obama sympathizer."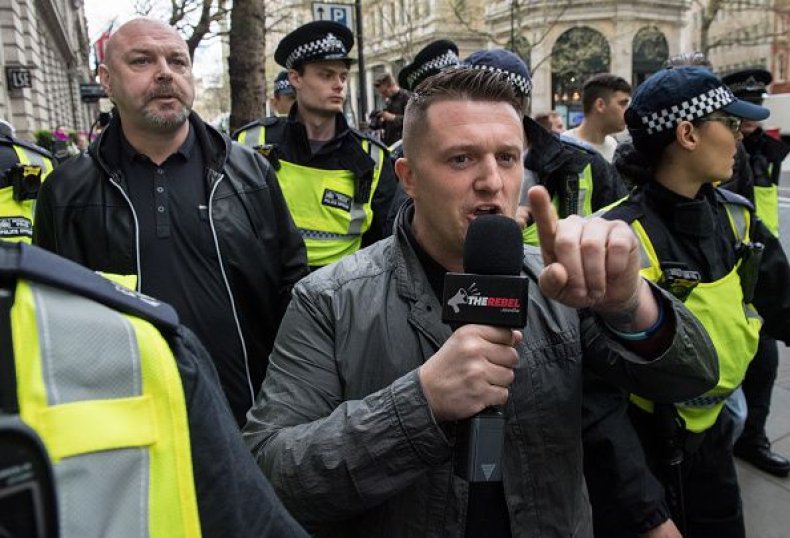 "Let's look at the person that actually started the rally," he said. "It's come to our attention that this is a person from Occupy Wall Street that was an Obama sympathizer. So, wait a minute, be careful where you start taking these people to."
He added, "You know George Soros is one of those people that actually helps back these individuals. Who is he? I think he's from Hungary. I think he was Jewish. And I think he turned in his own people to the Nazis. Better be careful where we go with those."
In reality, the Charlottesville white supremacist rally was not planned by "an Obama sympathizer" or George Soros but rather a "white civil rights" activist.