Arizona GOP Senator Claims Audit Results Prove Biden's Election Win Should Be 'Nullified'
Republican Arizona state Senator Sonny Borrelli has called for the 2020 presidential election to be "nullified" after deeming the results of the controversial audit that again confirmed President Joe Biden's victory last week a "psychological operation."
The results of the audit, conducted by the firm Cyber Ninjas at the behest of the GOP-controlled state Senate, were released on Friday and showed that Biden beat former President Donald Trump by an even larger margin than in the official vote count. Regardless, Borrelli insisted that the Maricopa County audit showed there was an Arizona election "cover up" during a Monday interview on former Trump adviser Steve Bannon's War Room: Pandemic podcast.
"Obviously, what we have here—it's not a conspiracy theory anymore, that's what they called us, conspiracy theorists—but we actually have evidence of a conspiracy to cover up," Borrelli said. "That's been perpetrated by Maricopa County and the secretary of state's office. And perpetuated by the fake news mainstream media."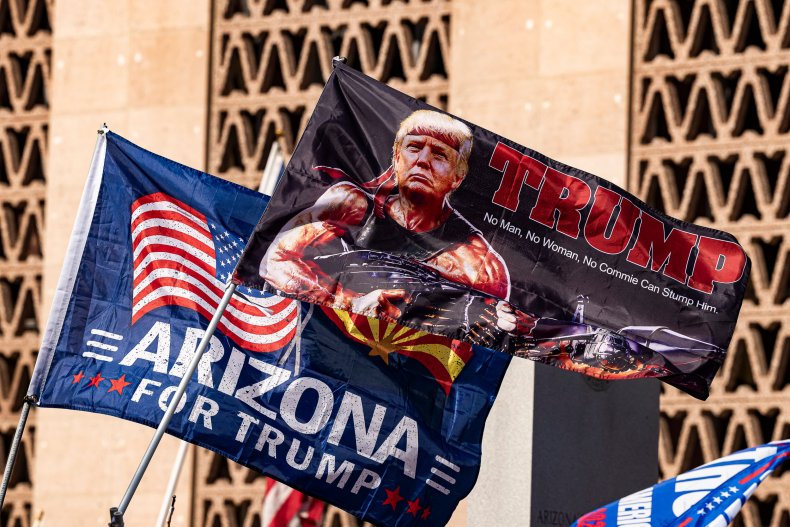 "Now we're all experiencing...a psychological operation put forth by the propaganda machine of the left," he added. "The Democrats, the left, whatever it is. Whatever you want to call it. They just kind of resurrected [Nazi propaganda chief Joseph] Goebbels. Because what they're trying to do is a psychological operation of disinformation, misinformation."
Bannon pointed out that Republican Arizona Governor Doug Ducey, who is not part of the political left, agreed that the audit had confirmed the official results and showed that Biden won by more votes than previously thought. Borrelli said that Ducey, who on Friday tweeted that there would be "no decertification" of the election despite the demands of Trump, had "nothing to do" with the election.
Newsweek reached out to the office of Ducey for comment.
Borrelli maintained that "decertify" was not the right "terminology," arguing that Republican Arizona Attorney General Mark Brnovich could "nullify those results" due to alleged "criminal behavior" in the election. He insisted the fact that the audit showed Biden won more votes than Trump was only "the spin, the psychological operation that the left, the media, is putting out there."
Borrelli claimed that the audit had shown "fraudulent" ballots were counted, suggesting that some of the ballots had been illegally counted due to questionable signatures of ballot envelopes. However, no evidence of fraud was found and Maricopa County officials made it clear that any counted ballots with signature issues had been validated by a curing process that included contacting voters.
Arizona Secretary of State Katie Hobbs, a Democrat who Borrelli said was part of the alleged election "cover up," blasted the audit in a statement shortly after the results were released on Friday, lamenting "a scam" that had succeeded only in dragging the "state and country through months of partisan political theater"
"The partisan ballot review was never about affirming the results of an election," Hobbs said. "Instead, it was an outright attack on our democratic process that has stoked threats of violence against election workers. It was a political stunt that created massive security risks, cost millions of dollars, and has shaken faith in free and fair elections."