Arizona GOP Senator Martha McSally Finally Concedes to Democrat Mark Kelly
Republican Senator Martha McSally of Arizona conceded on Friday to her Democratic challenger, astronaut Mark Kelly, after the state earlier that morning was called for President-elect Joe Biden by remaining news networks.
"With nearly all the votes counted, I called Mark Kelly this morning to congratulate him on winning this race," McSally said in a statement. "I also offered support in his transition to ensure Arizonans are best served during this time. I wish him all the best."
McSally's concession comes more than a week after the Associated Press projected Kelly as the winner. The outlet had also called the race for Biden. Other news organizations came to the same conclusion about Biden on Friday, just hours before McSally's concession.
The Grand Canyon State's 11 electoral votes brought Biden to 306 compared to Trump's 232. North Carolina and Georgia, the only remaining states yet to be called, went for Trump and Biden on Friday, respectively.
Kelly visited the Capitol earlier this week to meet with Democratic leadership and begin assembling his congressional staff from a temporary office, as McSally skirted reporters' questions about when she would concede.
McSally, who was appointed to Senator John McCain's seat after the death of the iconic Republican lawmaker and veteran, refused to concede as President Donald Trump and other Republicans offered baseless voter fraud claims in Arizona and other battleground states. She first assumed office on January 3, 2019.
Republican pollster and consultant Frank Luntz noted on Tuesday that based on the vote tally, it was mathematically impossible for McSally to pull out a victory. Later that same day, when she exited a private GOP lunch in the Capitol, she ignored questions from Newsweek about why she'd yet to concede and whether she too thought fraud occurred in the state.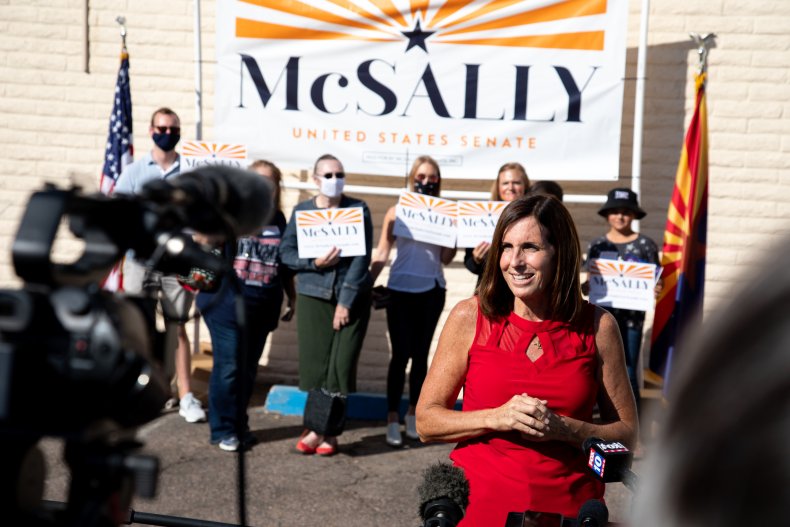 On Thursday, McSally also declined questions from Capitol Hill reporters.
In her statement, McSally said faith will help guide her on what she does next after leaving public office. Before her appointment, McSally served in the U.S. House after a 26-year Air Force career as the first-ever female fighter pilot.
"After fighting for our country for more than three decades—the last nine in the political arena—I trust God will lead me to my next mission to make a difference after I get a little rest," McSally said.
Kelly's win gave Democrats a net gain of one seat. The party will need to flip both of Georgia's Senate runoff races on January 5 for Democrats to take control of the upper chamber.