Arizona GOP's Trump Picture Sparks Comparisons to Benedict Arnold
An image the Arizona Republican Party shared of President Donald Trump on Monday inspired the term "Benedict Arnold" to trend on Twitter as users drew comparisons between Trump and a famous painting of the Revolutionary War defector.
The Arizona GOP tweeted the painting of Trump on Monday afternoon. In the painting, Trump is wearing a military uniform that looks like it's from the late 1700s while holding an American flag in his left hand and touching a handgun with his right hand. A flying eagle is also pictured over his left shoulder.
The party's Twitter account posted the image without any accompanying text after sharing a series of tweets questioning the outcome of the presidential election.
"Sorry (not really), but we can't stop fighting for election integrity! It's just too important for our voters, our state, and our great country," the Arizona GOP wrote in one tweet posted earlier on Monday. The account later retweeted a promotional video originally shared on Trump's own account.
The blog Boing Boing identified Twitter user @RealLucyT as the painting's artist. In a tweet posted on December 18, the artist shared the oil painting of Trump, which they said was available for purchase. "It's 1776 all over again! We must fight for our freedom and the republic. My latest work "1776",24x18" oil, available," @RealLucyT tweeted. The tweet was accompanied by a series of hashtags, including one connected to the "stop the steal" conspiracy theory.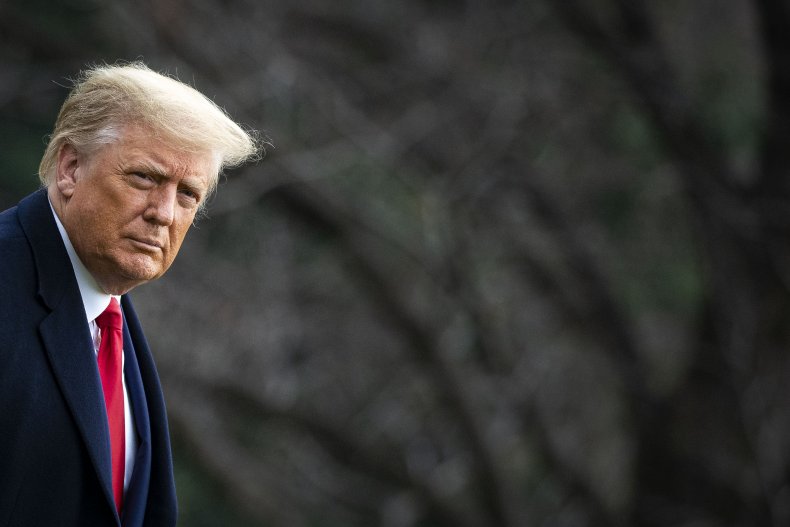 The artist appears to sell her artwork online as Lyudmila Tomova. A review of Tomova's website found the 1776 painting listed with prints available for purchase at $22 apiece and the original available for $5,000. Prints of another painting depicting Sidney Powell, one of the attorneys who has represented the Trump campaign following the presidential election, were also listed for sale on Tomova's website.
Twitter users were quick to draw comparisons between the Trump painting and a portrait of Arnold, the former military officer who fought for the Continental Army during the Revolutionary War before leaving to join the British.
"Truth be told, it makes sense that they'd dress him up as Benedict Arnold," the political action committee Vote Vets tweeted Tuesday in response to the Arizona GOP's post.
Other Twitter users pointed to Trump's multiple draft deferments in decades past as a point of criticism for the uniform he was pictured wearing in the painting.
Meghan McCain, the daughter of former Arizona Senator John McCain, whom Trump famously called a "loser" despite McCain's history as a prisoner of war during the Vietnam War, also commented on the Arizona GOP's post on Tuesday.
"Please stop," she wrote simply in response to the image.
Newsweek reached out to the Arizona Republican Party for comment but did not receive a response in time for publication.