Arizona Gov. Doug Ducey Photographed Without Face Mask or Social Distancing
A photo that has recently surfaced shows Arizona's Republican Governor Doug Ducey speaking with others at a June graduation party while not wearing a face mask, nor practicing social distancing. The governor, who himself told citizens to do both, blasted the photo as a "smear attack."
On Sunday, June 12, a Phoenix-based Twitter user named Carter Santini posted the image of Ducey standing at a backyard table in close proximity to other unmasked men.
"Governor Ducey, that's not social distancing," the text written across the image read. Text alongside the image indicated that it came from a July 6 party, at a time when Arizona was experiencing over 3,000 newly-confirmed coronavirus cases a day.
However, Ducey's office said the picture actually came from a small family gathering on June 6, when the state's case numbers weren't as high as they currently are.
Newsweek subscription offers >
"This was a smear attack that was factually incorrect to create an illusion that the governor was out over Fourth of July weekend," Ducey's chief of staff, Daniel Scarpinato, told The Arizona Republic. "It was a family event. It was a graduation, and he stopped by to say 'happy graduation.'"
But Santini responded to the spokesperson's comment by stating, "The picture speaks for itself. June was just as bad a time to go to a party." His image has since been shared more than 3,000 times on Twitter.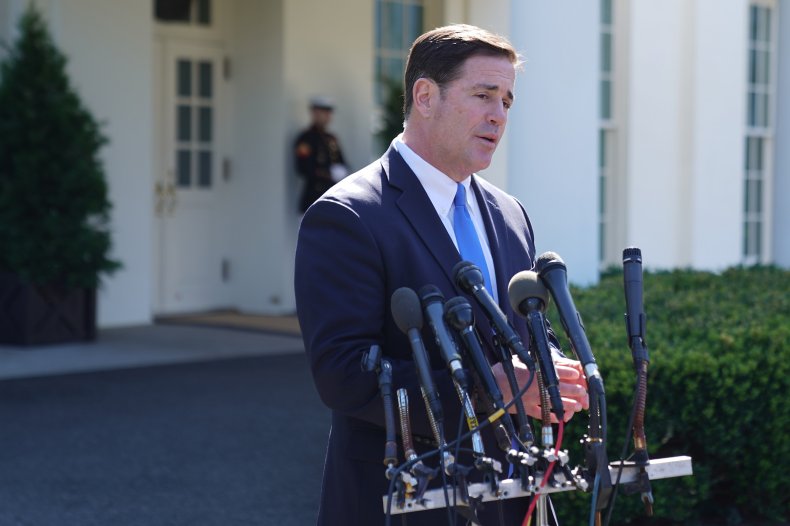 AZ Central notes that by June 6, Ducey had told Arizona residents to stay six-feet away from others for at least three months and to wear masks whenever that wasn't possible.
Newsweek subscription offers >
The publication adds that at a June 17 press briefing, Ducey himself used a graduation party as an example of a situation that had caused a COVID-19 outbreak.
"For months and months, I did not know anyone personally that had contracted COVID-19," Ducey said. "But just recently, I know a lot of people that have contracted this. And I want to tell you where they contracted it: at graduation parties, at private gatherings in homes."
Ducey didn't give city and county administrators the authority to enforce mask mandates until June 17, however, such mandates don't affect people while on their own personal residences.
At the time of the June 6 party, Arizona had already begun experiencing a spike in COVID-19 with new case numbers rising from the hundreds to over a thousand each day.
In mid-June, Ducey said he wouldn't require mask use in the state. By the end of the month, Arizona set a single-day record for new COVID-19 cases and hospitalizations. As of July 8, more than one in four COVID-19 tests in Arizona have come back positive, and state hospital intensive care units (ICUs) are 91 percent full.
On Sunday, Arizona reported 3,858 new cases of the virus.
Ducey on Monday paused his state's reopening strategy and called for the closure of bars, nightclubs and water parks for 30 days after an increase in positive cases of the coronavirus.
Newsweek reached out to Ducey's office for comment.
Arizona Gov. Doug Ducey Photographed Without Face Mask or Social Distancing | U.S.