Arizona Governor Implementing Statewide, 7-Day Curfew Amid Protests for George Floyd, Dion Johnson
Arizona Governor Doug Ducey announced Sunday that a statewide curfew will be implemented beginning at 8 p.m. tonight, as protests continue surrounding the death of George Floyd.
On his Twitter account, Ducey said that the curfew is being placed at the request of local leaders and "in coordination with state and local law enforcement." It will stretch from at 8 p.m. to 5 a.m. each night until June 8.
"This gives law enforcement an additional tool to prevent the lawlessness we've seen here and in cities nationwide. Police will be equipped to make arrests of individuals who are planning to riot, loot or cause damage and unrest," Ducey wrote in another tweet.
On Saturday, the Phoenix Police Department arrested over 100 protesters on various charges--including rioting, aggravated assault of a police officer and unlawful assembly--according to a press release from the department. Some of those arrests included juveniles who were in violation of curfew orders imposed by the city.
At one protest, AZ Family reporter Briana Whitney was almost tackled while on air describing the events. In the same live report, Whitney also spoke of police officers firing tear gas, which she could feel in her eyes and throat.
Neighboring Scottsdale saw thousands of dollars in damage to Scottsdale Fashion Square, a local shopping mall. According to KTAR, several stores were looted, including Urban Outfitters, Neiman Marcus and Apple.
The curfew declaration specifically cites protests in downtown Phoenix earlier this week, as well as a gathering on May 29 and 30 in Tucson, where groups of people did not disburse after being ordered to leave by police.
"Following a peaceful vigil, some participants again headed to downtown Phoenix where their demonstration escalated resulting in additional vandalization and damage to government and private business buildings, fireworks being launched toward police, streets being blocked and reporters being assaulted," the declaration says of a May 29 protest.
The declaration says that the curfew is being enforced "information suggesting that civil disturbances will expand to other areas of the State" and that it is "necessary" to give law enforcement resources to maximize response to "ensure the safety of persons and property."
The curfew can be extended if needed, and prohibits anyone with the exception of law enforcement, first responders, credentialed media members, and others authorized by the state from being on a public street or in a public location. Additional reasons for being on the street during curfew may also be exempt and can be viewed on the official order.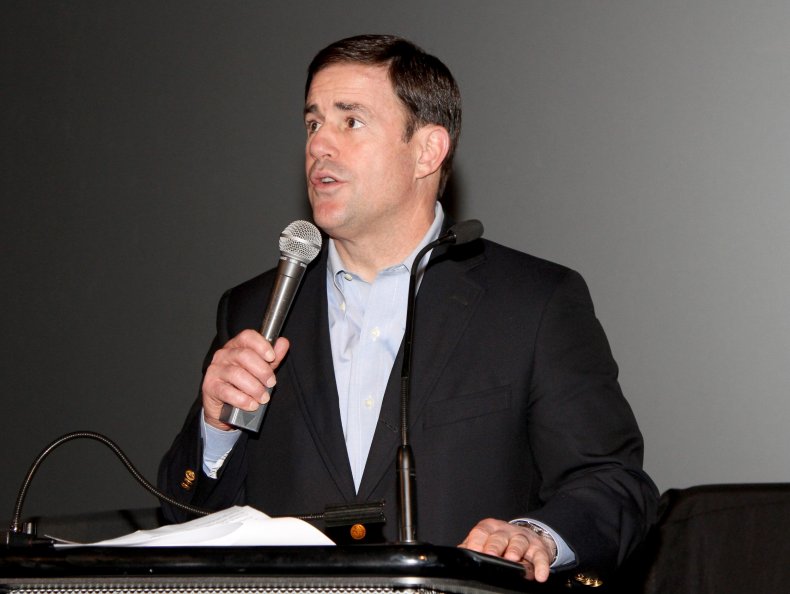 Arizona is one of 18 states where National Guardsmen have been deployed to assist local law enforcement with growing protests.
While many across the country are protesting in response to the death of Minnesota resident George Floyd over Memorial Day, some in Arizona also gathered in memory of Dion Johnson. Johnson, 28, was shot on Memorial Day by an Arizona state trooper who has not been identified.
According to information provided by the Arizona Department of Public Safety, the trooper was not wearing a body camera at the time of the altercation with Johnson. According to AZ Central, Johnson was asleep in his car when the officer approached, and he was shot in an ensuing "struggle."
"It doesn't make any sense for a young man to lose his life in the early morning because they were sitting in the driver's seat," said Benjamin Taylor, an attorney representing Johnson's family.
Floyd died after his arrest by four officers from the Minneapolis Police Department. In a viral video, one officer, identified as Derek Chauvin, can be seen kneeling on Floyd's neck for nine minutes while Floyd says he can't breathe. Later, Floyd appears to lose consciousness and stops moving, though Chauvin remains kneeling.
Chauvin has since been charged with third-degree murder. He and the three other officers were all fired from the Minneapolis Police Department on Tuesday.