Arizona Governor Joins List of Politicians Stretching Military Service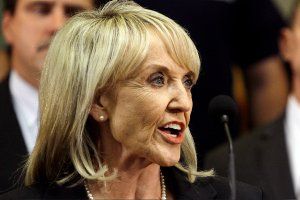 Ever since Arizona Gov. Jan Brewer signed a controversial immigration bill, which requires police officers to demand papers of anyone they suspect of being in the country illegally, into law earlier this year, some opponents of the bill have called her "Hitler's daughter."
Brewer told the Arizona Republic on Tuesday that she was particularly saddened by this slur because of her family history. "Knowing that my father died fighting the Nazi regime in Germany, that I lose him when I was 11 because of that...and then to have them call me Hitler's daughter," she said. "It hurts. It's ugliness beyond anything I've ever experienced."
But according to The Arizona Guardian, her father, Wilford Drinkwine, "worked as a civilian supervisor for a naval munitions depot in Hawthorne, Nev." And "he died of lung disease in 1955 in California."
The governor, reports the Guardian, "is in Washington, D.C., this week and was unavailable for comment." But her spokesperson, Paul Senseman, clarified for the paper: she was not claiming that her father died fighting the Nazis in Germany, but rather that his work in the factory led to the lung disease that ended his life. "She wasn't embellishing the story at all," he said. "You're reading something into this that isn't there."
In common with Connecticut Attorney General Richard Blumenthal, who was caught misstating his military service to imply he had been to Vietnam when in fact he was a D.C.-based reservist, Brewer had previously told the truth about her father's death.
But she joins Blumenthal and Illinois Senate candidate Mark Kirk on the list of politicians who have recently felt comfortable being (at least) ambiguous about military service when it makes them look better.