Arizona Governor Won't Require Mask Use as Coronavirus Cases Spike, Says People Need to 'Learn to Live' With Virus
Republican Arizona Governor Doug Ducey has indicated he will not require mask use in the state amid surging coronavirus infections and hospitalizations.
Since Ducey's stay-at-home order expired last month, Arizona has reported sharp spikes in cases over the past two weeks. As of Saturday June 12, the total number of coronavirus cases in Arizona had exceeded 34,400, with 1,183 deaths caused by the novel disease. About 1,540 cases were added to the figure since Friday, when the state saw 1,654 new infections, the single-highest rise in one day.
During a press conference on Thursday, Ducey told reporters that while he encourages Arizonians to "wear masks when they can't socially distance" in public, he will not be following other states in enforcing face coverings by law.
Ducey encouraged citizens to "learn to live with" the virus and said it won't be "going away" anytime soon.
"There's not a cure for this virus, and there's not a vaccine for this virus," the governor added. "So this virus is something we need to learn to live with, and we need to make sure that we are protecting the most vulnerable in our society."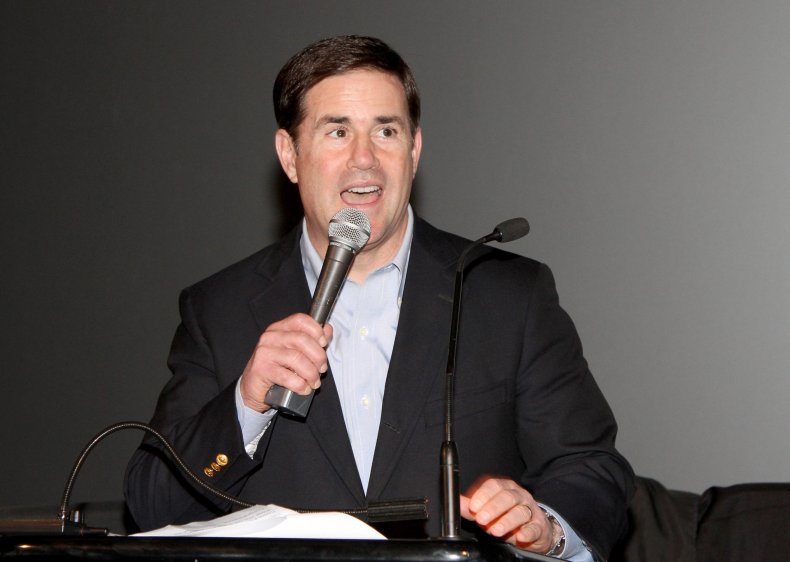 Ducey also defended his decision to reopen Arizona and attributed the rise in cases to the state's increase in testing capacity.
"We put the stay-at-home order in place so that we can prepare for what we're going through right now," he said. "The facts are, we got an increase in testing, an increase in testing and an increase in positive test results. So we're going to continue to stay laser-focused on COVID-19."
While the rise in cases has also resulted in an increase in hospitalizations, Ducey assured the public that there will be enough capacity to treat coronavirus patients and people suffering from non-coronavirus-related illnesses. "I want every Arizonan to be able to have the medical care and comfort and resources necessary and today we are able to provide that," he said.
Newsweek reached out to Ducey's office for further comment. This story will be updated with any response.
Arizona Department of Health Services Director Dr. Cara Christ echoed Ducey's sentiments, saying that the state will not "be able to stop the [coronavirus] spread" and citizens "can't stop living as well."
According to AZ Central, ventilator use in Arizona reached an all-time high on Friday, with 309 suspected and confirmed coronavirus patients using the machines that provide mechanical ventilation. On the same day, ICU bed use related to COVID-19 also hit a new record in the state.