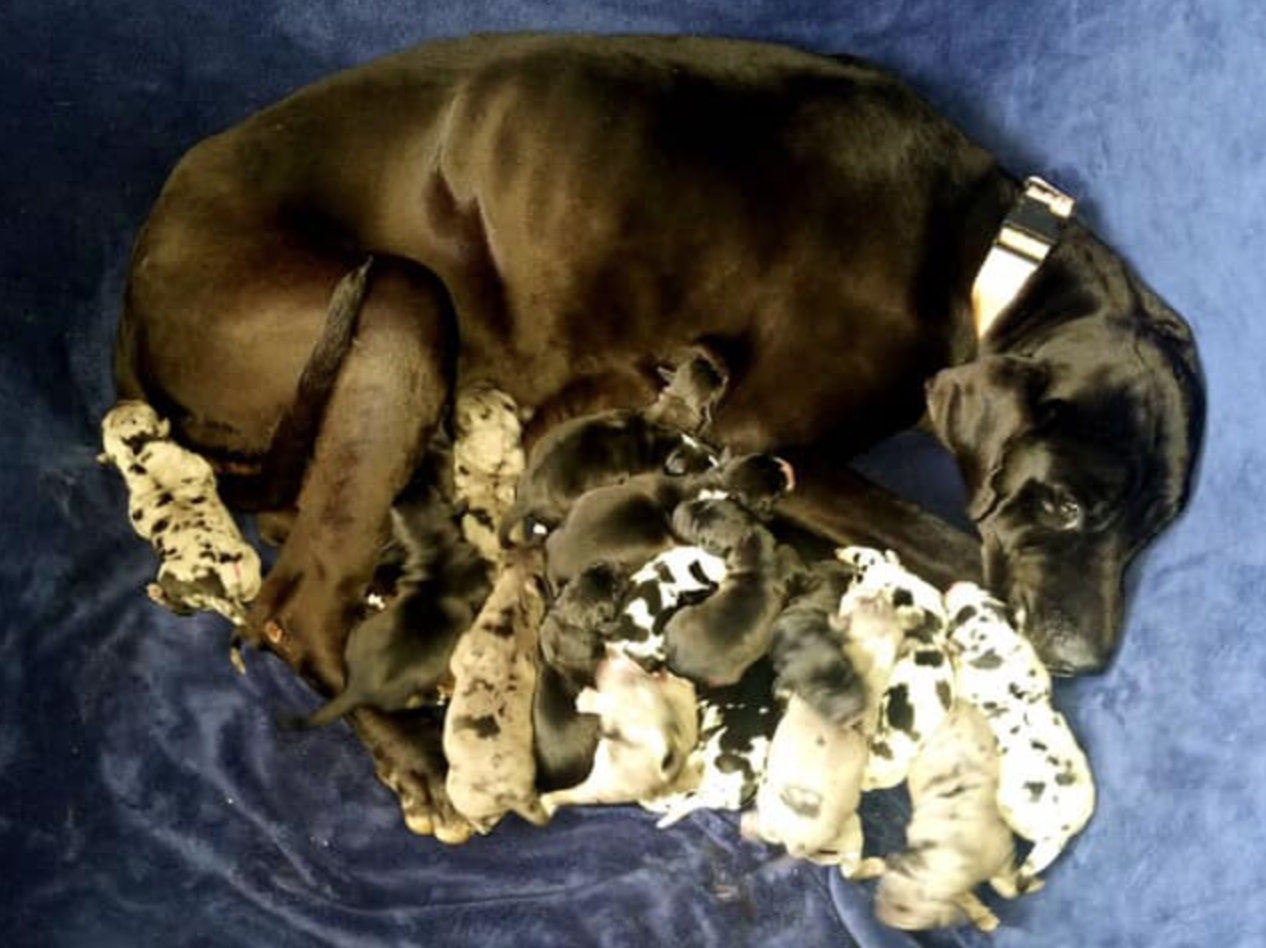 An animal hospital in Arizona has celebrated on social media after helping a Great Dane called Cleo deliver a whopping 19 puppies last weekend.
In a post "liked" on Facebook more than 1,000 times, the Kingman Animal Hospital said a batch of animal doctors were brought in to conduct a cesarean section on the heavily pregnant pup. Local media outlet KPRC-TV reported that the mother was heathy and had since been spayed.
"The staff of KAH (11 of us) successfully delivered 19 Great Dane puppies this morning by C Section! All live and healthy! Mom doing great!" the hospital wrote, posting snaps of the dogs.
It added: "None of these photos were taken in the surgical room. These are not photos of the procedure but before and after pics. This is in our treatment area where we were checking puppies afterwards for any issues. The procedure was performed in a sterile surgical room.
"These puppies do not belong to KAH or any of the staff. Thank you all for the kind words and congrats to the momma dog and our hard working staff that came in for this emergency."
According to KPRC-TV, Cleo weighed about 143 pounds pre-birth, which is around 43 pounds heavier than the breed typically is. A Great Dane litter is usually far smaller, it noted.
"On average this breed will deliver no more than ten puppies at a time," Dr. Erika Agone, the medical facility's surgeon, said, ABC News reported yesterday. "So, in this case, it was like double, which is why Cleo had to come in to give birth. It was like never-ending puppies".
Doctors said they were shocked by the number of puppies. "We lost count," said the company's administrator Ruby Duey, adding: "We used just as many hands as we could get."
Images showed the babies piled high in a medical bucket after the operation had taken place. "It took many hands to get these puppies into the world!" the hospital stated. "All puppies seemed to be in good health and crying and very active," it added under another picture of the pups.
Updates about the puppies attracted dozens of comments and shares online.
"That is definitely puppy overload. They are beautiful," one person commented under the Facebook post. "Wow, owners you will not sleep for a month! Congratulations," another user added.
Back in 2014, a litter of 19 was birthed by a Great Dane called Snowy in York Haven, Pennsylvania, Today reported.