Arizona Hits Record-High Hospital Capacity As Coronavirus Cases Climb
Arizona broke record-highs on Tuesday when overall hospital capacity in the state hit 85 percent, according to the Arizona Department of Health Services.
The number of new daily coronavirus cases continues on an upward trend. On Wednesday, Arizona reported 1,827 new cases, bringing the total count to 40,924 confirmed cases of COVID-19. The day before, the state reported 2,392 new cases, a record single-day high since the outbreak began.
ICU bed capacity in Arizona has reached an all-time high of 83 percent. Wednesday's hospitalization count of 1,582 COVID-19 patients was 62 percent higher than any single day of hospitalizations before June.
Ventilator use is also higher than ever before, with the most recent figures being 44 percent higher than those before June. The Arizona Department of Health Services reported that 346 ventilators were in use as of Wednesday to treat patients with COVID-19.
Newsweek reached out to the Arizona Department of Health Services for comment but did not hear back before publication.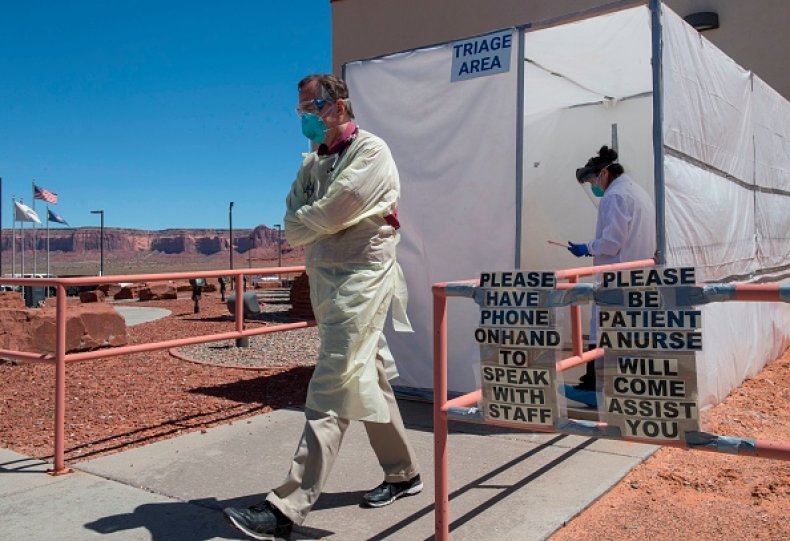 The state's sharp spike in coronavirus metrics began at the end of May, two weeks after Governor Doug Ducey began reopening. Symptoms of the virus can take up to 14 days to appear, meaning the effects of lifting the statewide stay-at-home order on May 15 would not emerge until the end of the month.
Ducey has said the state could utilize emergency resources to increase hospital capacity but it is "not needed or necessary right now."
Hundreds of medical professionals urged Ducey to heighten safety measures earlier this week. In three separate letters addressed to the governor, doctors and health administrators asked Ducey to provide mandatory masks both in public and in private businesses.
The governor's office acknowledged receipt of the letter in a statement made Tuesday. "Addressing COVID-19 remains our highest priority. Everyone should wear a face covering when out in public and continue to follow public health guidelines," the statement read.
Ducey has repeatedly encouraged the wearing of masks in his coronavirus briefings but has yet to make any mandate requiring Arizonians to wear them in public.
Newsweek reached out to Ducey for comment but did not hear back before publication.
Local officials, including Phoenix Mayor Kate Gallego and Senator Kyrsten Sinema, have also openly criticized the governor's handling of the pandemic.
However, on Tuesday, Gallego told KTAR News 92.3 FM that she recently spoke to Ducey about public safety for the first time since March and is hopeful he will issue a policy requiring face masks.
Phoenix is part of Maricopa County, the county that has been hit the hardest by the outbreak. On Tuesday, Maricopa County surpassed 20,000 confirmed cases of COVID-19.