Arizona ICU Capacity Reaches 80 Percent as State Records Single-Day High
ICU capacity in Arizona reached 80 percent on Thursday, according to the state's Department of Health Services, and a record high of 1,654 new coronavirus cases was reported on Friday. The latest case count surpasses the previous high for a single-day number in the state, 1,579 on June 5.
Arizona has seen a sharp spike in coronavirus cases since the end of May, two weeks after it lifted its stay-at-home order and began reopening. As the number of intensive care unit beds available in the state has decreased, hospital capacity has increased to meet the demands of confirmed cases.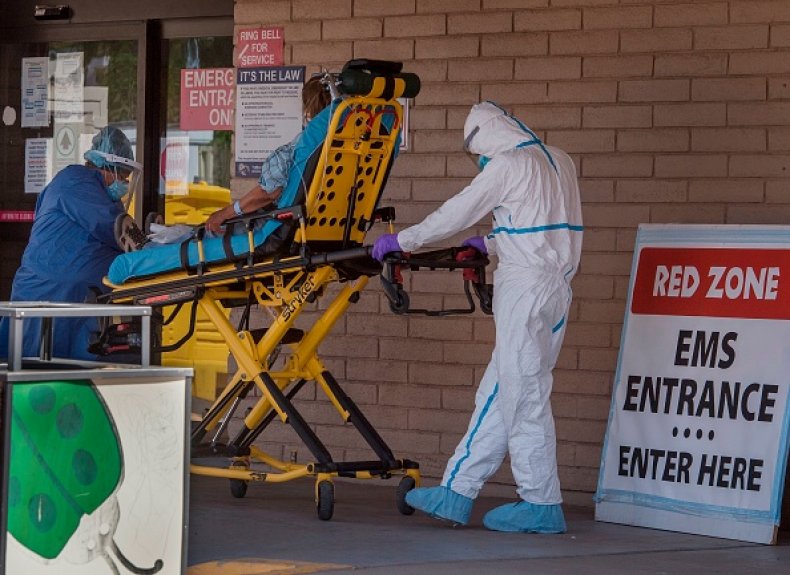 A month ago, the state's ICU capacity was 68 percent full on May 11. The gradual increase in capacity reached 76 percent last week and 79 percent on Wednesday before Thursday's new high.
According to Banner Health, a nonprofit health system based in Phoenix, the number of ventilated COVID-19 patients has quadrupled since May 15. The largest medical network in the state, Banner Health also announced on Monday it had reached full capacity for patients receiving treatment from its extracorporeal membrane oxygenation machines, which function as an external lung for patients.
On June 6, the Arizona Department of Health Services director, Cara Christ, sent a letter to hospitals asking them to "fully activate" emergency plans and suspend elective surgeries if they are experiencing a shortage of staff or bed capacity.
However, during a Thursday conference, Christ said the state has enough beds to handle the rising number of coronavirus cases. Appearing alongside Governor Doug Ducey, Christ also said the state could request federal resources to provide additional staffing if needed.
She added that the increase in virus cases would not result in reduced care for patients. "There are practices that we can put in place to ensure that we have adequate staffing, but it ensures that the patients are at the appropriate level of care," Christ said.
Ducey also said the state has enough beds for the surge in positive cases. But he emphasized that he is more focused on ensuring that hospitals can treat patients than on containing the outbreak.
"A rise in cases could result in a rise of severe illness that requires hospitalization. I want every Arizonan to be able to have the medical care and comfort and resources necessary, and today we are able to provide that," the governor said.
Both Christ and Ducey advised wearing a face mask to slow the virus's spread.
Newsweek reached out to the Arizona Department of Health Services for comment but did not hear back before publication.
Across the nation, 14 states recorded a seven-day average high this week, according to The Washington Post. Besides, Arizona, they are Alaska, Arkansas, California, Florida, Kentucky, New Mexico, North Carolina, Mississippi, Oregon, South Dakota, Tennessee, Texas and Utah.
Over the course of the pandemic, Arizona has reported a total of 32,918 confirmed cases of the virus and 1,144 deaths.