Alcohol Poured on Arizona Islamic Center, Police Investigating: 'Nothing Less Than a Hate Crime'
An Islamic center in Tucson, Arizona was forced to contact police this week after residents of a nearby student housing building allegedly poured alcohol on its property.
Officials from the Islamic Center of Tucson complained on Saturday night that unidentified people poured booze and hurled at least one beer can while children were playing basketball in a court overlooked by balconies of the Sol y Luna student high-rise development.
According to local media outlet KOLD News 13, the incident occurred at approximately 9:45 p.m. Tucson Police confirmed an officer had responded to the scene but no arrests had been made. In the Muslim faith, the consumption of alcohol and intoxicants are forbidden.
"Because there was a basketball game happening one of our guys actually had alcohol fall on him," said member Moeed Irfan, reflecting on the latest in a long line of incidents.
The center's board of directors say the property has been targeted numerous times in the past. In 2016, four University of Arizona students were evicted from Sol y Luna after being accused of throwing glass bottles and aluminum cans from balconies into the center's parking lot.
Despite fresh allegations, the culprits remain unknown.
In an email to KGUN9, Islamic Center of Tucson board member Maria Molina blamed the latest altercation on people in the Luna building, branding alcohol attacks a "chronic problem."
Describing prior abuse, she wrote: "ICT has suffered from vandalism, has been the target of glass bottles being thrown from neighboring apartment buildings, and congregation members have had windshields smashed by projectiles thrown from the same apartment balconies.
The note continued: "The center is not only a place for peaceful prayer; it is the regular venue for children's classes, activities, and community events. These are frequently held both in and outdoors.... with the start of the new school year at the University of Arizona, we are extremely concerned that lack of attention to this situation will result in an escalation of activity."
Sol y Luna did not immediately respond to a request for comment.
Justin Wybenga, VP of Operations at GMH Capital Partners, told Newsweek: "As the owner and manager of Sol y Luna apartments, we have a zero-tolerance policy when it comes to our residents endangering the safety of our fellow community members."
"We are working diligently and cooperating with local law enforcement to get to the bottom of this. If the investigation determines a Sol y Luna resident is responsible for the incident, their lease will be terminated effective immediately and the conduct violation will be reported to university officials as appropriate, per our lease agreement," Wybenga added. "As this is an active investigation, I must direct additional questions to the Tucson Police Department."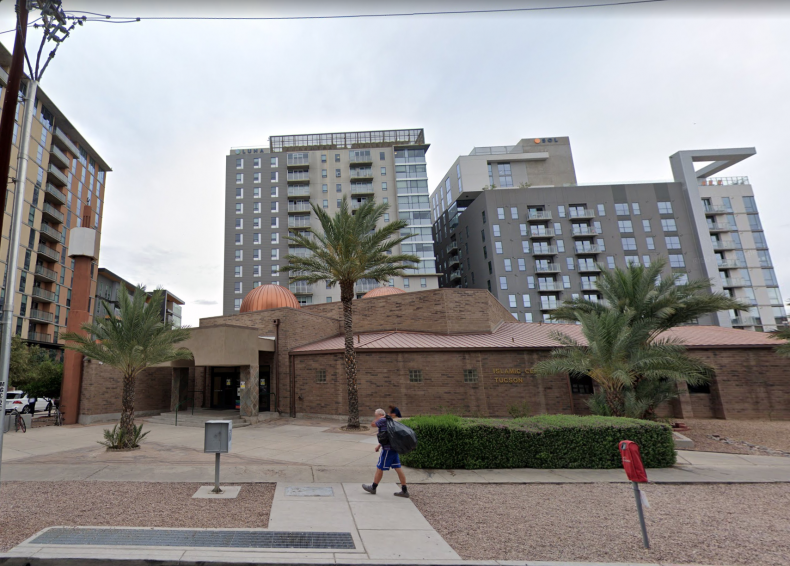 Irfan Sheikh, a member of the Islamic Center of Tucson's board of directors, told KOLD News 13 it has been difficult to identify the culprits, but appealed for solutions. "Just because we are from a different faith does not mean we are not human beings," he stated.
Tucson City Council representative Steve Kozachik sent a strongly worded email about the weekend incident to building management and the chief of police. Urging swift action, he wrote: "This is not an example of a drunken prank. It is nothing less than a hate crime and must be treated as such."
"When a class of people is targeted, you should join me in having zero tolerance for that behavior," the Democrat Ward 6 politician continued. "Everyone, including your management company, is simply lucky that there were no injuries suffered from the objects thrown onto the people below."
"In the current political climate, where we see shootings take place aimed at people simply based on who they are or their belief system, allowing incidents such as this to pass without acting is nothing short of enabling a more severe outcome next time. And there will be a next time if you do not act," he added. The University of Arizona semester started August 20.