Arizona Joins Virginia, Maryland and D.C. in Enacting Stay-at-Home Order Amid Escalation in COVID-19 Cases
Arizona Governor Doug Ducey on Monday joined several other U.S. state leaders in enacting a stay-at-home order amid the coronavirus pandemic.
During a press conference, Ducey ordered all residents statewide to stay home over the next month to combat the rapid spread of COVID-19, which has infected over 1,000 people in Arizona. The "Stay Home, Stay Healthy, Stay Connected" executive order will be in effect from 5 p.m. local time Tuesday until at least April 30. The end date may be extended.
"Our order takes a uniquely Arizona approach," Ducey said. "It's a whole, holistic approach that prioritizes all of public health, placing a focus on staying home to slow the spread, staying healthy and active, and staying connected to provide the much needed support we can provide one another in these unprecedented times."
Ducey clarified that residents can still take walks outdoors as long as they practice social distancing from others. "We do not want people to feel trapped or isolated in their homes. The weather is beautiful right now. Find ways to get out and enjoy it—with physical distancing," he said, adding that grocery and drug stores will remain open during this period.
Ducey has faced criticism—including from Phoenix, Arizona, Mayor Kate Gallego—for allowing nail salons, golf courses and other such businesses to operate under the state's list of essential services. "This order is insufficient if he does not narrow his list of 'essential' services. Essential services during #COVID19 are not golf and beauty salons. They are first responders, grocers, pharmacists, and few others," Gallego tweeted on Monday.
Newsweek reached out to Ducey's office for comment.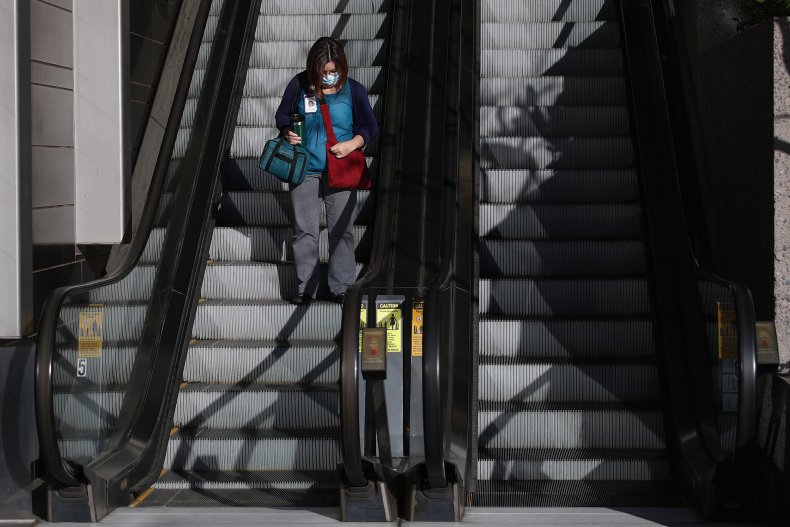 On Monday morning, the Arizona Department of Health Services reported that the number of positive COVID-19 cases in the state had increased to 1,157, with 20 deaths caused by the novel virus.
State leaders in Virginia, Maryland and Washington D.C., also issued stay-at-home orders for their residents on Monday after the U.S. saw a sharp increase in deaths related to COVID-19 over the weekend.
Virginia Governor Ralph Northam, Maryland Governor Larry Hogan and Washington D.C. Mayor Muriel Bowser urged their citizens to refrain from leaving the house, except for essential activities, such as buying groceries or visiting the drug store.
"Unfortunately we are only at the beginning of this crisis, and it will get considerably worse before it gets better," Hogan said, adding that the Maryland statewide order will go into effect at 8 p.m. local time on Monday.
"I want to be clear: Do not go out unless you need to go out. This is very different than wanting to go out," Northam said.
Global coronavirus cases exceeded 780,000 on Monday afternoon, with over 37,000 deaths and and 164,000 recoveries worldwide.
The U.S. now leads the world in the highest number of positive COVID-19 cases, with those who have tested positive surpassing 160,000 on Monday.
This story has been updated to include a tweet from Phoenix, Arizona Mayor Kate Gallego.