Arizona Man Gets 25-Year Prison Sentence After Killing On-Duty K-9 Officer
An Arizona man who killed a K-9 officer after leading police on a high-speed car chase has been jailed for more than 25 years.
Jairo Adair Contreras Quintero was responsible for the death of Phoenix Police K-9 officer Bane after committing a crime spree with co-defendant Laura Dagnino.
As reported by AZ Family, the pair was spotted in a stolen vehicle on 51st Avenue and Broadway Road on April 17, 2018. The pair then sped off, before stealing another car on 43rd Avenue and Bethany Home Road and then carjacking a third vehicle at gunpoint in the Arizona Biltmore area.
The chase ended after they crashed their vehicle near a house on 27th Avenue and Bethany Home Road.
Dagino got out of the car and surrendered to police, but Quintero ran to the empty house and barricaded himself inside.
During the stand-off, officers sent Bane inside the home in an attempt to bring the suspect into custody.
While inside the home, Bane's handler could hear the K-9 breathing irregularly. He also did not exit the house when called to do so.
When officers entered the home to detain Quintero, he was found with suspected dog bite injuries and leaning against a cabinet door.
According to court documents, seen by ABC 15 Arizona, officers then found Bane seriously hurt inside the cabinet. He was then taken to an emergency veterinarian, where he died from his injuries.
Phoenix police told ABC 15 that Bane died as a result of asphyxiation.
Quintero was charged with theft of a motor vehicle, trespassing, armed robbery, weapons violations, killing a service animal, animal cruelty unlawful flight and burglary. He has now been sentenced to 25 years and nine months in jail.
Dagino was also handed a three and a half year sentence as part of a plea deal.
A memorial ceremony was held for Bane on April 28, 2018, which involved a local nursery planting a tree for the K-9 who had served two years with the Phoenix Police Department.
"There are those who were born to do this job," a police officer said during the ceremony, reported KTAR. "A good nose, a strong drive and bite, yet sociable as the modern police K-9 has become.
"Bane excelled in all these areas."
In a tribute at the time, Phoenix Police Chief Jeri Williams said: "We sent Bane in to do what the dogs do. They are our protectors, our partners...it's definitely with heart that we lost Bane.
"Long story short, I need violence to stop from the community because this can't continue to happen. The men and women out here in blue are only trying to do their jobs. They want to do it safely."
Phoenix Police has been contacted for further comment.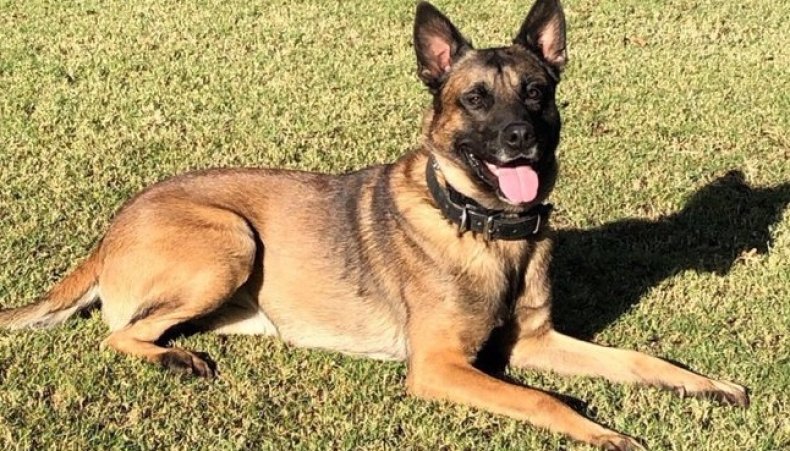 Arizona Man Gets 25-Year Prison Sentence After Killing On-Duty K-9 Officer | U.S.