Arizona Man Allegedly Stabbed Teen to Death Because Rap Music Made Him Feel Threatened
Police in Peoria, Arizona are investigating after a 17-year-old teenager was stabbed to death early Thursday morning. The man accused told police he felt threatened because the teen had been listening to rap music.
Police say at about 1:45 a.m. local time Elijah Alamin was inside a convenience store when the suspect, Michael Adams, 27, came up behind him and stabbed him on the right side of the throat. Adams fled the area following the incident.
Police found Elijah outside of the store, lying face down by the gas pumps. He was taken to a local hospital where he was later pronounced dead.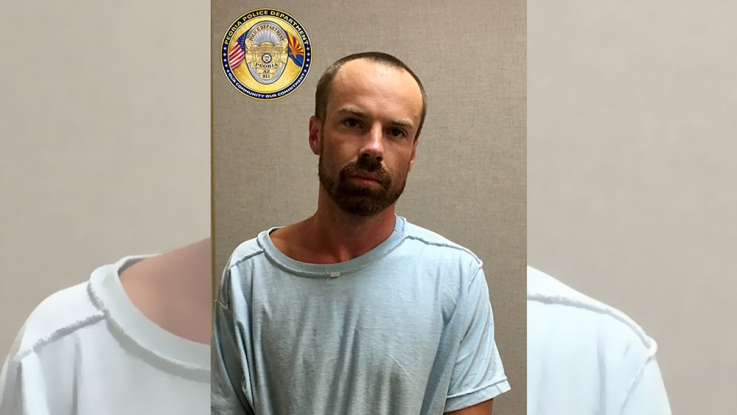 Walking near the scene of the crime, an officer noticed that Adams had a pocket knife and blood on his body. Adams was soon arrested after he admitted to officers he was involved in the stabbing.
According to court documents, Adams yelled at detectives and stated that rap music made him feel unsafe.
"Adams stated rap music makes him feel unsafe, because in the past he has been attacked by people (Blacks, Hispanics, and Native American) who listen to rap music. Adams further stated, people who listen to rap music are a threat to him and the community," the report said.
He told police that he felt threatened by the music, not by Al-Amin. Adams is white, and Al-Amin was black, white and Latino.
"Adams felt he needed to be 'proactive rather than reactive' and protect himself and the community from the victim," the documents said.
Adams had just been released from state prison two days prior to the murder, according to the Arizona Department of Corrections.
Jacie Cotterell, Adams' lawyer, questioned his ability to access mental health services after he was released from prison.
Adams needed to see a mental health counselor but he was not given a way to access those resources, Cotterell said. "To be specific, he was given resources, he wasn't given means to get to those resources," she said.
"They released him to the streets with no holdover meds, no way to care for himself," she added. "This is a disabled person. And he's been released into the world, and left to fend for himself. And two days later, this is where we are."
Charged with first-degree premeditated murder, Adams is being held at the Maricopa County Jail in lieu of $1 million bail. He is scheduled for a preliminary hearing in court July 15.
Areanna Ivery worked with Elijah at Taco Bell for a year. She said she and Elijah bonded over his passion for rap, and that the 17-year-old had big dreams he wanted to pursue.
"He talked about rap music all the time. He loved rap artists," she said. "He just always said that rap artists spoke to him, that [rap] just gave him a sense of purpose, that he went through a lot of the things that [the artists] went through."
"I just wish, if I could talk to him one more time, I'd say 'Dude, go follow those dreams that you wanted.' Everyone deserves that," she said.
Al-Amin's mother, Serena Rides, told CNN she didn't understand how anyone could think her son was a threat.
"My son is so special and so loved and everyone loved him," Rides said. "He's so compassionate and caring, so caring about everyone. My son didn't drink, smoke, do drugs, party. He loved music and working. He was focused on his goals."
"He started mowing lawns at 13 and saving money because he wanted to own his own business very young," she added. "He recruited other kids to work for him in the lawn business, and he was so good. I was so proud of him."
Rides concluded: "My son's not aggressive. My son's never been in any gang in any affiliation with anything. He's a good boy. He's a good baby. He's my baby, and I have to bury him. I'm on my way to bury him right now."
Arizona Man Allegedly Stabbed Teen to Death Because Rap Music Made Him Feel Threatened | U.S.