Arizona Man Arrested for Allegedly Waving Gun at Trump Supporters
Four people have been arrested after an Arizona man allegedly waved a gun at a group of President Donald Trump supporters during a rally on Saturday, October 31.
Police in Nogales, a border city in Santa Cruz County, were responding to a report of a group of people not wearing masks.
Once the Nogales Police Department officers met with the group, the police were told that a man was allegedly waving a gun at them from a black sedan.
The suspect's motivations are unclear and it is not confirmed if he was motivated by the group supporting Trump, that they were not wearing masks, or another reason.
The police officers found the 23-year-old suspect, identified as Ricardo Rivera from Tucson, in a nearby parking lot with 22-year-old Stephanie Andrade, as well as a 16-year-old girl and a 14-year-old boy, all from Rio Rico.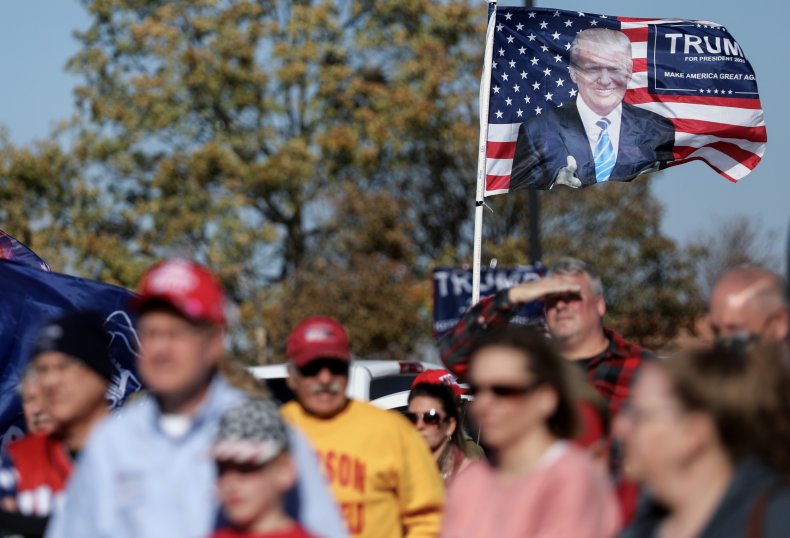 When the police officers tried to arrest Rivera, Andrade and the girl tried to intervene, so all four were taken into custody. The charges against the group of four include aggravated assault on an officer, criminal damage, disorderly conduct, threatening and intimidation, endangerment, and reckless display of a firearm.
Trump supporters had gathered at a number of organized events across Santa Cruz County to show support for the president on October 31, ahead of the election on November 3.
A video from one event in Rio Rico shows Trump supporters standing at the sign of the road waving flags and holding signs, including some saying "Latinos for Trump" and "Cops for Trump." Only a few of what appears to be dozens of people can be seen wearing masks in the clip.
The video also shows a rally of lorries, trucks and cars displaying Trump flags driving on the road alongside the pedestrian supporters.
Elsewhere, Arizona residents who do not support Trump expressed their anger at his handling of the COVID-19 pandemic last week when they projected the words "Trump failed us" on a mountain on October 27.
According to Johns Hopkins University, the U.S. has recorded more than 9,213,000 cases of coronavirus and more than 230,000 deaths.
The projection, which was a collaboration between a few nonprofit organizations and voting rights groups, also criticized the Trump administration's separation of migrant children from their parents on the border and encouraged viewers to vote.
Newsweek has contacted the Nogales Police Department for comment.