Arizona Man Refuses To Wear Mask in Trader Joe's Because of Governor Ducey
Video has captured footage of a man refusing to wear a mask inside a Trader Joe's store in Phoenix, Arizona because of Republican Governor Doug Ducey's order ending mask mandates.
Analise Ortiz posted the video on Twitter on Tuesday, where it has since amassed more than 1,500 likes.
In a tweet alongside the minute-long clip, Ortiz said the man had coughed at a woman who asked him to leave the store because he wasn't wearing a mask.
"He says he doesn't have to respect store policy because Gov. Ducey said so. This is what you've unleashed, @dougducey," Ortiz wrote.
Ortiz told Newsweek that she spotted the man arguing with an employee over masks on Tuesday.
"So I told him to stop giving her a hard time and put a mask on or leave," she said. "Another woman heard me and basically told him the same thing and he walked past both of us, turned around looking at her, and did a fake cough in her direction."
The clip Ortiz shared shows a store employee approaching the man and questioning him about coughing "in somebody's face."
"No, somebody just yelled at me and I said something as I was walking off," the man responded.
He then added: "I'm allowed to cough... it's a free county. I'll cough if I feel like it."
When an employee asked him to wear a mask, he replied: "I'm not gonna wear a mask because it's unenforceable."
"Well, we're going to call the authorities," a female employee told him. "Call the authorities," he replied.
The female employee then told him to "leave right now and not return, if you're going to talk to us this way."
At one point, the man pulled out his phone and showed employees a news article saying Ducey had lifted mask mandates in Arizona, Ortiz said.
The employee then informed him that the store is following recommendations by the U.S. Centers for Disease Control and Prevention (CDC).
"Well, this is the governor of the state. The CDC doesn't have any control over here," the man told her.
"We're a private company," another employee was heard saying.
Ortiz said the man eventually left the store after purchasing some items. "He kept arguing with staff and customers the whole way out," she said. "About four customers including myself kept following him to make sure he'd leave."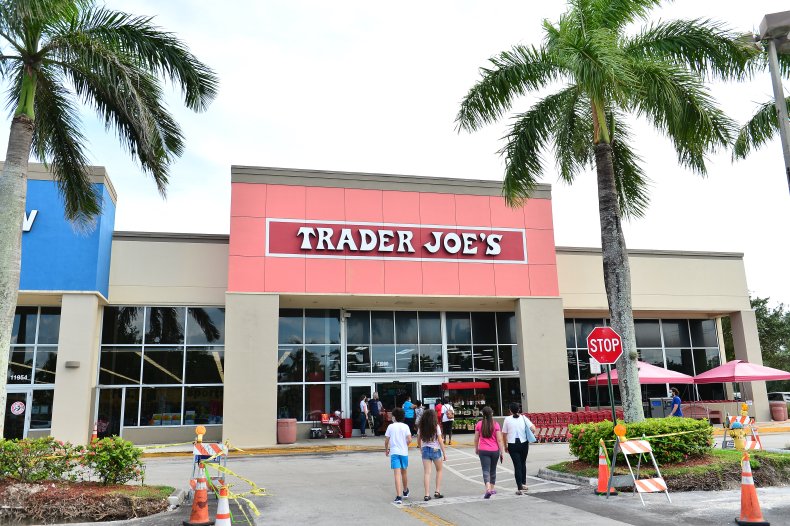 Ducey, a Republican, issued an executive order last month saying mask mandates imposed by cities could no longer be enforced, citing weeks of declining COVID-19 cases and rising numbers of people who have been vaccinated.
However, Phoenix this week joined several cities that will keep its mask mandate despite the governor's order.
Phoenix Mayor Kate Gallego, a Democrat, released a statement on Wednesday saying she agrees with the majority of the Phoenix City Council that the governor's decision "is a case of significant government overreach."
She added: "The governor's order has caused tremendous confusion, particularly for local businesses. I've spoken to many business owners who want to do the right thing but don't know why they have to do it alone. They've been pushed into the position of having to defend their masking policies with no help or backup from local government. That is wrong."
A spokesperson for Trader's Joes said they had no comment when contacted by Newsweek, but pointed to the company's mask guidance. "In a nutshell, our Crew Members wear masks approximately 8 hours a day and we ask our customers to wear them for the short time they shop with us," it says.